Full Day Sightseeing Adventure Excursion in Rodrigues
| | |
| --- | --- |
| Location | Rodrigues |
| Minimum Age | 10 |
| Operating Days | Wednesday, Saturday |
| Duration | 7 hrs |
| Activity Time | 08:30 - 15:30 |
| Transportation | Included in price |
| Comment | A minimum of 2 persons are required for this activity and a maximum of 8 are allowed. All participants must be in good physical conditions. |
About the Full Day Sightseeing Adventure Excursion in Rodrigues
The activity is not available until further notice
This full day excursion is an excellent opportunity for you to discover the beautiful island of Rodrigues and get an authentic glimpse into the local lifestyle while visiting key sites on the island.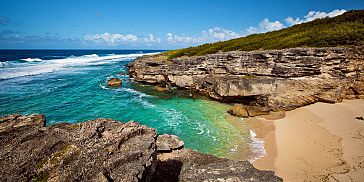 To help you uncover the island's indigenous character, a well-informed and experienced guide will take you through the island's remarkable spots. You will get to visit the Port Mathurin Market (Saturday) or the Craft Market (Wednesday), depending on which day you choose to go for the excursion and also a typical Rodriguan village. A farmer will teach you more about the natives and their laidback lifestyle on the island.
During the course of the day, you will also engage in some adventurous activities such as crossing the Pistachio Valley via a suspension bridge, which will allow you to admire stunning views of the North-Western lagoon, tropical birds and the Pistachio Valley.
You will also halt at specific sites, such as Rivière Coco, for a mountain-biking break, and the mystical Roche Bon Dieu, where you will benefit from spectacular panoramic views, leaving you in awe. Furthermore, after a short hike to the Trou D'Argent beach, you will get to enjoy an authentic Rodriguan meal - a 2-course lunch. This peaceful, secluded spot is an excellent place for you to have a quick refreshing swim and relax, before heading back.
This Full Day Excursion in Rodrigues is a combination of fun activities and enriching experiences, so make sure to make the most of it.
---
The Full Day Sightseeing Excursion in Rodrigues excursion includes: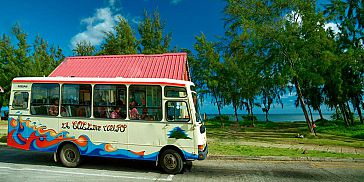 Free transfers - Pickup for 1 to 4 participants & Minivan for 5 to 8 participants
Visit Port Mathurin village and market (Saturday) or Craft Market (Wednesday)
Visit a village in the forest
Visit to a local farm
Tree Planting
Crossing a suspended bridge
Mountain Biking at Rivière Coco
Visit of Roche Bon Dieu
Hike at Trou D'Argent
Lunch on Trou D'Argent Beach
A bottle of water is provided to each participant at the beginning of the excursion
---
Additional Info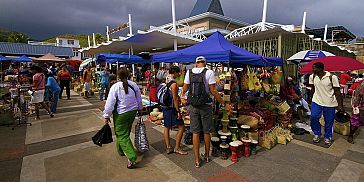 Port Mathurin
Lying on the north coast of Rodrigues, Port Mathurin is a beautiful village that serves as the capital as well as the main harbour of the island. Unmissable sights include its lively market and a splendid viewpoint on Mount Fanal, amongst others.
Port Mathurin Market
The main attraction of Port Mathurin is naturally the marketplace or "bazaar", which features a colourful display of local handicrafts such as basketry, hat making, textile based handicrafts, embroidery, coconut craft, jewellery, souvenir articles, wood carving, straw crafts, in addition to paintings from local artists.
Trou d'Argent
A charming little sandy beach sheltered by two magnificent cliffs perfect for sunbathing and relaxing. If you're looking for that genuine Robinson Crusoe feeling then you'll be hard pushed to find anywhere more deserted than the stunning Trou d'Argent beach on the island of Rodrigues.
---
Comments
Minimum number of participants: 2
Maximum number of participants: 8
What you should bring: backpack, sports shoes, swimsuit, towel, sunscreen, hat, mosquito repellent, camera.
Note:
In the event of inclement weather, the guide may decide to alter the schedule.
Participants should be in good physical health as this activity includes hiking and riding a mountain bike
The guides are trained in first aid and a first aid kit is available in the vehicle.
The exact time of pickup will be communicated on the eve of the excursion but it is usually between 07h30- 08h15.
---
Lunch menu
As part of this tour, we offer you to enjoy a delicious traditional picnic lunch on the Trou d'Argent beach in Rodrigues. Below is some information regarding the lunch menu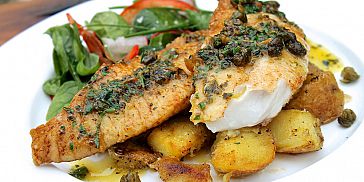 Lunch on the beach
Main course: chicken, fish or vegetarian – please confirm your choice, at latest the day before
Dessert
Drinks: Water, a Soft Drink or a Beer per person
---
Prices
Price per participant: 69 Euro