Big Game Fishing Trip In Rodrigues - 53 Ft Boat - Full Day
| | |
| --- | --- |
| Location | Rodrigues |
| Minimum Age | 7 |
| Operating Days | All Days |
| Duration | 10 hrs |
| Activity Time | 08:00 - 18:00 |
| Transportation | Offered as Supplement |
| Comment | We offer the fishing trips during all the year except the month of July and August |
This Activity Is Not Available Until Further Notice
Enjoy an exclusive full day Deep Sea fishing on a 53ft boat in Rodrigues!
Rodrigues is one of the best "multi-fishing" destinations in the world surrounded by a large continental plateau. The entire plateau is covered with numerous spots (small underwater structures as "coral mushrooms") perfect for jigging and bait fishing.
Come and discover firsthand the roar of the inboard Caterpillar engines, and the scream of tightly stretched line when a marlin or other gamefish has struck the kona, is a pulse-racing experience! As part of the trip, you can expect to see a variety of fish in the lagoon of Rodrigues such as dog tooth tunas, groupers, wahoos, ignobilis kingfish, marlins, dorados, yellowfish tunas, sailfish, sharks…
Enjoy a full day Big Game fishing trip from Port Mathurin – 53 ft boat – Full Day - about 20 / 25 nautical miles away from the coast
Full Day activity (800 –1800) of adventure and fun on a 53 feet fishing boat that can accommodate up to 6 passengers.
Come and enjoy our Exclusive Full Day Deep Sea Fishing on a 53ft boat which is ideal for 6 passengers.
Experience the exhilaration reeling in your catch after a memorable battle Man against Nature.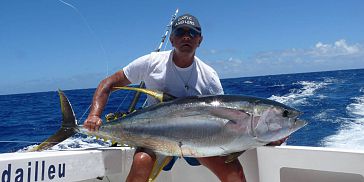 Cruising in maximum comfort onboard our boat, you reach the areas of open sea supporting the rich marine biodiversity that attracts anglers from all over the world. No matter if you are a complete novice or an accomplished professional sports fisherman, this fishing trip guarantees excitement and pleasure.
Spend a day on the continental plateau of Rodrigues, of an average depth of 60 meters, which is spread unevenly around the island in the far East where the drop is about 10 miles from Port Mathurin, while in the west, it takes 21 miles to find the break.
As this is a full day trip, you will have plenty of time to reach far into the deep sea and seek for the really big catches such as the Marlin or even catch
As part of this trip, you will sail for around 2 hours in the amazing lagoon of Rodrigues to reach your preferred spot. As Rodrigues has limited commercial fishing activities carried out on the island, it will not be difficult to locate your preys. Now, just experience the thrill of the fight!
The experienced crews combine their skills to set up the perfect lines, best suited to that day's fishing conditions. The fishing boat is excellently equipped for your fishing adventure.
The boat crew is incentivized to catch fish so you can be sure they're doing their very best to get The Big Ones on the line. It's up to you to bring it in!
At around noon, a delicious lunch is offered on board along with dessert and drinks (non-alcoholic).
And then, go back to your conquests, charm your fishes and carry them home!
Along with the fishing trip, you will also enjoy a memorable day with a beautiful sunset while sailing back to Port Mathruin.
About the Fishing Boat
Technically conceived and designed for Rodriguan waters, the boat is very comfortable for 'fishing raids'. Power, performance, comfort and security define this monohull cabin-cruiser. It has a real computer that re-records with extraordinary precision you can see 3D training canyons, coral heads, walls or trays as if there was no water!
Very stable and which can maintain up to 5 days of autonomy.
More about the boat
D'UNIENVILLE 53 feet (16,16m x 4,70m).
Engines 2 x 5OO CV YANMAR Inboard.
Water tank 3000 litres.
Fuel tank 2 x 2500 litres.
Fully equipped kitchen (sink, gas hub, oven, built-in cooler).
Large living room, wide seats, plenty of storage, CD player.
3 individual cabins with air conditioned (10 beds in total).
Bathroom (sink, shower, toilet).
Large living room to fly bridge with large table and beaches (12 seats).
Fighting chair.
Spacious back deck 5 jiggers can fish side by side.
Wide rear platform to move during a fight
Fishing equipment on Board
TROLLING Rods Penn International (30 Lbs Stand Up)
Rods Profile Trolling (50 et 80 Lbs)
Reels Shimano Tiagra 30, 50, 80 Lbs + Braids
JIGGING Rods Patriot Design
Rods Zenaq Fokeeto
Rods Shimano Jig Wrex
Reels Shimano Stella 20000 and 18000 + Braids
POPPER Rods Shimano Aspire
Reels Shimano Saragosa 14000 + Braids
About Game Fishing in Rodrigues
What was traditionally a small-scale activity and a livelihood support has developed into an internationally-famous sport today for the worshippers of fish. Rodrigues's location is strategic, with its outer reef edges miles away from the coast and shoals rich in fish; the sea around is bountiful. It is of no wonder that the island is a holder of world fishing records; for specialists, this is only the beginning of a long series of many other records to come.
In Rodrigues, you can find two ideal fishing periods from October to June, and from December to April. Also keep in mind one important thing where the sea is too easy, fishing has become very hard.
Comments
Maximum number of passengers for the deep sea fishing trip is 5.
All equipment lost or broken will be charged
You can bring your own equipment. It is advisable to bring any perishable material hooks, lures, bottom line, etc.
We offer the fishing trips during all the year except the month of July and August
What to bring? Cap, sunscreen (sunblock), sunglasses (polarized), a windbreak for overnight fishing trips. Patches or tablets for seasickness are also recommended
Prices
Price for boat hiring for the day 875 Euro
Price per passenger for lunch and drinks (maximum of 5 passengers) 25 Euro
This Activity Is Not Available Until Further Notice