Gris Gris and Viewpoint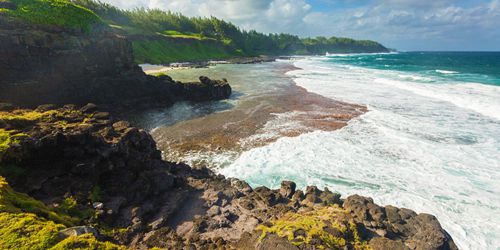 | | |
| --- | --- |
| Location | South |
| Operating Days | All Days |
| Duration | Flexible |
| Activity Time | Flexible |
| Transportation | Offered as Supplement |
"
Did you know?
With our
Underwater Adventures 1 Day Package
, you can discover the underwater world of Mauritius and at the same time experience a selection of unique activities and adventures.
About Gris Gris and the Viewpoint
The appeal of Gris Gris lies in it scenery, the high cliffs here drop abruptly to the sea and the refreshing winds of the Indian Ocean blow all year round.
Far away from the idyllic setting of calm seas and the tranquil scenery, is the Gris Gris beach, at the southernmost point of Mauritius. It is a few kilometers southeast of the village of Souillac- a historical village that dates back to the French colonial period.
Gris-Gris is well known for its sea cliffs and offers visitors a magnificent view from the top- this is definitely a sight worth seeing. Coral reefs do not surround this part of the island, which allows large waves to crash directly on the cliffs, creating big splashes of water.
At the southern end of Gris-Gris, you will have a great viewpoint on the cliffs and will see the crashing of waves against the flanks. There is a small garden offering many quiet spots for you to relax on one of the many benches, while having a view of the sea, waves and rock cliffs. From the garden, a path leads to a small beach where you can admire the view of the sea up close. Despite the white sandy beach, the waves and currents are extremely strong, so it is not advised to swim, but rather to have a stroll, admiring the view.
Further down the road from the Gris Gris Viewpoint is the 'Roche qui Pleure' (Weeping Rock). This is also another fantastic viewpoint where if you look at the rock from the right angle, it will appear as a face with tears constantly streaming down, as the waves continually crash.
---
Comments
Swimming or bathing at the Gris Gris beach is highly risky and not recommended due to the rough waters.
Click Here to Book This Tour