Half Day Canyoning Excursion - Rivière Papayes
| | |
| --- | --- |
| Location | South West |
| Minimum Age | 12 |
| Operating Hours | 08:00 - 16:00 |
| Operating Days | Tuesday, Saturday |
| Duration | 3 hrs |
| Activity Time | 08:00 - 11:00 |
| Transportation | Offered as Supplement |
| Comment | This activity is offered twice a day during Morning and Afternoon |
This activity is not available for the moment until further notice.
Half day canyoning excursion in the South West area of Mauritius at Rivière Papayes.
This canyoning excursion is done at the Rivière Papayes, which is also known as Papaya River, located at an elevation of 161 meters above sea level. This canyoning circuit gives you the opportunity to discover waterfalls and crystal clear ponds of Rivière Papayes.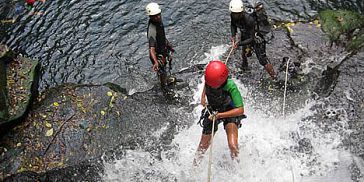 Situated near the village of Tamarin, Rivière Papayes has a landscape which is mostly covered with mosaic vegetation and croplands. This track constitutes an authentic and original route for canyoning with abseils of 5 to 20 metres that will suit both the beginner to the hardcore adventurer.
The canyoning trip starts with a safety briefing and equipment introduction for an initiation circuit so you'll be well prepared for the abseiling activity taking place later on down the gorges.
After the initiation, you will head to a superb natural site in the heart of Yemen Reserve. Shortly after you will the first abseiling experience, a short abseiling down to the river. The next abseil is through a succession of 4 waterfalls.
The Rivière Papayes canyoning trip, consist of several abseils, and it also offers to enjoy some river trekking and swimming in the river.
For the more courageous ones, it possible to test their courage by jumping into the ponds.
The canyoning ends with a short climb to the hill top, offering stunning views of the entire west coast.
Shortly after you will head to the end point and from there travel by vehicle back to the departure point.
Our team, consisting of monitors and qualified instructors, will make sure that your activity takes place in the best possible conditions, so don't worry, you are in good hands!
All the canyoning outing are operated and led by the leading canyoning and rock climbing guides in Mauritius, with vast experience in canyoning and rock climbing activities and rescue operations in all areas of Mauritius. The canyoning is done under the full supervising of qualified canyoning guides.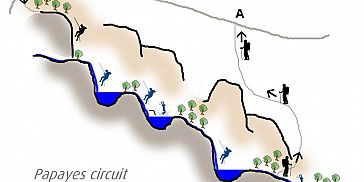 The canyoning excursion runs for a period of 3 hours and is offered at 9:15.
Region: South West Mauritius
Requirements: Have basic swimming skills.
Minimum age requirement: 12 years old and above (must be accompanied by at least one parent)
This Half Day Canyoning excursion includes canyoning equipment, water and snacks.
---
More information on the Rivière Papayes Canyoning Trip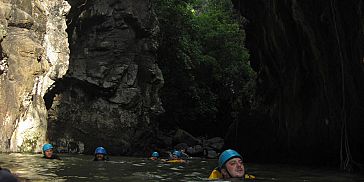 What is Canyoning? Canyoning (known as canyoneering) is traveling in canyons using a variety of techniques that may include walking, climbing, jumping, abseiling, and swimming.
The terms canyoning and canyoneering are more often associated with technical descents — those that require rappels (abseils) and ropework, technical climbing or down-climbing, technical jumps, and/or technical swims.
Canyoning is enjoyed by people of all ages and skill levels.
Canyoning gear includes climbing hardware, static ropes, helmets, wetsuits, and specially designed shoes, packs, and rope bags.
About the Yemen natural reserve park – The park is located on the West Coast of Mauritius. It hosts two of the longest rivers of Mauritius – Rivière Rempart and Tamarin River – and is a haven for all sorts f native wildlife. The actual size of the natural reserve is of around 4500 hectares.
Today, it is a private nature reserve where luxurious fauna and flora can be admired. A visit to the Yemen Reserve is like stepping into the middle of the African Savannah.
Yemen nature reserve, home to herds of Java deers (around 9,000), wild boars, hares, macaque monkeys, mongoose and the fruit bats live inside the reserve and abundant indigenous and exotic plants such as ebony, cassias, tamarind, pink pepper and many more are also found in this amazing natural reserve.
---
Visit of the Casela Nature Park – World of Adventures
Important: The Half Day Canyoning Excursion - Rivière Papayes is done at the Yemen Reserve which is part of the Mauritius Safari and Bird Park (Casela Park). In order to take part in this trip you will have to enter the Mauritius Safari and Bird Park.
Accordingly, we offer you to purchase together with the Half Day Canyoning Excursion - Rivière Papayes, also the entry tickets to the park.
About the Casela World of Adventures: The Mauritius Casela Park is a real nature and adventure park. It is located besides the Rempart Mountain on the South-West of Mauritius offering magnificent views of the countryside rolling down the west coast of Mauritius.
The visit to the park includes
Toboggan - Experience a thrilling fun ride on the first toboggan slide in Mauritius. The Toboggan includes two slides placed on a slope on which one slips with buoys.
Tulawaka Gold Coaster – an adrenaline-inducing alpine coaster that runs along 800m. Perfect for all thrill seekers. It can be ridden solo or in tandem.
Walk thru the aviary - Walk through the bird aviary and interact with various colorful bird species from around the world.
Safari photo - Find yourself face-to-face with zebras, ostriches, antelopes, white rhinoceros, impalas, kudus and all their neighbors during a unique safari tour onboard one of the safari vehicles.
Big cats viewing - For Big Cats lovers, this is a dream come true! Visit the Big Cats' park to enjoy a close view of the lions, cheetahs and tigers.
Giraffe viewing - Come face to face with majestically animals for a unique viewing experience.
Camel viewing - If you've always wondered how camel really look like and how do they live, come to Casela Park to view these fascinating animals live.
Kid's playground - A new kid's playground that will offer sensation to the young ones!
Petting farm - An ideal setting for people of all ages, especially children to interact with farm animals.
3D Interactive Map - Discovery of natural science and History of Mauritius through giant 3D Maps.
Comments
Trip duration: 3 hours (excluding additional 3 hours for visiting the Mauritius Safari and Bird Park)
This activity is offered at 09:15
A minimum of 2 person is required for this trip
Technical Level: Easy – Medium
Physical level: Easy
Minimum age requirement: 12 years old and above (must be accompanied by at least one responsible adult)
The circuit is offered only on Tuesdays and Saturdays
The park is open every day except on 25th December and 1st January
Full canyoning equipment will be provided including all rope gear (harnesses, helmets etc) and wetsuit, water and also snacks.
Please don't bring with you jewels, watches, alcohol and cigarettes
Tulawaka Gold Coaster: Riders can go solo as from 12 years old (minimum height 1m40) or in tandem. Those under 4 years old should be accompanied by an adult
It is recommended to bring: sunscreen, bathing suit, short pants to wear with the wetsuit, spare set of clothes, towel, sport shoes, mosquito repellent, waterproofed camera (camera cover).
This canyoning excursion is carried out with a total respect towards nature and while making it a top priority to stress the importance of its preservation.
---
Prices
Price per Participant: 72 Euro
Visit of the Mauritius Safari and Bird Park: 20 Euro / person
This activity is not available for the moment until further notice.