Half Day Hiking Trip in Rodrigues (Balade Zen)
| | |
| --- | --- |
| Location | Rodrigues |
| Operating Days | Tuesday, Friday |
| Duration | 3 hrs 30 mins |
| Activity Time | 08:30 - 12:00 |
| Transportation | Offered as Supplement |
| Comment | All participants must be in good physical conditions. |
Half Day Hiking Trip in Rodrigues (Balade Zen)
Rodrigues island is great for hiking; the volcanic island is small but boasts of magnificent landscapes. It has a splendid geography, without steep fields, but with some ups and downs in its hilly terrain that ultimately makes hiking all the more fun. Rodrigues provides you with a number of trails that will lead you to viewpoints that offer incredible panoramic views over the island. Trail along 7 km while enjoying wonderful views of cliffs and the calming sound of waves in the background.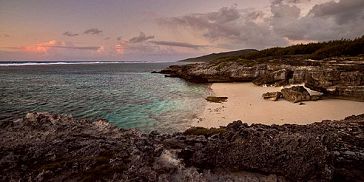 Hiking in Rodrigues will give you a much-needed break from the strain of day-to-day life and urban commotion. If you are looking to unwind and rejuvenate yourself in a beautiful, serene environment, then the unspoiled natural scenery of Rodrigues will be perfect for you. The serenity, the authenticity and the well-known hospitality prevailing on the island makes it a wonderful location for relaxing vacations.
Your hiking journey will start at Montagne Chérie, located in the South-East region, then you will tread along the gorgeous South-East coast, which hosts some of the most beautiful beaches of the island. Admire the clear lagoon surrounded by low coral cliffs, white sandy beaches and luxuriant casuarina forests as you walk by.
Further south, where less coral reefs are found, you will discover a secluded bathing spot, known as Trou d'Argent.
The pristine beach of Trou d'Argent is a truly magnificent spot; you will be in awe of its beauty. It is a charming sandy beach protected by two magnificent cliffs; a pristine spot pounded by waves rushing in through a gap in the coral reef. Afterwards, you will bring your hiking tour to an end by heading to the charming St. Francois village, which is an easy walk from Trou d'Argent. This amazing hiking trip in Rodrigues will allow you to explore its best hike trails amidst tropical nature and to make awesome, unforgettable memories.
---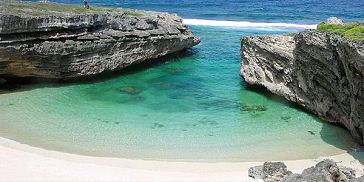 Comments
Departure point: Montagne Chérie, in the South-East
Ending point: Saint Francois, further South
Difficulty level: Easy
Operating Days: Tuesday & Friday
Duration: 3 h 30 mins
Activity Time: 08:30-12:00
Minimum age required: 7 years
All participants must be in good physical conditions
Reservation is required 72 hours in advance by phone & is subject to availability
What you should bring: Bottle of water, walking shoes, sport shoes, sun screen, hat, camera, swimsuit and beach towel if you want to swim
Minimum number of participants: 2
---
Prices
Price per participant: 19 Euro