Heritage Tour - History Tour Of Mauritius
| | |
| --- | --- |
| Location | North West |
| Location | Centre |
| Operating Days | All Days |
| Duration | 9 hrs |
| Activity Time | 08:30 - 17:30 |
| Transportation | Included in price |
| Comment | Departure time: 8:30 am from your hotel/place of accommodation. Return time: 17:30 pm to your hotel/place of accommodation |
Heritage Tour to unveil the History of Mauritius
This tour offers a unique opportunity to go back in time and discover the secrets of Mauritius from its very early days
The Heritage Tour guarantees that you will have fun while unveiling all the secrets of Mauritius through an interactive and informative journey in the past.
As part of this tour you will walk in the footsteps of Mauritius' first settlers and find the answers to predominant questions such as:
How was the island discovered?
Why and who named the island Mauritius?
Why is it possible to come across so many different cultures and ethnic groups on this small island?
How has the island developed to the unique paradise it is today?
This is a private tour organized only for you and your companions. You will be driven to the different sights in a private vehicle, including a pick up and drop off service from anywhere in Mauritius.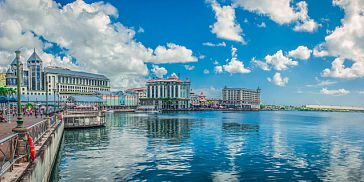 As part of this historical tour you will visit many intriguing and fascinating sights in one day:
Sugar Museum and Factory
The capital of Mauritius: Port Louis
Aapravasi Ghat Trust Fund
Eureka house
The Mauritius Glass Gallery
The full day private Heritage Tour (History Tour) includes:
Lunch at the restaurant of Eureka House
Pick up and drop off service from any hotel/place of accommodation anywhere in Mauritius.
Transportation to and from all the sights.
A personal driver/guide to show you around and inform you on each one of the sights.
All along you will travel with maximum convenience in an air-conditioned family car or minivan (for bigger groups).
---
The Mauritius Heritage Tour: Tour Itinerary
Sugar Museum and Factory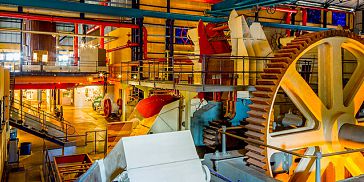 Mauritius wouldn't be as we know it today, if it wasn't for its elixir: sugar. The island takes high pride in its specialization in the manufacture of unrefined, wholesome and delicate sugars that retain the freshness of their origin. Rising above the sugar cane fields in the Northwest of Mauritius, the Sugar Museum and Factory, also known as the Beau Plan sugar mill, becomes the narrator of 250 years of Mauritian history.
The Sugar Museum and Factory is an endorsement of the key role that sugar has played in the history and identity of Mauritius. As part of your visit, you will listen to local sugar tales and you will see a selection of videos and short films about the chronicles of sugar.
This part of the tour can triumphantly end at the museum's boutique, where you can indulge into the aromas and flavors of golden granulated, muscovado, brown sugar or any of the in between 15 other types. Don't miss the opportunity to take part in a rum tasting session at the hospitable bar towards the end of the museum shop.
Visit and Tour of Port Louis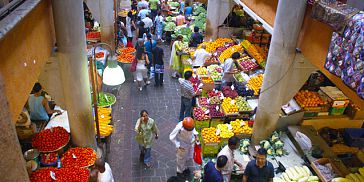 Enjoy a visit to Port Louis - the capital of Mauritius and the island's largest city, economic, cultural, political and administrative hub. A wander around the historical town with its stone pavements, and the nation's main harbor will open your eyes to the old days of Mauritius.
Start from the Aapravasi Ghat World Heritage for an overview of a key moment in Mauritian history. This historical site is a symbol of Mauritian identity since the ancestors of more than 70% of today's local population arrived on the island through this immigration depot. The depot was created to receive indentured laborers coming to work in the sugar plantations during the early post-slavery years 1834-1920.
Right off the prime square you can stroll besides the palm-lined boulevard of Place d'Armes. Spend some time to admire the wonderful French colonial buildings, and especially the Government House and the Municipal Theater. From there you can stroll down to visit the Natural History Museum and the center of Port Louis.
As part of the excursion to Port Louis, you will have the chance to visit Fort Adelaide (also known as La Citadelle), which was built by the British in the very strategic location of the higher lands of Port Louis at 240 feet above sea level. The construction of Fort Adelaide started in 1832 and was completed almost after ten years. From Fort Adelaide you can enjoy a picturesque panorama of Port-Louis, the long-established harbor and Signal Mountain.
Eureka House tour followed by delicious lunch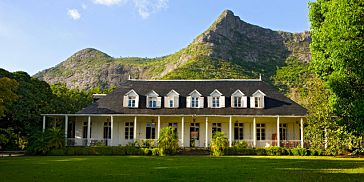 Your next stop will be at Eureka House. Located by the River Moka and its waterfalls, Eureka House is an authentic, elegant Créole mansion built in 1830. In the 19th century the residence was owned by British and French aristocrats, and it is now filled with antiques and photos of that period - providing an intimate glimpse into colonial life.
The Eureka House, which is honored as one of the largest houses on the island of Mauritius with 109 doors and windows, also extends to a magnificent garden.
The Eureka House was restored and opened to the public as a museum in 1986. The House is constructed largely of wood and it is framed by a long, shady veranda. The exterior grounds are home to a rich variety of natural Mauritian plant life, including mango trees and palms, a waterfall and a traditional English garden.
The museum is separated to different themed areas dedicated to music, art, antique maps, Chinese and Indian housewares and quirky appliances, such as a colonial shower.
At the end of the tour enjoy a delicious lunch experience at the Eureka House restaurant that specializes in traditional Mauritian cuisine (see additional information for menu).
The Mauritius Glass Gallery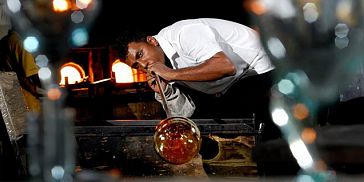 After lunch, you will head to the Mauritius Glass Gallery in the town of Phoenix. This trip is a very conscious and environmental friendly way to finish off this rewarding and active day.
At the Mauritius Glass Gallery you will see skilful craftsmen setting their creativity free and bringing back to life used bottles and other glass elements. You will also familiarize yourself with the traditional and centuries' old techniques of glass blowing in the especially dedicated demonstration area.
In order to keep the memory of this unique experience alive, you can bring back at very affordable prices unique home wares in different shapes and colors made from 100% recycled glass.
---
Additional information regarding the Heritage Tour
Start & End times:
Duration (including transportation): Approximately 9 hours
This private tour is offered Monday to Saturday
Tour Starting time: 8:30 am
Tour Ending time: 17:30 pm
(Upon request it is possible to start or finish the tour at a different time)
Car Capacities:
You can choose from a selection of different vehicle types:
Family Car - Up to 4 passengers
SUV Car - Up to 6 passengers
Minivan - Up to 12 passengers
Minibus - Up to 22 passengers
---
About the drivers
All drivers are fluent English and French speakers. Upon special request we can organize a driver who speaks other languages. The drivers are citizens of Mauritius, and they will be happy to provide you with additional information about the sights.
All drivers are professional, time efficient and friendly. High emphasis is given on punctuality and reliability.
---
Lunch Menu
As part of this tour, you will be treated to a scrumptious lunch at the Eureka House restaurant with its beautiful garden.
The meals demonstrate the most characteristic flavors of Mauritius, which are an artful blend of the different cultures coexisting in the island.
The Lunch menu consists of:
Smoked marlin with salad
Dry beef curry served with pumpkin fricassee, peanuts rougaille, coconut chutney, rice, lentils and pickles
Vanilla ice cream with grilled coconut
Coffee
---
Comments
The private tour is done in a private car / minivan (for bigger groups) and includes full transportation to all the sights, pick up and drop off from any hotel in Mauritius and a driver to show you around.
---
Prices
Transportation:
The transportation prices are per vehicle (and not per person). You can choose the vehicle type according to the number of passengers in your group.
Private Daily Tour in a Family Car (for up to 4 people): 85 Euro
Private Daily Tour in a SUV Big Car (for up to 6 people): 95 Euro
Private Daily Tour in a Minivan (up to 12 people): 115 Euro
Private Daily Tour in a Minibus (up to 22 people): 160 Euro
The above transportation prices are per vehicle and not per person.
Entry Tickets Prices:
(the tour includes entry tickets to all the sights)
Price per adult: 29 Euro
Price per child (ages 3-12): 19 Euro
Price per baby (ages 0-3): Free of charge
The prices of the entry tickets packages are special discounted prices.
Price for the Mauritian Lunch at the Eureka House Restaurant: 24 Euro / person
Total Tour Price Per Person
| | | |
| --- | --- | --- |
| Number of Participants | Total Price | Price Per Person |
| 2 Adults | 143 Euro | 72 Euro |
| 4 Adults | 201 Euro | 50 Euro |
| 6 Adults | 269 Euro | 45 Euro |
| 12 Adults | 463 Euro | 39 Euro |
| 2 Adults + 2 Children | 181 Euro | 45 Euro |
* The total tour price includes: Private Transportation and Entry Tickets to all the sights