Horse Carriage Ride in The North of Mauritius
| | |
| --- | --- |
| Location | North |
| Operating Days | All Days |
| Duration | 1 hrs |
| Activity Time | Flexible |
| Transportation | Offered as Supplement |
| Comment | Operating Hours: 08:30 - 11h30 & 13h30 - 17h00 - This activity is not suitable for pregnant women. |
This Activity Is Not Operational Until Further Notice
Horse-Drawn Carriage Ride in the North of Mauritius: A fun 1-hour ride in the midst of a beautiful forest
If you're looking for a novel experience in Mauritius, a refreshing change from your usual hobbies or an amusing way to celebrate an event, what could be more impressive than a horse-drawn carriage ride in a picturesque setting?
Climb into a lavish carriage with your loved ones, get comfortable on the plush seating, and ride through the idyllic woodland of Daruty, a preserved area of gorgeous greenery in the North of Mauritius. The leisurely ride through wonderful pineapple fields and a tropical forest is an excellent chance for you to enjoy nature from a new perspective. This package is suitable for people who love horses and beautiful nature but do not dare to ride on horseback or are looking for a change of pace.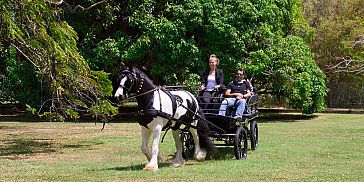 Horses are not only a symbol of a bygone era before the advent of cars, buses and trains, but also of luxury and extravagance. Treat yourself, your partner, friends and family with a carriage ride through the wonderful rural landscape of the island to mark a special occasion or to relive the long-gone era. Meander through the off beaten track, to the heart of the beautiful woodland where you can enjoy the perfect blend of tranquillity, rejuvenation and discovery.
The carriage is pulled by one horse and can comfortably seat up to four passengers, so you can enjoy this experience with the people you love.
A carriage tour is an iconic sightseeing experience that's hard to match and this package is a chance for you to experience Mauritius like never before. The classic Landau Carriage is not only very beautiful but also highly practical. The landau was a common form of transport in England and was even adopted by the British royal family.
---
About the Stable - Les Calèches du Paradis
Les Calèches du Paradis is a cosy stable located in the North of Mauritius. With 7 horses and 2 ponies, the stable offers fun horse rides in a friendly atmosphere, amidst a tropical forest and pineapple fields. The team of horses include rare species like the Irish Cob, Percheron, a Welsh Pony, amongst others.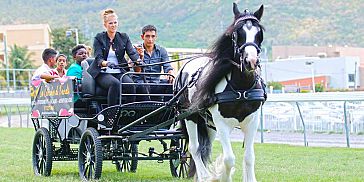 The Irish Cobs have long and flowing manes that give a them mystical and dreamy look. Although they are typically known for their strength, here they are mostly popular because of their warm and friendly personalities. Angel, the Welsh Pony, is known for being spirited and is very popular with the kids. The Percherons, a breed of draft-horse, are easy-going and gentle.
Les Calèches du Paradis accommodates for both beginners and experienced riders. Rides are personalised and adapted to the level of the rider, ensuring maximum security during their excursion. Their horse-drawn carriages are intended to travel all over the island, in all the trails accessible to horses.
---
Comments
A drink is offered at the end of the ride
Activity Times:

Morning: 08h30 - 11h30
Afternoon: 13h30 - 17h00

Maximum number of participants: 4 adults OR 2 adults and 4 children (under 12 years old)
Health Restriction: This activity is not suitable for pregnant women.
It is recommended that you wear sunscreen and mosquito repellent.
Reservations are required at least 48 hours in advance
---
Price
Horse Carriage Ride: 88 Euros
This Activity Is Not Operational Until Further Notice