Hotel day package at LUX* Le Morne
95% Level of Satisfaction
Based on 2 reviews
| | |
| --- | --- |
| Location | South West |
| Operating Days | All Days |
| Duration | 7 hrs |
| Activity Time | 10:00 - 17:00 |
| Transportation | Offered as Supplement |
"
Did you know?
For the most adventurous fishing fans, a few days fishing trip to one of Mauritius Fishing Banks is a true must, so check our trips to
Soudan Bank
and
St. Brandon
.
Not Available Until Further Notice
An amazing Hotel day package at LUX* Le Morne
Holidays are all about escaping the routine of everyday life – that's why we love to surprise our guests.
Enjoy an exclusive luxury hotel day package for you to explore one of the best five-star hotels in Mauritius offered at the best price ever!
Located on the stunning South West of the paradise island, LUX* Le Morne is your perfect holiday retreat. With an expansive white sandy beach, a sparkling lagoon, four pools and picturesque chalets dotted around lush tropical gardens, the resort is one of the jewels in the Indian Ocean.
Make the most of this special day package including a welcome drink offered upon arrival, as well as a delicious à la carte lunch at one of the hotel's restaurants.
About the Hotel day package at LUX* Le Morne
A stunning 5* resort on the Southwestern tip of Mauritius, LUX* Le Morne is one of the island's most attractive lagoon-facing hotels. It is the ideal holiday resort for complete relaxation with your partner, family and friends.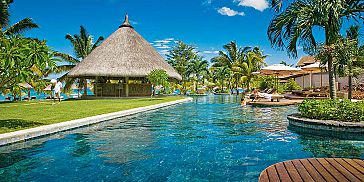 Your wonderful day starts at 10:00am with a personalized, warm welcome by the hotel's dedicated staffs.
Appreciate a cocktail in hand upon arrival, put yourself comfortable and imagine the blissful moments awaiting at the resort.
As part of this luxury day package, you will enjoy a delicious lunch from à La Carte menu served at the Kitchen or Beach restaurant between 12:30pm and 3.00pm. Taste a melting-pot of flavours in the restaurants, where island-inspired dishes are paired with international cuisines and sip on a selection of soft drinks offered throughout the day.
After your lunch, enjoy the wide variety of facilities offered complementary as part of this day package. Relax around one of the four swimming pools and beach including towel service or for the more active, be sure to make the most of the non-motorised water sport activities like windsurf, kayak and paddle boat.
Alternatively, a blissful spa session will bring you complete sense of peace and rejuvenation.
Have a sweet tooth? At the LUX* ice cream stall or the coffee shop, take a seat, engage in a cozy conversation and make up for what you missed during your busy routine life. This is a great way to end your special day.The chic yet relaxing setting, along with the divine luxury experience at LUX* Le Morne will completely seduce you to come again and again.
The Hotel day package at LUX* Le Morne Includes:
Give yourself a break and enjoy a moment of relaxation at LUX* Le Morne.
The Lux Le Morne Hotel Day Package Includes:
Welcome drink and cold towel
A La Carte Lunch* in one of the hotel's restaurants: the Kitchen or the Beach
Spa Treatment*
Access to all hotel facilities (excluding the boathouse)
Free Wi-Fi access around the resort
Access to Sauna and Hammam**
* Note: The Food and beverages and Spa Treatment are available on an allocated credit of Rs 3000 which you can use either on the restaurant or spa. If the consumption exceeds the Rs 3000 credit, you will have to pay the extras directly at the hotel.
**Note: Access restricted to those having a spa booking after 2 p.m.
LUX* Le Morne – Lunch Options
Fresh, light and exquisite, LUX*Le Morne restaurants offer everything that's unique about luxury island cuisine. Relish the very top-quality dishes, flavours and textures that the island's many cultures and influences have to offer during your lunch. Bon appétit!
Between 12.30pm and 3.00pm, enjoy a tasty lunch from the à La Carte menu at the restaurant of your choice: The Kitchen or the Beach.
One thing is sure – You won't leave hungry! From the Mediterranean cuisine available at the 'Beach Restaurant' to the Mauritian street food offered at the LUX's Kitchen, you are sure to enjoy the best dining experience.
The Kitchen Restaurant
The resort's main restaurant – 'The Kitchen', offers amazing culinary creations designed to delight every palate. You will have the privilege to watch the chefs at work through the open plan kitchens and feast on a lavishly prepared lunch.
The Beach Restaurant
Located right on the beach, this light-hearted, healthy restaurant offers large variety of dishes for you to enjoy during lunch. Inspired by the delicate yet satisfying flavours of Mediterranean cuisine, The Beach Restaurant offers a mouth-watering menu filled with Italian ingredients and bursting with flavors. Do not miss to try the restaurant's famous pizza prepared with the freshest and tastiest ingredients!
About LUX* Le Morne Hotel
About the LUX* Le Morne Hotel
Sheltered from wind by the dramatic Le Morne Brabant Mountain, the LUX* Le Morne Hotel sits on the south's most beautiful stretch of powder white sand, complete with palm trees and where dolphins frolic offshore.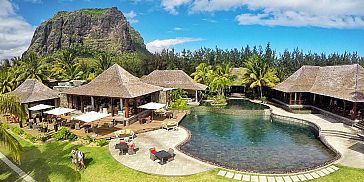 LUX* aim to sustain the holiday spirit long after you return home with the aid of well-trained, helpful staff who respond efficiently to requests, with nothing too much trouble, but respect your privacy too. The resort is set within delightfully landscaped gardens, with four pools, and a selection of restaurants and bars offering its guests to relish delicious wines and a variety of island – inspired dishes. Surrounded by protected coves and sparkling aqua-blue waters, this UNESCO World Heritage site is known for its spectacular sunsets.
Nearby, the wave-riding spot at One Eye is known to surfers and kite surfers worldwide; further inland, the Black River Gorges National Park delights with its tropical flora and fauna – an extraordinary setting for a once-in-a-lifetime adventure in Mauritius.
For those who wish to take a retreat, let yourself be pampered at LUX* Me Spa! The spa offers a holistic, integrated approach to all its treatments. The dedicated therapists will personalise your treatment of choice using an exclusive range of LUX* ME products, from its body treatments to luxurious facials.
LUX* Le Morne is full of exciting things to do. Take to the sea with its dynamic range of complimentary water sports or explore the island with a number of leisurely and adrenalin-filled activities.
With pleasant surprises at every turn, you will get the sense that anything is possible here.
About LUX* Resorts
Reasons why to choose Lux:
The LUX* are on a never-ending quest to deliver a lighter, brighter holiday experience – and now that includes the stylish headgear that you can wear at their resorts.
In addition, aromatherapy guru Shirley Page has created a range of essential oils exclusive to LUX*, using local ingredients – essences, flowers and spices that combine to create a magical world of fragrance. Used in our LUX* Me spa, the oils are also present in delightful room mists and linen scents. Make the most of our 30% discount on selected spa treatments to delight the essential oils exclusive to LUX*.
---
Optional Facilities at LUX* Le Morne
Day Room Use. Enhance your day package by also booking a day-use room during your stay at the hotel. Inspired by authentic island living, all the rooms at this luxury hotel has been designed to reflect the vibrant energy and lively ambiance of Mauritius. Enjoy a Superior Room during your day stay at LUX* Le Morne offered at special discount price for the room (not per person). You will feel at home in this stylishly comfortable Superior Room with chic polished décor, complemented with warm wooden fittings and bright accents of ochre and beach sand.
---
Comments:
The LUX* Le Morne Hotel Day Package is offered every day from 10:00 until 17:00.
Note: Access restricted to those having a spa booking after 2 p.m.
What to bring: We suggest bringing hats, extra sun block cream for sun protection, cameras, and swimsuits.
---
Prices
Price per Adult for the LUX* Le Morne Hotel day package: 130 Euro
Price per Child (3-12) for the LUX* Le Morne Hotel day package: 69 Euro
Not Available Until Further Notice
Reviews
95% Level of Satisfaction
Based on 2 reviews
|
reviewed by Michael Siwalette – Netherlands
|
October 13, 2017
Reaction time to your queries and requests
Quality of meals included (if applicable)
---
|
reviewed by Denise Habets – Netherlands
|
June 23, 2017
Reaction time to your queries and requests
Travel consultant's professionalism level
Added value given to you by the travel consultant
Consultant's knowledge of Mauritius and the products / services
Overall satisfaction from the customer support service
Level of services provided as part of the package / tour?
Level of professionalism by on-site staff / guide?
Your level of enjoyment from the package / tour
Quality of meals included (if applicable)
Ease of booking the package / tour
Overall satisfaction from the package / tour
---