Mauritius Mountain Biking Adventure
100% Level of Satisfaction
Based on 1 review
| | |
| --- | --- |
| Location | East |
| Location | South West |
| Location | Centre |
| Minimum Age | 10 |
| Operating Days | All Days |
| Duration | 3 hrs |
| Activity Time | 09:00 - 12:00 |
| Transportation | Offered as Supplement |
| Comment | A minimum of 4 persons required |
Activity Time
09:00 - 12:00
Transportation
Offered as Supplement
Comment
A minimum of 4 persons required
Mauritius Mountain Biking Adventure - Overview
Tired of the same old ocean views and beach days? Mauritius Attractions offers you an adventurous biking experience off the beaten track through the untouched forests and mountainous trails for a change! Choose between a leisure ride along Bras D'eau, a more technical mountain biking in the beautiful South West region, a challenging ride along the South Coast, or in the centre of the island at Piton du Milieu.
Whichever route you opt for, this adrenaline-packed adventure guarantees fun times in the wild, breathtaking nature sceneries, the freshest air as well as the exclusive chance to explore our endemic fauna & flora on 2 wheels.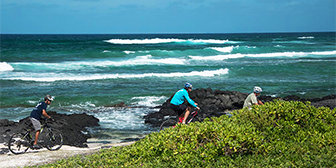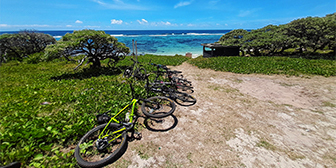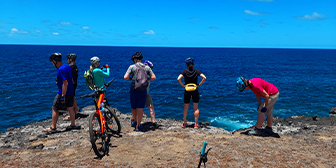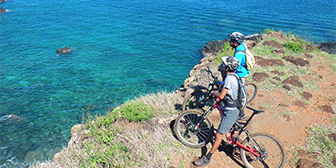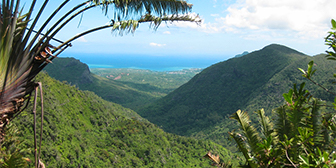 Highlights of this activity:
Take your pick from 4 forested locations and set off on this fun bike adventure
Exciting 3-hour Biking trip in the wild, accompanied by an experienced guide
Ride along the coastal road, though the rich exotic forest, past the National Park, Bras D'Eau (Roche Noire)
Feel your heart racing with the harder track option at Macchabee Forest (South West Region)
Test your mountain biking skills at the South Coast Trail, passing by Le Pont Natural
Explore the centre of Mauritius island with the mountain biking trip at Piton du Milieu
Discover untouched wildlife, rare native birds and let the panoramic views take over your senses on this exhilarating adventure
---
Mauritius Mountain Biking Adventure - Inclusions
3-hour Guided Mountain Biking Adventure
Choice between 4 adventure trails
- Option 1: Bras D'Eau (Roche Noires)
- Option 2: Macchabee Forest (South West Region)
- Option 3: South Coast Trail
- Option 4: Piton du Milieu
Briefing session and orientation by experienced guides
Equipment available: helmets, spare tubes and pumps, professional lycra gloves and 1 pair of speed pedals
Water bottles during the tour
Snacks, cake and juice offered for Option 1: Bras D'Eau (Roche Noires) only
Excluded in the price: Photo service- you have to bring your own camera to capture the spectacular views.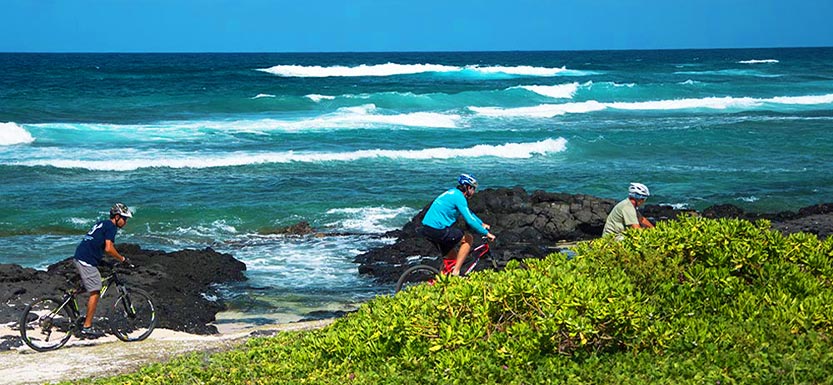 ---
Transportation & Driver Details
Transport is available for an additional supplement and will include pick up and drop off from any hotel / place of accommodation in Mauritius.
Car Capacities
You can choose from a selection of vehicles types:
Family Car - Up to 4 passengers
6 Seater vehicle - Up to 6 passengers
Minivan - Up to 10 passengers
About the Drivers
All drivers speak fluent English and French (Upon special request we can organize drivers who speak additional languages). The drivers, citizens of Mauritius, will be happy to provide you with information about Mauritius and each of its sights.
All drivers are very professional, time efficient and friendly. There is high emphasis on being always on time and providing reliable devoted service to customers.
---
Option 1 Bras D'Eau : Poste Lafayette, East Region
Option 2 Macchabee Forest : Mare Longue, South West Region
Option 3 South Coast Trail : Savinia, South Region
Option 4 Piton du Milieu : Near Piton du Milieu, Centre
Start & End times:
(Upon request, it is possible to opt for an Afternoon Session (13h00 - 16h00))
| | |
| --- | --- |
| Duration: | 3 hours (Option 4: Around 2.5 hours) |
| Operating Days: | Every day |
| Activity Times: | 09h00 - 12h00 |
---
About the Mauritius Mountain Biking Adventure
With four exciting options to choose from, you're in for an adrenaline-fueled mountain biking experience that caters to various skill levels and preferences. Each trail promises a unique journey through the island's natural beauty, offering a mix of challenges and breathtaking sights. Whichever trail you pick, get ready to create memories that will last a lifetime.
All trails include a briefing session and orientation by experienced guides to ensure your safety and enjoyment. You'll be provided with high-quality equipment, including helmets, spare tubes and pumps, professional lycra gloves, and a pair of speed pedals. Stay refreshed with water bottles during the tour, and get ready to conquer the exceptional trails that await your discovery.
Option 1: Mountain Biking at Bras D'Eau (Roche Noires)
This is your chance to go biking through nature on the adventurous tracks at Bras D'Eau!This 3-hour journey offers an action-packed experience suitable for average fitness levels, as a professional guide ensures your safety and enjoyment throughout the trail.
Embark on a 15-30 km ride through the untamed wilderness, equipped with safety-standard bikes, helmets, and lycra gloves. Begin with a warm-up of about 2 km along the coastal road, exploring sandy tracks in the forest of screw pines, eucalyptus and tecoma trees.
Venture along Bras D'Eau Public Beach into the National Park, where intriguing stories and facts about the surroundings come alive. Marvel at the diverse flora and fauna, from jackfruit and breadfruit trees to rare endemic birds like Paradise-flycatchers. Traverse exotic forests, old railway lines, and even a short lava tunnel with supplied lights in maximum safety, all while basking in the beauty of Bras D'Eau's stunning landscapes.
This adventure promises an unforgettable biking experience, offering a unique connection to nature's wonders.
Option 2: Mountain Biking at Macchabee Forest (South West Region)
Experience the thrill of mountain biking at Macchabee Forest in the South West Region of Mauritius. This 3-hour adventure takes you through the island's indigenous tropical forests, offering an adrenaline-inducing experience for those seeking a closer connection with nature.
As the tracks are quite rough and mountainous, this adventurous bike ride requires previous biking experience and a good fitness level. Accompanied by an expert guide, you'll explore around 15-30 km of the South West Region. Begin with a warm-up on roads and single tracks, then dive into forest trails and lakes.
If you crave for some more twists and turns, you will get the opportunity to take up some technical trails and join the National Park along the Macchabee Ridge with sensational views. There, you can discover native bird species such as the echo parakeet, pink pigeon, kestrel and more.
The journey continues through lush fields, down to the Tamarind Falls with glimpses into the cascades. As you reach near the end of your track, it is easier to handle the bike and this is where you would not want the adventure to come to an end!
This mountainous biking trip at Macchabee Forest is indeed a breathtaking experience in Mauritius, whether enjoyed as an individual or in a group - giving you the chance to appreciate the exclusivity that prevails in the South West Region.
Option 3: Mountain Biking - South Coast Trail
Embark on an extraordinary 3-hour Mountain Biking trip along the South Coast Trail, starting at the picturesque Savinia at 9 am.
The expedition begins with an exhilarating descent to Le Souffleur, navigating through some bumpy tracks that add an exciting twist to your ride. As you conquer each challenging section, you'll eventually arrive at the iconic Le Pont Naturel, a true marvel of nature.
But the journey doesn't end there—far from it. The trail gradually shifts into a more accommodating terrain, offering you a chance to catch your breath and fully appreciate the stunning surroundings. The route continues, leading you past enchanting spots like Le Bouchon and La Cambuse, where your extraordinary ride reaches its conclusion. Throughout this 12 km adventure, you'll encounter numerous stops that showcase the natural beauty of the island.
It's important to note that while the South Coast Trail offers relatively flat terrain, it's not suitable for beginners. This trail is tailor-made for those with a thirst for adventure. So, if you're ready to challenge yourself and experience the thrill of conquering the South Coast Trail, this is the perfect choice for you.
Option 4: Mountain Biking at Piton du Milieu (Centre Region)
The Piton du Milieu journey that takes you around the heart of the island, offering a unique perspective of Mauritius.
This mountain biking trip kicks off by weaving through lush forests where majestic stags are often spotted. The ride then leads you upwards to the very heart of Mauritius, more precisely to the captivating Piton du Milieu. As you ride along, you'll be greeted by the tranquil shores of a serene lake before seamlessly transitioning to the picturesque reservoir of Midlands.
The journey continues along a charming trail that skirts the base of the magnificent La Grave Mountain. Covering a distance of 17 km and spanning a duration of 2.5 hours, this route offers a dynamic mix of terrains. While some sections may be bumpy, the path largely follows well-preserved tarmac roads.
Expect a few manageable hills along the way, adding a touch of excitement to the adventure without becoming overly challenging. This mountain biking experience showcases the rich natural beauty of Mauritius through an invigorating ride that is suitable for those with a sporty mindset.
About the guide and the spirit of the trip
The Mountain Bike rides will be under the professional guidance of one of the top guides in Mauritius.
Each trip is carried out with a total respect towards nature and while making it a top priority to stress the importance of its preservation.
The trip will take you around some of the most beautiful places in Mauritius and you will get to learn more about the fauna and flora, making this a unique experience.
Optional - Mountain Biking on an E-Bike
For an additional cost, you can enjoy the convenience and ease of an e-bike during your trail experience. It's a fantastic opportunity to explore the trails with a little extra assistance, ensuring an even more enjoyable and comfortable ride. There are 4 e-bikes in total - 2 Small, 1 Medium, and 1 Large.
---
Sports shoes or mountain-bike shoes with your clip pedals and socks

Camera

Towel

Spare clothes

Sun block cream

Mosquito repellent

Rain jacket
---
| Mauritius Mountain Biking Adventure | |
| --- | --- |
| Mountain Biking at Bras D'Eau | 64 Euros/ Participant |
| Mountain Biking at Macchabee Forest | 75 Euros/ Participant |
| Mountain Biking at South Coast Trail | 75 Euros/ Participant |
| Mountain Biking at Piton du Milieu | 75 Euros/ Participant |
---
Booking Attributes
Reviews
100% Level of Satisfaction
Based on 1 review
|
reviewed by Rita post – Netherlands
|
September 10, 2017
---