Mud Karting at Casela Park
| | |
| --- | --- |
| Location | West |
| Minimum Age | 16 |
| Operating Hours | 09:00 - 17:00 |
| Operating Days | All Days |
| Duration | Flexible |
| Activity Time | 09:00 - 16:30 |
| Transportation | Offered as Supplement |
| Comment | One time slot of 20 minutes includes getting ready, briefing and 10 minutes of fun driving on the mud circuit. You can choose either Single or Double Mud kart. |
Mud Karting at Casela Park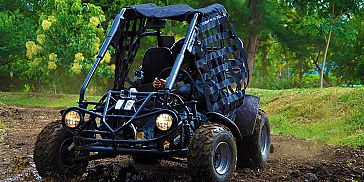 Feel the need for speed? Forget regular karting and let yourself be taken to a whole new level of Karting experience!
We are pleased to offer you an adrenaline-rushed Mud Karting at Casela Park!
More than just a Mud Kart ride, this is a nature discovery trip of the most beautiful nature reserve in the West coast of Mauritius.
Enjoy 20 minutes of fun-packed Mud Karking experience with your friends and colleagues, bringing true pleasure to all your senses. The package includes a short briefing on the activity and safety measures and 10 minutes of fun drive on the mud circuit.
Joining this exhilarating adventure, you can enjoy an amazing ride on a single-seat Mud Kart or a double-seat Mud Kart sharing with your partner. You need to be at least 16 years old to drive and can enjoy this wonderful activity on a single/double Mud Kart.
More about the Mud Karting at Casela Park
The activity starts with a briefing by an experienced guide on driving and maneuvering the Mud Kart, so you will be sure to ride with maximum confidence and ease. Mud Karting is not just driving with your pedal to the metal. The off-road circuit track is full of twists, turns, overtakes and speedy straights which will truly test your handling skills and bring out your inner pro-off-road driver. Also, be prepared to be covered head-to-toe in mud!
From the start till the end, enjoy fun and crazy high-powered Mud Karting - rest assured that you will stay protected as full safety harness, protective clothing, waterproofs and helmets are provided to you.
After this amazing Mud Kart activity, you will have some free time to explore the many unique nature spots at Casela Nature Park or experience any of the other activities offered at the park.
The Mud Kart activity at Casela Park includes:
20 minutes of Mud Kart experience which includes getting ready, briefing and 10 minutes of fun driving on the mud circuit on a single/double Mud Kart.
Opportunity to ride a Mud Kart in a beautiful nature reserve - the Casela Nature Park
All necessary facilities for the Mud Karting will be provided: helmets. goggles, protective clothing, changing rooms and cold showers.
---
Visit of the Casela Nature Park - World of Adventures
Important: The Mud Karting is done at the Yemen Reserve which is part of Casela Nature Park. Accordingly, we offer you to purchase the Mud karting together with the entry tickets to the park.
About the Casela World of Adventures: The Mauritius Casela Park is a real nature and adventure park. It is located besides the Rempart Mountain on the South-West of Mauritius offering magnificent views of the countryside rolling down the west coast of Mauritius.
Visit to the park includes:
Toboggan - a thrilling fun ride on the first toboggan slide in Mauritius. The Toboggan includes two slides placed on a slope on which one slips with buoys.
Walk thru the aviary - Walk through the bird aviary and interact with various colorful bird species from around the world.
Safari photo - Find yourself face-to-face with zebras, ostriches, antelopes, white rhinoceros, impalas, kudus and all their neighbours during a unique safari tour onboard one of the safari vehicles.
Big cats viewing - For Big Cats lovers, this is a dream come true! Visit the Big Cats' park to enjoy a close view of the lions, cheetahs and tigers.
Giraffe viewing - Come face to face with majestically animals for a unique viewing experience.
Camel viewing - If you've always wondered how camel really look like and how do they live, come to Casela Park to view these fascinating animals live.
Kid's playground - A new kid's playground that will offer sensation to the young ones!
Petting farm - Ideal setting for people of all ages, especially children to interact with farm animals.
3D Interactive Map - Discovery of natural science and History of Mauritius through giant 3D Maps.
Additional activities offered at the Park
---
Comments
The Mud Kart activity is offered everyday between 09.00am – 16.30pm.
You have to be 16 years old or more to drive a Mud Kart.
Children above the age of 10 can enjoy this activity alongside an adult on a double Mud kart.
Duration of the Mud kart activity: 20 minutes
Duration of the entire visit to the park: 3 – 4 hours
Group size: The Mud Karting is kept at a maximum of 5 participants on a single Mud Kart and maximum of 10 people on a double Mud Kart at a time.
There will be a briefing done by a professional guide.
Changing room are made accessible for clients
Cold showers are available.
Advisable to wear closed shoes
You can enjoy this amazing experience in Mauritius as individual or together with your partner – You have a choice between a single Mud Kart for 1 person and a double Mud Kart, ideal for 2 people.
It is important that you wear closed shoes and bring spare clothes.
Prices
Price for Single Mud Kart (1 pax): 22 Euro / kart
Price for Double Mud Kart (2 pax): 28 Euro / kart (14 Euro / person)
Visit of the Casela World of Adventures Park (Entry tickets): 20 Euro / person