Nitrox Diving Course In Mauritius
| | |
| --- | --- |
| Location | North |
| Operating Hours | 09:00 - 16:30 |
| Operating Days | Monday, Tuesday, Wednesday, Thursday, Friday, Saturday |
| Duration | Flexible |
| Activity Time | Flexible |
| Transportation | Offered as Supplement |
| Comment | Participant must be PADI Open Water Level holders or equivalent. |
Nitrox Diving In Mauritius
Appreciate the beauty of the underwater world by diving deeper and staying longer in the ocean with the Nitrox Diving Course in Mauritius!
Indeed, it is possible to take the Nitrox Diving Course to make your vacation more adventurous and fun. With this type of diving course you will safely extend your 'No-Decompression Limits' (NDL), and have the advantage of spending more time at the bottom of the ocean, especially on repetitive scuba dives. There is nothing as amazing as extending your stay in the deep water where you will have the chance to cherish the vibrant marine ecosystem of the South Indian Ocean.
About The Nitrox Diving Course In Mauritius
The Nitrox course is especially designed for enthusiastic divers willing to expand their knowledge and abilities. Nitrox is an abbreviation for Nitrogen-Oxygen which is the primary content of the air we breathe every day. For recreational diving purposes, the term Enriched Air Nitrox or EANx is a breathing gas blend with a higher percentage of oxygen than the usual air we breathe.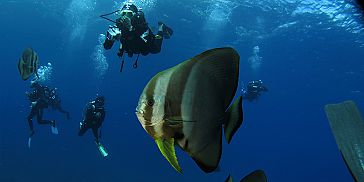 Divers prefer to use Nitrox for a variety of reasons. One of the primary reasons is because it gives you the ability to stay in deeper waters for longer, due to the higher no-decompression limits. The number of dives you wish to do, depend on the amount of nitrogen that is absorbed, and this dictates your time underwater or no-decompression limit (NDL). As you dive deeper and in some cases for longer, your body will absorb more nitrogen. The no-decompression limit will correlate to how much nitrogen your body can safely absorb before you have to perform mandatory decompression stops.
This Nitrox Diving course consists of a theory session (on an electronic tablet) in the diving center, followed by 2 diving sessions in the sea.
You will learn how to plan the dive and prepare the required equipment including; managing oxygen exposure, how to analyse the content in your tank, gear markings, tank filling, and so on. This is a continuous course available for PADI Open Water level holders or equivalent: (CMAS 1 Star, SSI Open water).
As part of the Nitrox Diving Course you will benefit from:
2 Open Water dives
Theory lessons on an electronic tablet
Exams
Registration Fees and a Manual
All equipment provided upon arrival (wetsuits, a mask, snorkel, fins, regulator, buoyancy control device and a tank)
Full time, highly trained SSI, PADI and CMAS instructors
---
Additional Information About The Scuba Diving Centre In Mauritius
The diving center, fully-equipped and certified, offers amazing diving experiences around the five northern islets of Mauritius. These spots are considered as great diving sites where both beginners and advanced divers can experience depths and topographies of all levels. Diving sites include; square profiles, multilevel dives, caves, wreck explorations, cliffs, coral gardens, shark dives, drift dives and safari dives.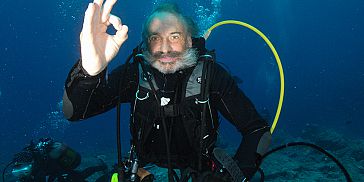 The full-time and highly trained SSI, PADI and CMAS instructors provide diving courses and programs designed to suit your needs.
The diving centre is equipped with: a reception, a dive shop, changing rooms, Wifi and an external air & nitrox compressor room. There are also safe lockers to store your belongings.
The centre is pleased to allow beginners and experienced divers to choose their own training path through several international Scuba Diving organizations such as: PADI, SSI, SDI and TDI.
---
Comments
Restrictions:
Participants must be certified by either PADI, SSI or CMAS (They should bring their certificates along with them).
Dives can be still carried out under rain unless safety is compromised.
Reservation: Required 48 hours in advance and is subject to availability.
What to bring: Sunscreen, towel, and other items that you deem necessary.
Note:
The theory session is done on the same morning before the sea dives.
A medical certificate stating no indication against diving must be provided on arrival.
This is a continuous course. The theory session is done on the same morning before the sea dives.
---
Prices
Price per participant: 135 Euro
Customers who bought this activity also purchased