Sailing course for beginners (North)
| | |
| --- | --- |
| Location | North |
| Minimum Age | 8 |
| Operating Days | All Days |
| Duration | 15 hrs |
| Activity Time | Flexible |
| Transportation | Offered as Supplement |
| Comment | Activity Time: 9h30 – 12h30 OR 14h00 – 17h00. The course can be taken within 1 week, but also split over several days. |
Sailing course for beginners & 15 hours Course at Mont Choisy (North Coast)
This is an exclusive offer to experience and learn sailing in one of the best sailing destination in the world.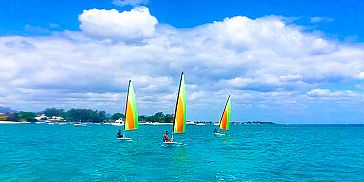 This special sailing course will turn your holiday into an unforgettable memory. With a 15-hour sailing course designed to teach you everything worth knowing about sailing as well as to familiarize you with this fantastic world of sailing that some see as a sport and others choose as a lifestyle.
Based in Mont Choisy, at the Coral Azur Beach Resort, this perfect location is ideal for those passionate about sailing as well as those who would love to learn to sail in the perfect crystal blue waters of the northern coast, benefiting from idea sea conditions and light wind.
When joining our sailing course you are sure not only learn how to sail, but also you will feel very much at home and safe, being instructed and cared-for by the internationally qualified RYA (Royal Yachting Association) instructors. After your first sailing lesson you will already feel the urge to return again and again for more lessons, enjoying every minute of the course.
At the end of your sailing course, and depending on the sailing level you will reach as part of your course, you will receive an RYA level 1, 2 or 3 sailing certification.
The Sailing courses for beginners – Learn a new skill!
During the several training sessions, the professional instructor will provide you full assistance. You will progress inch by inch during this learning process and by the end of the 15-hours course, you will acquire full knowledge about sailing.
Taking in consideration that the courses can be taken with some flexibility as per your preferences and schedule, and according to the availability of the center. For example you can complete the course within 3-5 days in a row, or choose to split your lessons over several days, having breaks in between.
As part of this fantastic sailing course, you will learn everything worth knowing about sailing from obtaining the very basic sailing skills till having a "taste" of sailing. Each of the sailing maneuvers and training sessions is made up by steps that are logically structured to enable individual training. You will be much more confident in controlling and maneuvering your sailing vessel in the open sea and lagoon.
As part of the sailing course, only advanced equipment and sailing boats are used during the learning session where you will have the privilege to choose among our comprehensive fleet of catamarans or dinghies – Laser Picos, Laser 2000's, Hobie 16 LE Race, Hobie Pacifics and Hobie 15.
Different level of RYA courses
All our sailing courses are run as per Royal Yachting Association guidelines and ratios using qualified instructors.
Courses are suitable for everyone from beginner to intermediate sailor.
RYA Level 1
This course is for beginners who have done little or no dinghy sailing before. It is the first part of the Royal Yachting Association (RYA) training scheme and its aim is to provide basic boat handling techniques and essential background knowledge. By the end of the course you will be able to sail safely under supervision.
RYA Level 2
This course is the second part of the RYA training scheme and for those who have completed the RYA Level 1, Start Sailing, course or have equivalent experience. It's aim is to consolidate your basic knowledge of sailing, and develop an awareness of safety. By the end of the course you will be capable of sailing a dinghy without an instructor on board in light winds.
RYA Level 3
This course is a new addition to the RYA scheme and is designed to bridge the gap between the RYA Level 2 and the advanced modules. The emphasis is on increasing the self reliance and decision making of the sailor. There will be a selection of different types of boats used and different taster sessions from the more advanced modules. On completion of this course the successful sailor will be capable of manoeuvring a dingy/keelboat/multihull in a seamanlike manner, make seamanlike decisions in moderate conditions and have experienced an introduction into racing.
At the end of your sailing course, and depending on the sailing level you will reach as part of your course, you will receive an RYA level 1, 2 or 3 sailing certification.
Our mission is to teach people to sail and have fun on the water, involve them in the sailing activity and give them easy and affordable access to sailboats and water activities.
Safety – We care for you!
The sailing course starts with a full briefing on safety instructions about your learning session process and the level you will learn. Two safety boats and a dedicated rescue team are always on standby. Only the best quality and advanced equipment is offered including also life vests and trapeze harnesses if necessary – all for your maximum safety & comfort.
Conditions:
Operating Days: All days
Operating time: (Anytime during the following schedule)
In the morning: 10:00 – 12:30
In the Afternoon: 13:30 – 17:00
Departure point: From Coral Azur Hotel, Mont Choisy
Duration: 15 hours course which can be done over one week or split over several week days
Minimum age: 8 years and above.
Maximum number of people: 10 participants per group
What to bring: Swimwear, suitable shoes, towels, water, suncream
Additional Info:
About Sailing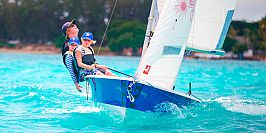 In most countries, sailing is enjoyed as a leisure activity or as a sport. It consists of wind propulsion of a boat by the means of sails and guiding it over water. The participant manages the force of the wind on the sails by adjusting their angle with regards to the moving sailing boat.
This popular water sport attracts people of all ages and abilities. With proper lessons and favorable conditions all year round in Mauritius, the basic skills of sailing, steering, and turning can be learned within a few hours.
About the sailing center
Based in Mont Choisy, at the Coral Azur Beach Resort, the centers welcomes anyone who wants to try out its fantastic range of performance dinghies, catamarans and SUP's.
Over the past 26 years, the sailing centre in Vassiliki, Lefkas, Greece has gained a reputation as one of the premier sailing schools in the world. Now the legendary sailing club has come to Mauritius, establishing their first local branch at the Coral Azur Beach Resort.
Being the only RYA (Royal Yachting Association) recognized training establishment in the entire India Ocean, so you are assured of a high standard of safety as well as first class professional and friendly instructors.
About Mont Choisy Beach – Northern Coast
In the Northern side of Mauritius, Mont Choisy Beach stretches from Trou aux Biches to the Club Med in Pointe aux Canonniers, making it the longest beach in Mauritius.
The beach is characterized by its gentle arch which shows the waters curving as they hit the shores. It enjoys the panoramic scenery of the Indian Ocean, featuring gentle turquoise colored waters, powdery white shores and a rich marine life.
One of the popular beaches in Mauritius, with abundant sea activities and many hotels in the surrounding, you will always find something for you. This is the ideal location for couples, families and friends longing for peaceful holidays, in a Mauritian style.
---
Prices
Price per participant for the complete Sailing Course of 15 hours: 435 Euro / person