Scooter Cruiser Underwater Experience
| | |
| --- | --- |
| Location | North West |
| Minimum Age | 8 |
| Operating Hours | 09:00 - 17:00 |
| Operating Days | Tuesday, Wednesday, Thursday, Friday, Saturday, Sunday |
| Duration | 1 hrs 30 mins |
| Activity Time | Flexible |
| Transportation | Offered as Supplement |
Scooter Cruiser Underwater Experience
The Scooter Cruiser is an awesome experience riding your own single motorized scuba bike, which resembles a cross between a scooter and a midget submarine.
You will get to experiencing piloting your own Scooter Cruiser for a unique underwater trip.
You will be seated on your own individual Scooter Cruiser, with your head and shoulders within a clear dome, your air supply constantly replenished from the scuba tank, enabling you to breath normally!
Though your body is immersed in the water, your head remains dry inside the dome, allowing you to breathe easily and wear contact lenses or glasses comfortably, while admiring the one hundred and eighty degree view.
The Scooter Cruiser is a self propelled diving vehicle, used primarily for introductory dives to a maximum depth of 10 meters. With that, for your maximum safety and to avoid any damages to the reef, as part of this adventure you will cruise at depths of about 4-6 meters.
When going for the Scooter Cruiser adventure you don't need to wear a mask or a mouthpiece as in normal Scuba diving, and the air tank and diving weights are on the Scuba-Doo, not on you!
This is why no lengthy courses are required, and you can get underwater for a special underwater adventure within minutes.
From a safety point of view, each group of 4 participants is accompanied by a fully qualified PADI Dive Instructor and additional qualified divers who are there to assist on nay matter. The dive depths are controlled by the use of an attached buoy, thus preventing damage to the Coral or the Diver.
Also, there is no need to know how to swim in order to experience the Scooter Cruiser, in fact the Scooter Cruiser is even used by people with minor disabilities.
The Scooter Cruiser has a simple steering and throttle mechanism and is powered by an electric motor making it non polluting and safe for the marine environment. At a rate of 2,5 knots you're able to ride amongst the spectacular underwater world, or remain stationary and observe the abundant fish.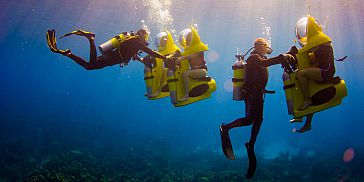 This is why the Scooter Cruiser is quick, easy, safe and fun. Suitable for almost all ages from the age of 8 years old and up!!!
The Scooter Cruiser adventure starts with a brief training by your dive instructor will who show you the safety techniques of the Scooter Cruiser, and you'll be off enjoying yourself in just a few minute. You will get to enjoy a unique underwater adventure cruising along the reef for a unforgettable underwater adventure of about 30-35 minutes. Then after will head back to the platform and back to land.
For the benefit of all participants your entire experience is captured in digital photography. With pictures being available on CD as soon as you have completed your Scooter Cruiser adventure.
Costs Includes the following:
Pictures of your Scooter Adventure on CD - given per each participant ( +/- 50 Pictures + short video clips)
Use of Clean Towels after each Dive
A complimentary Cocktail, soft Drink , Tea or Coffee
A generous slice of home made Chocolate Cake and/or Home-made Samoosas and Chilli Bites
Duration of Dive
The Scooter Cruiser excursion requires a boat transfer, preparations and a safety briefing, which takes approximately 15 - 25 minutes.
The Dive itself lasts up to 35 minutes.
In total, participants should allocate a minimum of 1 1/2 hour for the Scooter Cruiser excursion.
Operating Days & Times
The Scooter Cruiser adventure is offered every day except Monday
The operating hours are between 9 am and 5 pm with the last dive departing at 4:15 pm
Comments
No Previous Diving experience is needed to enjoy the Scooter Cruiser
It is not required to know how to swim in order to take part in this excursion
The Scooter Cruiser is designed in Australia, it has been operating around the Great Barrier Reef World Heritage site for many years with an unblemished safety record
Suitable for almost all ages from the age of 8 years old and up
The Scooter Cruise adventure is offered every day except Monday.
---
Private Scooter Cruiser Underwater Experience
This is an ideal option for those looking to enjoy an intimate experience where you will be piloting your own Scooter Cruiser in maximum privacy, having a Private underwater trip along the magnificent reef of the North West of Mauritius only for you and your partners.
Some of the benefits of having the Exclusive Scooter Cruiser Experience are:
Maximum privacy, having the entire platform and facilities dedicated only for you
Having personal guidance only for you and your partners
Benefit from maximum flexibility in the activity pace
Maximum number of participants: 4 participants
Price includes: Exclusive Scooter Cruiser Experience for up to 4 people, Pictures of your Scooter Adventure on CD, towels, complimentary Cocktail, soft Drink , Tea or Coffee, homemade snacks and cakes.
---
Price
Shared basis Scooter Cruiser Experience
Price per Participant:75 Euro
Exclusive Scooter Cruiser Experience
Total Price for the Exclusive Scooter Cruiser Experience (up to 4 pax): 300 Euro