Shanti Maurice - A Nira Resort- Day Package
| | |
| --- | --- |
| Location | South |
| Operating Days | All Days |
| Duration | 7 hrs |
| Activity Time | 11:00 - 18:00 |
| Transportation | Offered as Supplement |
| Comment | Access to kid's club for children between 3-12 years old |
An Exclusive Day Package At Shanti Maurice- A Nira Resort
Discover a luxurious retreat nestled between the lush mountains of the South Coast of Mauritius in an unspoilt area. Shanti Maurice - A Nira Resort invites you with your friends, family or partner to enjoy a majestic escape with sights, sounds and flavours that characterise Mauritian culture.
This exclusive day package promises you a relaxing and memorable time in a luxurious yet tropical setting. The warm temperature, incredible beach and exotic gardens are inviting you to cherish some moments of indulgence.
Also ideal for families with children, this luxurious resort provides children with an amazing experience and a tremendous range of facilities. There are several fun activities that can keep the young guests busy.
If you are seeking a fun yet relaxing; a luxurious and yet exotic hideaway, then Shanti Maurice awaits you!
---
About The Day Package At Shanti Maurice - A Nira Resort
Standing majestically in the wild, unspoiled South Coast of Mauritius; between Blue Bay and Le Morne, the luxurious Shanti Maurice is encompassed by lush green sugar cane fields and the incredible sea.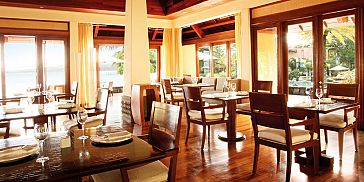 Your amazing day starts with a warm greeting from the personable staff that exude genuine friendliness and hospitality. Upon arrival, sip on the refreshing coconut water in a black ceramic cup whilst refreshing yourself with a cooling towel.
In a relaxed setting open to ocean views and gentle breezes, nestles ''Stars'' –the signature restaurant of the resort. The restaurant Stars, exemplifies an understated elegance, with coolly-polished palisander wood flooring and a balan ceiling, adding warmth. You will spot wooden French doors which lead onto a mezzanine deck, offering incredible views over the Indian Ocean.
And as part of this day package, you will be offered a 2 course palatable lunch menu at the Stars restaurant, where you can also enjoy a chilled beer or soft drink. Enjoy the "Aquacasia" culinary concept where you can explore the unique flavours from across the Indian Ocean. Aquacasia showcases an unforgettable mix of authentic and artisanal offerings, capturing the heart and soul of each island's love of food, entwined with a mastery of spice.
You will also have privileged access to the award winning Nira Spa where you can enjoy a 30% discount on any massage. Additionally, you can benefit from free access to the spa facilities such as the sauna, hammam, and jacuzzi. The Nira spa is considered as one of the best spa in the island. It is built around an enchanting tea pavilion, with lily ponds which act as revitalising spots.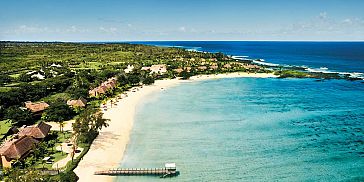 Spend the rest of the day taking advantage of the many hotel facilities such as the swimming pool, the fitness centre or access to one of the island's best beaches. If you are looking for some fun, adventurous activities, then the resort offers non-motorised water sports such as kayak, zayak, pedalo, paddle board and snorkeling with free snorkelling equipment and jelly shoes.
You can also enjoy an unforgettable snorkeling tour to the "Coral Garden" which is a unique site in the South of Mauritius at the Shanti Maurice Lagoon. The snorkeling area is accessible directly from the beach, making it safe but just as exciting for those less experienced who wish to discover the marine life.
Other facilities include free access to Wifi, Les Petits Dodo- kid's club for children aged between 3-12 years old and use of the lounge sofas and sunbeds.
The Shanti Maurice Day Package includes:
Welcome drink and cold towel
2 Course lunch at the Stars restaurant
1 beer or soft drink (during the lunch)
Enjoy 30% discount on any massage at Nira Spa
Access to Spa facilities, including: Sauna, Hammam, and Jacuzzi
Access to swimming pool and fitness centre
Access to "Les Petits Dodo" kid's club (3-12 years)
Non-motorised water sports
Free Wifi
Access to one of the island's best beaches
Use of lounge sofas and sunbeds
---
About Shanti Maurice - A Nira Resort
Shanti Maurice is a five star resort par excellence which stretches across 36-acres of blissful fragrant tropical garden with lush green coconut palm trees in the south coast of Mauritius. This luxurious, boutique hotel and resort has been designed in a rustic yet chic look which blends easily with the Creole concept that inspires tropical vacations. Ideal for couples, families and friends alike, Shanti Maurice has 61 luxurious suites and villas presented in earthy, colour tones. Enjoy the ultimate enclave of the Shanti Villas that lie in the middle of lush landscaped gardens, with a private swimming pool and jacuzzi.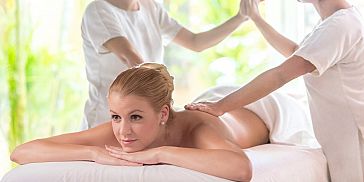 Shanti Maurice proudly presents its Nira Spa which is one of the largest and most comprehensive in the Indian Ocean. With its 25 treatment rooms, the award winning Nira Spa is built around an enchanting tea pavilion and lily ponds which act as a revitalising spot - an ideal retreat vacation indeed! Another highlight is the Fish and Rhum Shack, where a remote stretch of beach is transformed with tiki torches and driftwood furniture into a hedonistic sea-side hangout. This is where you can get into a party mood where you have a selection of mouth-watering seafood.
Shanti Maurice Key Highlights:
61 spacious suites and villas
25 Spa treatment rooms
3 Restaurants
2 bars & lounge
1 Beachside Fish Shack
1 Kids Club
Private Pool
Shanti Maurice Kid's Club: Les Petits Dodos
Les Petits Dodo Kid's Club is specially designed for children aged between 3 to 12 years old. The club is set within its own ground beside the Nira Spa and comes complete with its own toddler's pool and games room.
Les Petits Dodo Kid's Club provides unlimited access to and use of facilities between 09h00 to 21h00. A weekly activity program, crammed with fun-filled pursuits such as flower making, face painting, arts & crafts and musical games to ensure the little ones are entertained during their stay.
Field trips can also be arranged to the nearby Crocodile Park and Casela Bird Sanctuary, where the younger ones can make friends of the furry or scaled variety. A babysitting service is available for children under 3 years old at an additional cost.
A special children's menu features both local Mauritian dishes for the adventurous as well as perennial favourites such as Spoodles (Spaghetti Bolognese), Chix Fix (chicken nuggets) and Burgosaurus (mini chicken or vegetable burgers). Children's meals are served at the resort's Pebbles Restaurant, however can also be taken at the Kid's Club.
---
Prices
Price per person: 62 Euro
Dear Customer, to book this activity please contact us on +230 269 1000.