Shared - Full Day Big Game Fishing trip - Black River
93% Level of Satisfaction
Based on 6 reviews
| | |
| --- | --- |
| Location | South West |
| Minimum Age | 5 |
| Operating Days | Tuesday, Thursday, Saturday |
| Duration | 8 hrs |
| Activity Time | 07:00 - 15:00 |
| Transportation | Offered as Supplement |
Shared Full Day Big Game Fishing trip from Black River
Unique Full Day Deep Sea Fishing activity on a 42/ 50ft boat in the deep seas off the west of Mauritius offered to you on shared basis!
A Full Day activity (7:00am –15:00pm) of adventure and fun on a 42/ 50 feet fishing boat, ideal for 3 anglers at a time and can accommodate up to 8 passengers.
Looking to enjoy a Deep sea fishing trip without hiring the boat on exclusivity? Then, this is definitely our recommendation! Whether you are alone, couple, family or group of friends; you are sure to enjoy our new approach to Big Game fishing!
Mauritius Attractions has the extreme pleasure to offer its clients a specially designed full day Big Game Fishing trip package on shared basis.
About this Shared Basis Fishing Trip (42/ 50ft boat - Black River)
Come and enjoy our Shared Full Day Deep Sea Fishing on a 42/ 50ft boat which is ideal for 8 passengers, with preferably no more that 3 anglers at a time.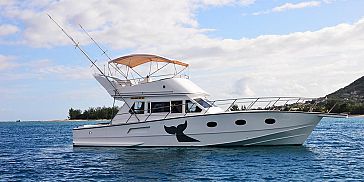 Experience our New Adventure in group or family and feel the exhilaration reeling in your catch and end this memorable journey on a more relaxing mode by admiring the exquisite West coast over a delicious lunch.
The Deep Sea fishing trip itself starts at 7.00 am, and you will be welcomed onboard for our New Adventure with a light breakfast served before departure.
Following the breakfast, you will have a short pre-departure briefing by the boat's captain.
As this is a full day trip, you will have plenty of time to reach far into the deep sea and seek for the really big catches such as the giant Blue Marlin.
Also, the region of the South West of Mauritius is the home of groups of dolphins and as part of this full day fishing trip you will have the opportunity to cruise inside the Tamarind Bay seeing the dolphins.
Our experienced crew combines their skills to set up the perfect lines, best suited to that day's fishing conditions. Our 42/ 50ft boat is one of the biggest on the West coast and isexcellently equipped for your adventure with us. It gives us the opportunity to offer a better comfort and service to our clients.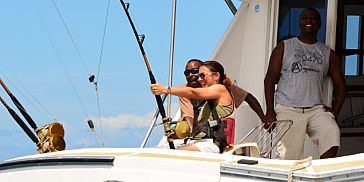 The boat crew is incentivized to catch fish so you can be sure they're doing their very best to get The Big One on the line. It's up to you to bring it in!
All ladies and children are the most welcome on our 42/ 50ft boat. Children prove to be resilient sportspeople and ladies often get unexpectedly wrapped up in the excitement.
The first part of the journey for fishing ends around noon and you will cruise from the deep sea back to the lagoon.
For the second part of the journey, the boat will stop for break in some key locations along the coral reefs, where you can enjoy a swim and some snorkeling in the sea, or enjoy the sun and drinks onboard our 42/ 50ft boat. The snorkeling is a great way to have a glimpse into the mesmerizing marine life and the underwater world of Mauritius.
Moreover, you will enjoy a spectacular view of the Black River mountain range, and of the magnificent Le Morne Mountain and the beautiful Le Morne peninsula.
This is great chance to enjoy the beautiful West coast taking a break from the adrenaline pumping fishing activity for a delicious BBQ lunch, swimming, snorkeling and some relaxation.
Expected arrival time to Black River is 15:00 pm.
Trip Inclusions
Included in our full day Deep Sea Fishing activity are complimentary light breakfast and BBQ lunch and beverages (all included in the price of the activity). Provided onboard the boat is a selection of both soft drinks and alcoholic drinks.
BBQ Lunch Menu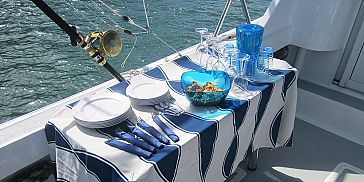 As part of this full day activity on our 42/ 50ft boat, a delicious full BBQ Lunch will be served onboard close to the amazing West coast, out looking the beautiful coastlines and landscape, from the sea, away from the busy world.
The BBQ lunch menu consists of appetizers, seafood skewers, BBQ chicken, fish, along with salads and garlic bread and Banana flambé as dessert. The lunch is served and prepared by our skippers.
Deep Sea/ Big Game Fishing in Mauritius
Mauritius is very famous for deep sea fishing which has been practiced by the locals for many years. With perfect conditions prevailing throughout the year, the possibilities to fight giant Blue Marlin, Black marlin, Mako sharks, Tuna and many other exciting fish are made available to experienced anglers and beginners.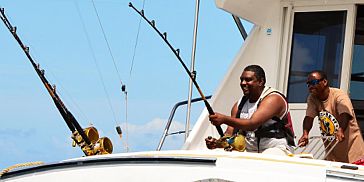 Mauritius holds several world fishing records (IGFA), including that of the mako shark of 1115 pounds, the blue shark of 400 pounds, a bonito of 41.5 pounds, a white tuna of 224 pounds and a 'bécune' of 125 pounds.
The famous Blue marlin's enormous size and legendary fighting ability makes it one of the most highly targeted gamefish in the world. These true giants are top of the food chain. They lurk in the waters surrounding Mauritius, waiting to pounce on an unsuspecting tuna or a lure bubbling and splashing behind a boat.
They are generally loners and put on a spectacular battle when hooked, jumping all over the surface while also staying under and fighting down and dirty. Battle's with these monsters can last well over three hours; the longest fight in Mauritius was twenty six hours before the line broke!
With its rich marine fauna, Mauritius is revered by Deep Sea Fishing enthusiasts worldwide.
For an angler, little can compare to the thrill of the chase to get the adrenaline pumping. The roar of the inboard Caterpillar engines, and the scream of tightly stretched line when a marlin or other game fish has struck the Kona, is a pulse-racing experience!
Come and discover firsthand the roar of the inboard Caterpillar engines, and the scream of tightly stretched line when a marlin or other gamefish has struck the kona, is a pulse-racing experience!
Deep Sea Fishing at the West of Mauritius (Black River region)
Big-game fishing at the West of Mauritius draws all anglers, from beginners to professionals, straight to our jetty for their thrilling adventure with us.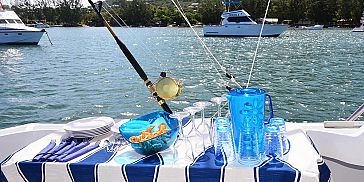 Marlin, shark, wahoo, Dorado, tuna, bonito and more; all offering sporting action to boast about. Spend an unforgettable voyage off the West Coast of Mauritius, well-beyond the calm coral reefs, to the areas of incredible depths where the monster fish dwell as the sea floor drops off past the 3000m mark. This makes it the perfect place to bring those eager for a trophy catch. While at sea, keep your eyes alert to stand the chance of witnessing unique displays by Mother Nature's creatures.
The West Coast of Mauritius is a big-fish Mecca where all the action happens.
Where else can you expect to strike any six of the seven billfish such as Blue Marlin, Black Marlin, Striped Marlin, Spearfish, Swordfish, Sailfish and possibly also catch shark, Wahoo, Dorado, Tuna, and Bonito, all on the same day?
The Fishing Boat
The fishing boat is an ideal all-day cruising vessel that also endures heavy weather with ease. It is 42/ 50 feet with 2 inboard Detroit Diesel engines of 485HP each. The number of people for the trip is 11 people, consisting of 1boat skipper, 2 staff members and 8 guests which can enjoy the most comfortable outing onboard. The main deck is spacious to effortlessly fit your prize catch and also offers seating on the fly bridge for elevated views of the striking West coast surroundings. Just relax and take it all in!
Boat size: 42 or 50 feet in length (about 16 meters)
Navigation equipment: Furumo GPS, compass Platimor Offshore, Sondeur Furumo
Communication equipment: VHF Radio Furumo, cell phone
Cartograph: Fijutsu
Safety equipment: 15 life jackets, 2 life buoys, medical box, fire extinguishers, anchor, automatic and manual water pump
Fishing equipment: Penn International reels (typically a selection of 130 lbs, 80 lbs and 50 lbs), harness, bucket, gaff, 2 units of outriggers, 3 fighting chairs, 8 fishing rod holders and wide choice of lures and exciters.
Other equipment: 1 BBQ Grill, fresh water tank and pump, toilet, berth, cool box, binoculars and CD player Should you have any particular preferences regarding reels or the fishing line's breaking strain, let us know as we have a large stock of equipment from which to draw. We are passionate about fishing and can easily cater for the most fanatical of anglers. We will just need some warning to prepare all that you request.
---
Comments
This exceptional Deep Sea fishing trip on shared basis is offered on Tuesdays, Thursdays and Saturdays.
Maximum of 8 passengers on the 42/50ft boat, with no more than 3 anglers at a time
This is a full day activity with departure from Black River (south west of Mauritius) at 7:00 am, and return at around 15:00 pm
Outings are not recommended to pregnant women
There are 3 fighting chairs onboard, with the possibility for 3 persons at a time to enjoy fishing.
Snorkeling equipment is provided for you free of charge
Children of any age is allowed to go on this activity, however as it is a long journey and the fishing is done out in the Deep sea, our recommendation is to go on this activity as from the age of 5 years
There are 2 shower units and a toilet on board. The boat also has 1 double room and 2 single rooms.
A light breakfast and a Delicious BBQ lunch is included onboard
Selection of complimentary drinks: Water, Soft Drinks (Coke, Sprite), Juice, Rhum, Beer and Wine.
What to bring : We suggest bringing hats, t-shirts and sun block cream for sun protection, cameras, swimsuits
Please note that clients will not be allowed to keep any of the fish caught during the excursion.
---
Price
Price per adult: 175 Euro
Price per child (5-12years): 125 Euro
---
Important Details to Submit
In order to process your booking, client MUST provide the following details at the comment box during the order process:
Name of each participant as per the passports
Reviews
93% Level of Satisfaction
Based on 6 reviews
|
reviewed by Gokhan Durmaz – Turkey
|
October 30, 2017
Reaction time to your queries and requests
Travel consultant's professionalism level
Added value given to you by the travel consultant
Consultant's knowledge of Mauritius and the products / services
Overall satisfaction from the customer support service
Level of services provided as part of the activity?
Level of professionalism by activity operator staff / guide
Your level of enjoyment from the activity
Quality of meals & drinks included (if applicable)
Ease of booking the activity
Overall satisfaction from the activity
---
|
reviewed by Heike Kolzing – Silverleaf Appartments Flic en Flac
|
June 28, 2017
Reaction time to your queries and requests
Travel consultant's professionalism level
Added value given to you by the travel consultant
Consultant's knowledge of Mauritius and the products / services
Overall satisfaction from the customer support service
Level of services provided as part of the activity?
Level of professionalism by activity operator staff / guide
Your level of enjoyment from the activity
Quality of meals & drinks included (if applicable)
Ease of booking the activity
Overall satisfaction from the activity
---