Sunseeker Royal Yacht – Day Cruise in Mauritius
| | |
| --- | --- |
| Location | West |
| Operating Hours | 08:00 - 18:00 |
| Operating Days | All Days |
| Duration | 1 Day |
| Activity Time | Flexible |
| Comment | Transport on Request. |
This Activity Is Not Operational Until Further Notice
Royal Sunseeker Manhattan 63 – Day Cruise Experience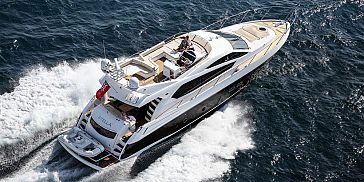 Explore magnificent sea views spending your holiday in a VIP style with the luxurious Royal Sunseeker Manhattan 63 Yacht, and experience the most luxurious yacht day cruise having chef prepared lunch and a personalized butler service.
Along with luxurious setting, you will surely be delighted with the excellent personal service, comfort and quality. The yacht's personnel will be at your disposal, paying meticulous attention to meet your every need. The yacht is limited for a maximum of 12 passengers for day cruise and 6 passengers for the overnight cruise.
Savour palatable dishes featuring Eastern European, Russian, Italian and French cuisine are prepared by the talented on-board Chef directly on the Yacht's kitchen.
Yacht Day Cruise Routes:
For the maximum enjoyment of our VIP guests on-board the Royal Sunseeker Yacht, we recommend choosing one of these day cruise itineraries:
Northern Coast: Starting from Caudan waterfront (Port Louis) - Round Island - Ile aux Gabriel - Flat Island - Grand Bay - Port-Louis
South Western Coast: Starting from Caudan waterfront (Port Louis) - Tamarin Bay - Ile aux Benitier- Le Morne Overview - Port-Louis.
Upon request, we can also tailor made a different cruise route as per your wishes.
Yacht Day Cruise – Northern Islands
Enjoy an amazing Day Cruise, starting from 08.00 am till 06.00 pm in the luxurious yacht with a luxury car transfer from your hotel to Port-Louis at 08.00 in the morning, and also back from the yacht in the afternoon.
Your trip starts at 09h00 from Caudan Waterfront, and as from there the yacht will sail along the most beautiful coastline to the secluded virgin Round Island, known as a protected nature reserve, home to some captivating endemic species, such as the non-venomous Round Island Boa, and the Day Gecko. Let yourself be charmed by the natural beauty of Round Island and be sure to enjoy snorkelling at this remarkable site, considered by many as the best snorkelling site in Mauritius. Then after the yacht will head to the splendid Gabriel Island where you can enjoy your time and relax along one of the island's crystal clear beaches.
Relish the premium lunch prepared for you by the on-board chef at around 12.30 also enjoying the selection of high quality drinks and beverages. Make the most of your trip and then get ready to discover the famous Flat Island home to the famous northern lighthouse. You could spend the afternoon on-board the yacht, relaxing on one of the island's beautiful beaches or enjoy swimming and snorkelling inside the lagoon. Eventually, the yacht will depart from Flat Island heading back south to Port Louis. Should you be interested you can opt for a stopover at Grand Bay at around 4 pm for some shopping. The cruise will end at the late afternoon reaching back to the Caudan Waterfront.
Yacht Day Cruise - South West Coastline & Dolphins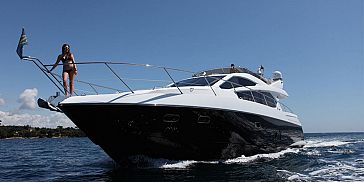 Unveil the beauty of the south west region of Mauritius and discover the dolphins in their natural habitat as part of this unforgettable VIP yacht cruise experience.
Your Day Cruise starts with a pick up at 07h30 from your hotel heading to Port-Louis. The yacht will then depart from the Port Louis harbour cruising along the west coast until reaching the Tamarin Bay. Take a plunge at the Tamarin Bay to meet the adorable dolphins up close and personal. See these remarkable creatures from on-board the yacht or put on the snorkelling gear and swim along side the dolphins, having a lifetime memorable experience.
After the wonderful encounter, enjoy the premium lunch package with the deluxe beverages and drinks at around 12h00 prepared for you by the dedicated Chef on board.
After lunch, you could choose between cruising in maximum speed along the coastline, stop inside the lagoon for swimming, relaxation and sunbathing or opt for a more extreme sea activity such as the Sea Kart.
Afterwards, during the early afternoon, the yacht will sail to the Benitiers Island. It features luxuriant green casuarina trees, and white fine sandy beach, all for a blissful moment. You could spend some time on the island itself, or enjoy the beauty of the island, its beaches and lagoons from on-board the yacht.
During the afternoon the yacht will set sail to the south west tip of Mauritius offering breath-taking views of the majestic Le Morne Mountain, together with the stunning coves and lagoon. At around 05.30 pm the yacht will arrive back at Port-Louis, and your transfer will be made available at 06.00 pm in a luxury car back to your place of accommodation.
Additional information on the Sunseeker Yacht Day Cruise:
Departure Point:
The departure point is generally at Caudan Waterfront situated at the capital, Port Louis. Upon request, it is possible to arrange a hotel pick up by the yacht, speed boat or by land travelling in maximum comfort with one of our top luxury vehicles (BMW, Porsche, Audi, Mercedes). The pick-up options depends on your place of accommodation and the accessibility of the hotel's beach for such a pick up from sea.
Meal Options:
Please note that special meal can be created as per individual requests. You are advised to provide your meal preferences either at the time of booking or at least 48 hours prior to the cruise time. Large selection of drinks and alcoholic beverages is available on-board the yacht. With that, maximum will be done to cater for any additional beverages as per your wishes.
The Meal plan on yacht Royal Orchid consists of breakfast, lunch, snacks, drinks and alcoholic beverages.
Menus will be adapted according to individual taste, the list below serves to provide an idea of some of the dishes offered as part of our a la carte menu:
Menu Details:
Caviar delights:
Red caviar Salmon served on the ice with lemon and croutons / Black caviar Oscietra on the ice with lemon and croutons / Beluga served on the ice with lemon and croutons / Pike caviar on prescription from our Executive chef
Starters:
Pancakes rolls with cream cheese and Norway salmon / lemon dressing and red salmon caviar/ chicken and mushroom sauces / Cheese platter assorted with fruits and honey / Meet platter assorted with giant olives and artichokes / Caprese with fresh tomatoes and Burato cheese / Carpaccio with smoked Marlin, toasts and capers/ with duck and tartufo / Tartar with Salmon/ Tuna with dried tomatoes and capers/ grilled vegetables and olive oil /Veal tartar with dried tomatoes and croutons / Eggplant roll with feta cheese and garlic sauce.
Salads:
Mixed salad with smoked duck and orange sauce / smoked marlin, Mauritius palm hearts and tomatoes / with tomatoes, feta cheese and black olives / Salad with Parma ham, pine nuts and blackberries / with Salmon roll, vegetables and mustard dressing / with arugula, shrimp and tomatoes cherry
Main dishes:
Chicken on the grill with mushroom sauce / Veal steak angus on the grill / Marble beef on the grill / Australian lamb chops with bones / Duck leg grilled with orange sauce / Duck fillet with drunk peer / Foie gras with pear and onion comfit / Grilled Dorado/Wahu/Salmon/Tuna/Red Snapper/ for your choice/ Tiger prawns grilled with lemon-garlic sauce / Lobster on the grill / Seafood platter mix on the grill
Sushi Menu:
Sushi nigiri: Tuna, Salmon, Smoked salmon, Shrimp, Scallop, Caviar
Sushi roll: Avocado, Cucumber, Tuna, Shrimp, Salmon, Crab meat, California roll, Philadelphia roll, or Dragon roll
Desserts:
Tiramisu / Panna cotta / Assorted homemade ice cream or fruit sorbet
About the Royal Sunseeker Manhattan 63 Yacht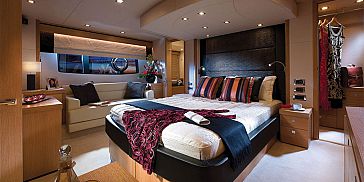 Luxury Accommodation on Board
Experience a high standard of vacation in the luxurious and classy Royal Sunseeker Manhattan with 21.07m long, along with its four lavish staterooms with a midships full-beam master and panoramic superstructure windows.
Style, Entertainment, Space, the Manhattan 63 has it all in abundance. A triumph of design and craftsmanship, every inch has been painstakingly crafted with a flawless attention to detail. The hull form has been designed to take a more traditional shaft option but also includes the option of IPS drives. It also features a very welcoming and spacious saloon with a separate dining and seating area – perfect for entertaining friends and loved ones.
Renowned for their style, craftsmanship and attention to detail, the Manhattan 63 accommodates the most discerning guests. Relish all the refinements and furnishings, along with excellent amenities with each room which is as opulent as the last.
Outside, the fly-bridge offers another opportunity to relax and unwind but with the added benefit of feeling the warmth of the sun on your skin. A true benchmark for Pure Enjoyment!
Features:
4 cabins:
1 master cabin king size bed + TV + Hi-Fi + Full bathroom + safe + closet + A/C
1 VIP cabin queen bed with TV + Hi-Fi + full bathroom + cabinets + A/C
2 twin cabins with TV + Hi-Fi + full bathroom + A/C
Accommodation includes: Sleeps 8 guests in 4 cabins; 1 Master aft cabin; 1 Forward VIP guest cabin; 1 Starboard twin guest cabin; 1 Port twin guest cabin; 2 crew
The Spacious Saloon offers: 40" Bang & Olufsen BeoVision rise and fall LCD TV; B&O surround sound; B&O DVD/CD/Radio; Ipod docking; Zoned deck sound system; Air conditioning to tropical specification
---
Comments
Maximum 12 guests and up to 2 crew for a day charter
Infant (0-2yrs) is free of charge
---
Prices
Price for the Royal Sunseeker Manhattan 63 – Day Cruise Experience for 3 adults or 2 adults + 2 children (under 12 years): 9850 Euro
Supplement for each additional Adult: 690 Euro
Supplement for each additional Child (ages 5-11): 390 Euro
Supplement for each additional Infant (ages 0-4): Free of Charge
This Activity Is Not Operational Until Further Notice
Please contact us on +230 269 1000 or +230 5257 5757 to check for availability before proceeding with the booking.