Underwater Adventures - Half Day Submarine + Scooter + Lunch
90% Level of Satisfaction
Based on 1 review
| | |
| --- | --- |
| Location | North |
| Minimum Age | 8 |
| Operating Days | Monday, Tuesday, Thursday, Friday, Saturday |
| Duration | 5 hrs |
| Activity Time | Flexible |
| Transportation | Offered as Supplement |
Operating Days
Monday, Tuesday, Thursday, Friday, Saturday
Transportation
Offered as Supplement
Underwater Adventures - Half Day Submarine + Scooter + Lunch - Overview
Spend a half day at Trou aux Biches in the North of Mauritius with this incredible underwater adventure package! You don't have to be a diver to be able to enjoy this thrilling aquatic journey which promises you plenty of spectacular marine encounters.
Mauritius is home to some of the world's most vibrant coral reefs and marine life ever to be seen, full with a variety of fish and plenty of bright-coloured fish, the underwater world of Mauritius can be deemed a natural wonder.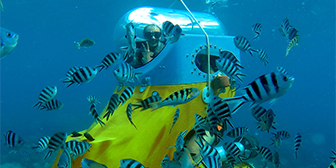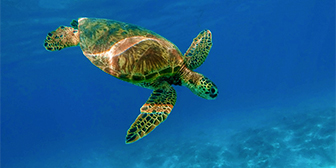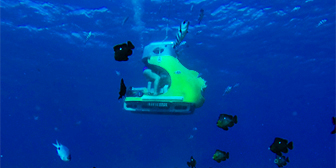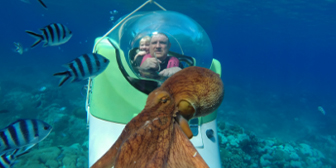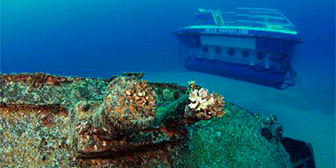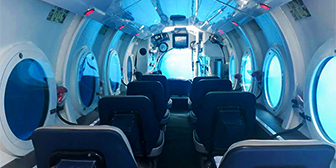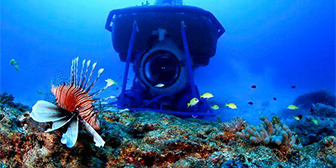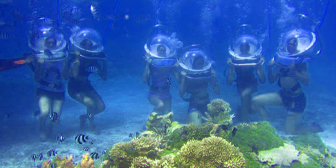 As part of this half day package you will enjoy:
An incredible underwater adventures package in the North of Mauritius
A thrilling and spectacular marine encounters from a submarine / subscooter
Discover various species of fish and Watch the world's most vibrant coral reefs and marine life
Enjoy a safe and fascinating underwater walk on the ocean bed (about 3-4m depth)
Have delicious lunch (either lunch buffet or a la carte) and discover the Mauritian cuisine
---
Underwater Adventures - Half Day Submarine + Scooter + Lunch inclusions:
All trips and excursions charges including entry fees
A spectacular 30 metres undersea trip on a 10-seater submarine
An amazing underwater subscooter adventure drive, up to 3-4 metres
Qualified divers will be with you to make sure you have the best experience and are safe
Wetsuit and life vest will be provided
Lunch meal at Grand Bleu Hotel
Optional: Transportation to all sights.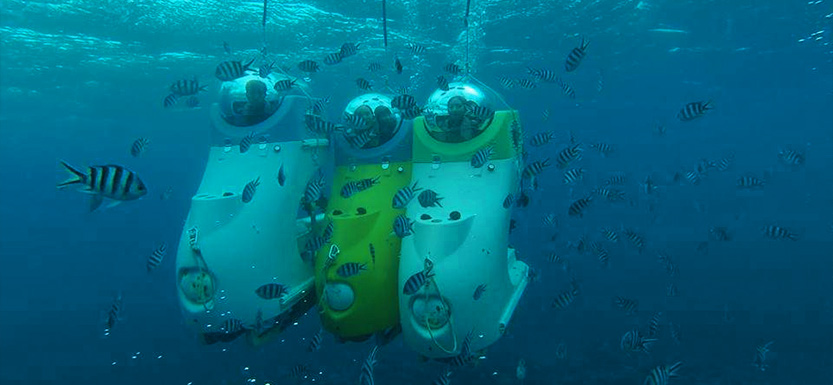 ---
Transportation & Driver Details
Transport is available for an additional supplement and will include pick up and drop off from any hotel / place of accommodation in Mauritius. You will also get a personal driver guide to show you around and inform you on each of the sights.
Car Capacities
You can choose from a selection of vehicles types:
Family Car - Up to 4 passengers
6 Seater vehicle - Up to 6 passengers
Minivan - Up to 10 passengers
About the Drivers
All drivers speak fluent English and French (Upon special request we can organize drivers who speak additional languages). The drivers, citizens of Mauritius, will be happy to provide you with information about Mauritius and each of its sights.
All drivers are very professional, time efficient and friendly. There is high emphasis on being always on time and providing reliable devoted service to customers.
---
Your Hotel / Place of accommodation anywhere in Mauritius
Start & End times:
(Upon request it is possible to start or finish the tour within the operating hours)
| | |
| --- | --- |
| Duration: | The duration of the tour is 5 hours |
| | This private tour is offered every day |
| Departure time: | Flexible starting time |
| Return time: | Flexible |
| Operating Hours: | Monday, Tuesday, Thursday, Friday, Saturday: 08:30 - 15:30 |
| | The duration of the submarine trip is approximately 1 hour 45 minutes |
| | The duration of the underwater submarine scooter is approximately 1 hour 45 minutes. |
---
(Optional) Pick up from your place of accommodation*
Submarine Trip
Underwater Subscooter Adventure
Lunch at Grand Bleu Hotel
Drop off at your place of accommodation*
* The exact pick up/drop off time will be determined according to the location of your place of accommodation.
---
Underwater Adventures - Half Day Submarine + Subscooter + Lunch Full Description
Spend a beautiful half day in the north of Mauritius discovering the underwater world. You will get to enjoy a trip on a submarine and a subscooter ride, taking you closer to the marine life at the coral reefs surrounding that region of the island. To make this trip an even better one, you will get to feast on typical Mauritian food for lunch.
Submarine Trip In Mauritius
Enjoy a dream adventure going underwater to 35 meters depth on board a real submarine. Enjoy a once in a lifetime experience and discover the beautiful marine life and the underwater world of Mauritius!
The submarine activity begins with a pre-departure briefing on land, followed by a speedboat transfer to the main platform where you will board the submarine. Then the submarine will start its descent into the deep sea for a real fantasy adventure trip.
You will cruise along the reef and view the corals from very close, explore the local rich marine life, visit the shipwreck of the famous Star Hope cruiser, and discover a 17th century anchor on the bottom of the ocean.
The submarine is air-conditioned with a fully transparent-glassed cabin so you will enjoy exceptionally clear panoramic views of the extraordinary underwater world. It is designed so each passenger has an individual observation window for viewing outside of the wonderful underwater world.
As part of the submarine trip you will get to visit a shipwreck, explore the rich coral reefs of Mauritius, and observe and encounter various species of fish. You will have an amazing experience when going underwater, staring into the crystal clear Indian Ocean water and discovering the rich sea life deep underwater.
There is also a camera situated on the submarine's bridge which projects the great views from outside through a TV screen located inside the submarine, giving you an additional view of marine life.
At 35 meters undersea, you will explore the underwater world of Mauritius like on a safari trip and may see a selection of rare species. Apart from the marine life, the sprawling exotic corals make this submarine trip a memorable experience.
The pilots of the submarine are well educated in marine biology and are trained to provide a safe trip to all the travellers.
Underwater Subscooter Adventure
Pilot your own underwater submarine scooter by yourself or as a couple to 3-4 meters depth in full safety, and enjoy a unique experience in the World! You do not need to be a diver or even to know how to swim; all you have to do is to love adventure!
Comfortably seated one behind the other on height adjustable seats, you can breathe normally inside a big broad common transparent and panoramic glass dome and enjoy a 360 degrees panoramic view. Before going on the adventure you will receive a full briefing about the easy control of the subscooter, and will be equipped with a diving suit provided for warmth and full safety.
The subscooter is very easy to pilot, with a steering wheel, two accelerator pedals and a single button to control the depth level. You only need to press the button to dive or to go up to the sea surface, as easy as that.
The air inside the cabin (head cupola) is permanently regenerated, and there is also a backup air system to guarantee your maximum safety. The cabin is also equipped with an alarm button which you can use anytime to draw the attention of the divers which accompany you during your underwater adventure.
You will enjoy a full view of the reef, of Mauritius' marine life, and will discover its marine flora and fauna. All along the adventure you can communicate with your partner, share your comments and views, and enjoy this experience together. The underwater subscooter excursion starts with a boat trip to the operation platform where you will first be acquainted with the underwater scooter.
All the underwater scooters are approved and certified by the international authorities for design and safety at sea.
---
Wear flat-heeled shoes
Swimwear
---
Underwater Adventures - Food & Beverages
As part of the Underwater Adventures Half Day Package you will enjoy lunch served at the Grand Bleu Hotel
---
Transportation
The Transportation prices are per vehicle (and not per person). You can choose the vehicle type according to the number of passengers in your group.
| | |
| --- | --- |
| Private Daily Tour in a family Car (for up to 4 people): | 75 Euros |
| Private Daily Tour in a 6 Seater vehicle (for up to 6 people): | 79 Euros |
| Private Daily Tour in a Minivan (up to 12 people): | 89 Euros |
The Prices are per vehicle referring to the number of passengers applicable for each vehicle type.
| Submarine & Underwater Scooter (on sharing) | |
| --- | --- |
| Price for 2 Adults | 435 Euros |
| Price per Child (8-11 years) | 175 Euros |
| Submarine & Underwater Scooter (exclusive scooter for 1 person) | |
| --- | --- |
| Price per Adult | 249 Euros |
---
Booking Attributes
Reviews
90% Level of Satisfaction
Based on 1 review
|
reviewed by goutham duggi – India
|
June 02, 2017
Reaction time to your queries and requests
Travel consultant's professionalism level
Consultant's knowledge of Mauritius and the products / services
Overall satisfaction from the customer support service
---