Underwater Scooter Adventure
| | |
| --- | --- |
| Location | North West |
| Minimum Age | 8 |
| Operating Hours | 08:30 - 16:30 |
| Operating Days | All Days |
| Duration | 2 hrs |
| Activity Time | Flexible |
| Transportation | Offered as Supplement |
| Comment | Age requirement of 16 years to pilot the scooter (8 years to join as passenger) |
Pilot your own underwater submarine scooter by yourself or as a couple to 3-4 meters depth in full safety, and enjoy a unique experience in the World!
Did you ever want to know how it feels to be a secret agent like James bond?
Did you ever imagine going on an underwater sea adventure driving your own mini submarine?
Then this is the activity for you!
You do not need to be a diver or even to know how to swim; all you have to do is to love adventure!
Comfortably seated one behind the other (one or two people can ride the scooter together), on height adjustable seats, you can breathe normally inside a big broad common transparent and panoramic glass dome and enjoy a 360 degrees panoramic view.
You will enjoy a full view of the reef and of the marine life of Mauritius and will discover its marine flora and fauna.
All along the adventure you can communicate with your partner and share your comments, views and enjoy this experience together.
The underwater submarine scooter excursion starts with a boat trip to the operation platform where you will first be acquainted with the underwater scooter.
Before going on the adventure you will receive full briefing about the easy control of the underwater scooter, and will be equipped with a diving suit provided for warmth and full safety.
The underwater scooter is very easy to pilot, with a steering wheel, two accelerator pedals and a single button to control the depth level. You only need to press the button to dive or to go up to the sea surface, as easy as that.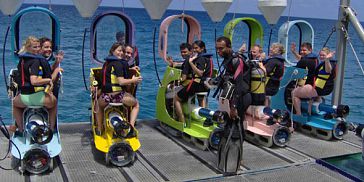 The air inside the cabin (head cupola) is permanently regenerated, and there is also a backup air system to guarantee your maximum safety. The cabin is also equipped with an alarm button which you can use anytime to draw the attention of the divers which accompany you during your underwater adventure.
Upon your return on the platform, you will have the opportunity to freshen up and wash off the salt in the changing room provided with showers.
Complimentary refreshments will be served before heading back to shore by boat.
The underwater trip takes about 40 minutes, and the total duration of this excursion is about 2 hours.
Please note that it is also possible to go on the underwater scooter excursion in groups of up to 5 scooters (up to 10 people in total).
All the underwater scooters are approved and certified by the international authorities for design and safety at sea.
Duration of the activity: 2 hours of which about 40 minutes underwater (the activity also includes boat transfer, full briefing, preparation and break for refreshments).
No need to be a diver or swimmer to control the sub scooter...
---
Comments
Each underwater scooter is suitable for two people (one pilot and one passenger). You can choose to go on your own exclusive underwater scooter only for you to pilot, or to ride it together with your partner as a couple.
You have to be 8 or above to take part in this activity
In order to pilot the underwater scooter you have to be above 16 years old
The activity is accessible to anyone in good physical condition, not suffering from cardio vascular, hearing or respiratory problems
Maximum client height: 2 meters
The underwater scooter adventure is not suitable for pregnant women
On the scooter it is advisable to wear flat-heeled shoes and swimwear
Please bring your own bathing towel, shorts or swimwear
Participants are not required to know how to swim
The underwater submarine scooter is operated in the North of Mauritius. The departure point is about 2km from the center of Grand Baie.
Only four Sub Scooters can go under the water at a time
The underwater submarine scooter excursion is offered several times a day (between 08:30 - 16:30), every day
---
Prices
Price per person for an exclusive Submarine Scooter (1 person per scooter): 125 Euro
Price per two persons for a Submarine Scooter (2 persons per scooter):170 Euro (85 Euro/person)
Customers who bought this activity also purchased