Wakeboarding in Pointe d'Esny
| | |
| --- | --- |
| Location | South East |
| Operating Hours | 09:00 - 16:00 |
| Operating Days | All Days |
| Duration | 20 mins |
| Activity Time | Flexible |
| Transportation | Offered as Supplement |
Wakeboarding in Pointe d'Esny, Mauritius
Whether you're an adrenaline junkie or looking to get out of your comfort zone, wakeboarding is a uniquely fun sport to try your hand at, in the southern coast of Mauritius.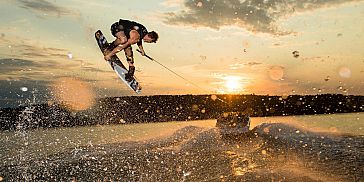 Known for its ideal tropical climate and clear, warm waters, Mauritius makes for an ideal location to wakeboard. Wakeboarding in the turquoise waters of our lagoon is a very thrilling experience, where you can ride waves in a picturesque setting to experience an incredible adrenaline rush.
This nautical activity is accessible to all levels. And once you master the sport, you can have a fun day at sea, to try out new, fun moves. The boat used for the wakeboarding activity is a specialized boat, a Malibu Response LXi, 340 HP.
Experience extraordinary fun on water while cruising along the southern coastline of Mauritius!
---
About Wakeboarding
The traditional version of the sport involves being towed by a boat - just like with water-skiing. It essentially involves moving across a body of water using techniques that are adopted from surfing and snowboarding.
Wakeboarders leverage the wake of power boats to perform gravity-defying jumps and manoeuvres so people may choose to wakeboard instead of waterski if they like the idea of being able to do tricks.
---
Comments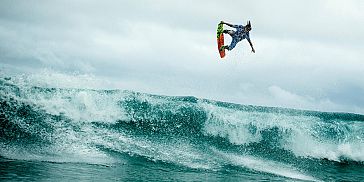 All equipment will be provided
Instructions and safety guidelines will be given to participants of all levels
No particular physical fitness is required but it is required to have basic swimming skills
This activity is offered from the age of 6 years and above
---
Price
Price per participant: Euro 40