Wedding Horse Carriage Ride
| | |
| --- | --- |
| Location | North |
| Operating Days | All Days |
| Duration | 1 hrs |
| Activity Time | Flexible |
| Transportation | Offered as Supplement |
"
Did you know?
Not sure how to get around the island? Check our
Mauritius Car Rental
offers and benefit from a reliable car rental services in Mauritius for the most attractive rates.
This Activity Is Not Operational Until Further Notice
About the Horse Carriage Ride for Weddings in Mauritius
If you and your other half have chosen this incredible tropical island as the destination for your wedding, you have made an excellent choice.
A wedding in Mauritius is indeed one of fairy tales and dreams. Mauritius is blessed with stunning natural beauty and tying the knot on our faraway island will be the ultimate token to make your beloved feel special. Take this opportunity to make your dream island wedding in Mauritius even more special by arriving like Cinderella on the day.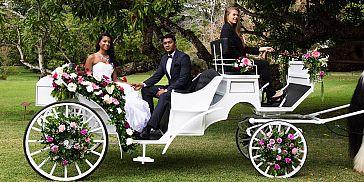 No matter what the theme of your wedding may be, you are sure to find a carriage to match. Choose between a simple and classic Victorian Carriage that exudes of understated elegance or, a Cinderella Carriage, stylishly decorated with LED lights, to match your fairy-tale theme.The decorations are provided by a professional decorator, on request.
If you really want to stand out, you can opt for the Landau Carriage, that's not only very beautiful but also highly practical. The landau was a common form of transport in England and was even adopted by the British royal family.
Add a touch of classiness to the ceremony by entering on a magnificent horse-drawn carriage. Beautifully groomed horses and a well-dressed carriage driver will be at your service.
The pace of the carriage, being slower than a car, will allow you to savour the moment of your arrival at the altar and make fond memories that will remain forever etched in your mind.
This special touch will make your day unforgettable and create the wonderful opportunity for picture-perfect photos! Afterwards, you will surely look back on all the little things of the day and smile happily.
---
About the Stable - Les Calèches du Paradis
Les Calèches du Paradis is a cosy stable located in the North of Mauritius. With 7 horses and 2 ponies, the stable offers fun horse rides in a friendly atmosphere, amidst a tropical forest and pineapple fields. The team of horses include rare species like the Irish Cob, Percheron, a Welsh Pony, amongst others.
The Irish Cobs have long and flowing manes that give a them mystical and dreamy look. Although they are typically known for their strength, here they are mostly popular because of their warm and friendly personalities. Angel, the Welsh Pony, is known for being spirited and is very popular with the kids. The Percherons, a breed of draft-horse, are easy-going and gentle.
Les Calèches du Paradis accommodates for both beginners and experienced riders. Rides are personalised and adapted to the level of the rider, ensuring maximum security during their excursion. Their horse-drawn carriages are intended to travel all over the island, in all the trails accessible to horses.
---
FAQs
When can the carriage be booked?
This package is valid all year round and is not subject to seasonal closures. Reservations are required at least 5 days in advance.
At what times can the carriage be booked?
The carriages are normally booked during the daytime; however, evening and night sessions are available on request.
Are there different carriages available?
You have the option of choosing between 3 carriages:
Victorian Carriage
Cinderella Carriage
Landau Carriage
Can the carriage pick me up from my hotel/ place of accommodation/ preferred location?
The horse carriage service is offered all over the island. However, depending on the location, an additional transport fee will be charged and the trail will have to be checked to ensure the safety of horses.
Can the carriages be decorated to match my theme?
The carriage will reach your chosen location an hour in advance, so you will be able to customise and decorate it as you wish. A professional decorator is also available on request.
How long can the carriages be rented for?
The standard duration of this package is 1 hour (60 minutes). Extra time can be requested if you wish to rent the carriage for longer or for after the wedding. The waiting time and additional rental time will be charged accordingly.
---
Comments
Reservation:
Reservations are required at least 5 days in advance.
Kindly communicate any special requests well in advance.
Additional Charges:
Transport fees, decoration, waiting times, extra time, and all other special requests are all subject to additional charges.
---
Price
Wedding Horse Carriage Ride Package: 750 Euro
This Activity Is Not Operational Until Further Notice