1-Hour Night Buggy Ride
| | |
| --- | --- |
| Location | East |
| Minimum Age | 8 |
| Operating Days | All Days |
| Duration | 1 hrs |
| Activity Time | 19:00 - 20:00 |
| Comment | Drivers must be at least 17 years old and passengers must be at least 8 years old. Participants are advised to be there 15 minutes before the activity time. |
This Activity Is Not Operational Until Further Notice
About the Buggy by Night Trip
If you are looking for a unique, fun nature activity to experience in Mauritius, this buggy activity is for you.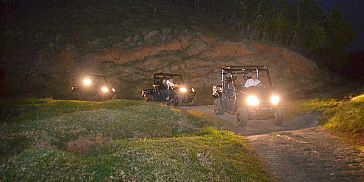 Come and discover the Rusa deers and other animals in their natural habitat. In the evening when the sun sets, the forest belongs to them. The Java Rusa deer was introduced in Mauritius in 1631 by the Dutch. To get a glimpse of their world, you'll be guided to their abode without disturbing them.
Upon your arrival at the Reserve, you will be greeted with a welcome cocktail by the warm staff. After a test drive and a security briefing, you will be ready to hop aboard a buggy and travel through the 1200 hectares of the nature reserve, subtly illuminated to highlight the exciting nocturnal atmosphere in which the resident animals come alive.
Go for an amusing night excursion at the Domaine with your family or among friends to enjoy an adrenaline-filled ride through the green hills, mountains, ponds and rivers of the nature reserve. The buggy is equipped with a special lamp to not only light up your path but also help you catch a glance of these creatures at night. As you ride through the reserve, discover deer, boars, hares and many more nocturnal creatures.
Experience an unforgettable, buggy adventure at nightfall as you cruise through the Etoile Reserve.
As part of the Buggy by Night activity, the following is included:
Welcome cocktail
Test drive & security briefing
Sanitary caps with helmets
1-hour guided buggy drive through the reserve
Mineral Water during the tour
Refreshing towel after tour
---
About Domaine de l'Etoile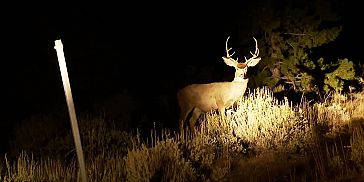 Previously a private hunting domain, and only recently opened to the public, Domaine de L'Etoile remained one of the most preserved regions of Mauritius.
The domain counts English gardens, rivers, and indigenous woods which are rich in hundreds of different varieties of plants and trees, including the most ancient ebony trees of Mauritius and other endemic species as well as cinnamon trees, vetivers, orchids, traveller's trees, banana trees and more. A large river flows through the Domaine as well as trickling streams and flowing waterfalls.
Domaine de l'Etoile is best described as a wonderful and enchanting area where all nature lovers can enjoy themselves. A number of activities are offered, including, Quad biking, Horse riding and Hiking circuits. Visitors will witness, in turns, spectacular panoramas, Java deer and endemic birds. There is also an onsite restaurant which presents a quiet and peaceful environment where guests can recall the special moments of the day while enjoying the tasty local cuisine.
---
Additional activities offered at the Park
---
Comments
Participants are advised to be there 15 minutes before the activity time.
Drivers of the buggy must be 17 years old or above
Passengers of the buggy ride must be at least 8 years old
Minimum number of participants: 2
Maximum number of participants: 8
Pregnant women and physically challenged persons are not authorized to go on this excursion
It is recommended to wear sports shoes with socks and to wear long trousers. Mosquito repellent should also be brought along.
Helmets, goggles and coats are also provided
Hot showers and refreshing towels are available for use after the excursion. Accordingly, it is recommended to bring spare clothes in case you would like to take a shower after the excursion
Any food and drinks not included in this package are payable at the restaurant
---
Prices
1-Hour Night Buggy Ride
Price per Buggy (for 1 or 2 persons): 110 Euro
This Activity Is Not Operational Until Further Notice
Please contact us on +230 269 1000 or +230 5257 5757 to check for availability before proceeding with the booking.