Cape Point Church Wedding
Cape Point Church Wedding
About the Cape Point Church Wedding Package
Mauritius is blessed with stunning natural beauty as well as with diverse chapels, old churches and other religious places. It may be the perfect wedding venue offering a marvellous combination of traditional weddings in a fairy-tale location-the aspiration of many people. The Cape Point Church Wedding package has been meticulously crafted to fulfil all your wedding needs and ridding you of the dilemma of having to choose between walking down an actual church aisle and having a fantastic wedding in a breath-taking venue.
With the Cape Point Church package, you will have your traditional wedding without any compromise on exoticism. Nestled in the North of Mauritius, precisely at Cap Malheureux, your dreamlike religious ceremony will take place in one of the renowned churches in Mauritius - the Notre Dame Aurilliatrice Chapel which is a Roman Catholic Church famous for its vivid red roof against the bright turquoise sea and azure sky.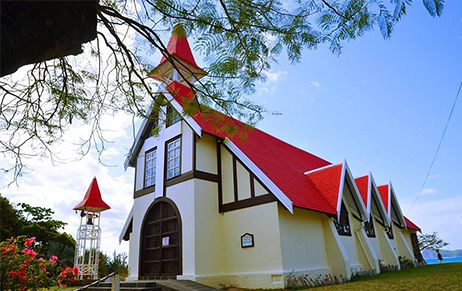 It is indeed the ideal venue for couples to take the ultimate commitment. Apart from the wedding ceremony itself, this package equally offers you a stay in one of the most unique and private luxurious accommodation of Cape Point property. You have the option to stay in the suite or the penthouse at the luxurious and highly private Cape Point property which offers you exhilarating views of the picturesque Coin de Mire Island and the splendid Indian.
You will be assisted throughout your stay and your wedding ceremony by the excellent LOV (Luxury Ocean Vacation) team who will be delighted to fulfil each and every request of yours to the best of their abilities. You may change, add or remove any single detail that comes to your mind, the staff is agreeably disposed to cater to any changes on your behalf.
As per the Cape Point Church Wedding package, the bridal couple will first be presented an arrival gift and can, afterwards, head to their beach residence (which can be allocated to you freely if you book a stay of at least 5 nights for a minimum of 10 people) to take in the calm soothing tropical air and marvel in the splendour of the views surrounding all the beach properties.
For the wedding, you can choose to customize everything yourself or benefit from the expertise of a professional dedicated wedding coordinator who will, of course be flexible to your personal requirements and wishes, while ensuring you have a splendid ceremony without any glitch. On the wedding day a professional makeup artist and hair stylist will take care of making you look your best. The church being conveniently located at just a few 100 metres away the guests can comfortably walk over to, however, to add a little bit of magic for the bridal couple, a boat is will whisk you away for an uncommonly interesting and romantic entry while the wedding bells at the lovely red roofed church toll away for you.

The sacred setting of the church is a major component as it will highlight the solemnity of your ceremony. The Notre Dame Aurilliatrice church is a wonderful location, perfect for beach cum religious weddings and it makes for a breath-taking backdrop to glorious wedding photos. It is the perfect setting for creating unforgettable wedding memories. To capture these important moments a professional wedding photographer is available, providing you with the options of having a certain number of photographs or a video of the ceremony. The chapel is a historically beautiful venue and a wonderful place to get married. It will leave you with blissful memories to cherish for a lifetime.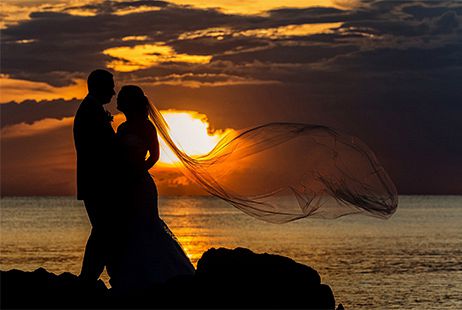 We have furthermore looked into the least details to offer you the best stay possible for your wedding. Your stay here is ensured to offer you the maximum level of comfort and tranquillity during the days preceding your wedding and after; your every small need will be taken care of.
If you want to let go of habitual household tasks and completely relax, a personal chef can gladly step in with excellent a la carte menus and a daily housekeeping service with free in-house guest laundry will take care of the chores, without ever being overbearing, to allow you to make the most of your time and stay here. Your guests will be pleasantly surprised by the services of the gifted chef and a very courteous and responsive staff who will take care of the catering at the ceremony. Else, you will have at your disposal a fully stocked gourmet kitchen is available for your own private use.
You can eliminate pre-wedding or post-wedding jitters or simply rejuvenate yourself with restful spa treatments or if you seek more rigorous outlets to release excess energies then you can choose water sport activities and excursions with free use of kayaks and bicycles.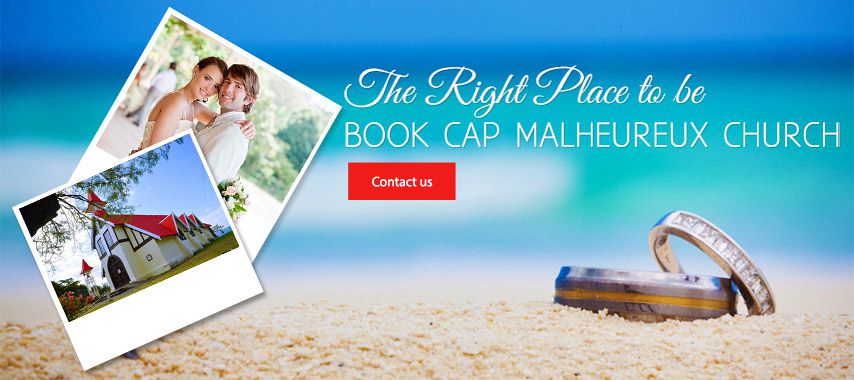 ---
Included in the Cape Point Church Wedding Packages
Included in the Elegance Wedding Package:
For up to 10 people
Arrival present for the couple
An elegant wedding set up*
Wedding cake for up to 10 people*
Dedicated wedding coordinator
Special turn down escape for the bride and groom
Bride Bouquet
Groom Buttonhole
Breakfast-in-bed for the bride and groom the following day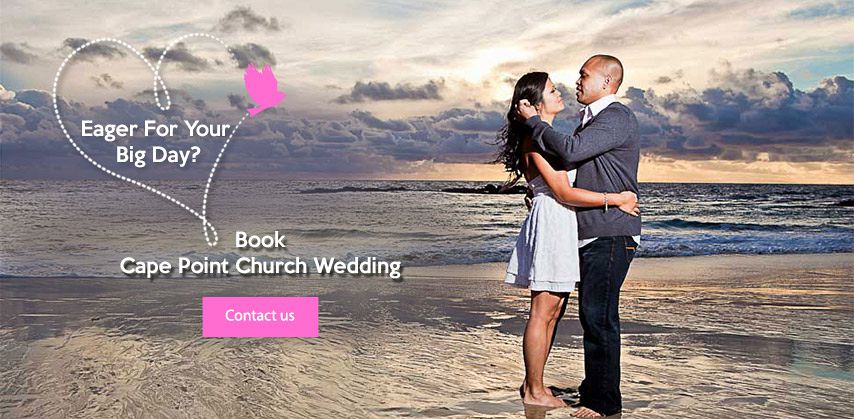 Included in the Splendid Wedding Package:
For up to 25 people
Arrival present for the couple
An elegant wedding set up
Bride Bouquet
Groom Buttonhole
Wedding cake for up to 25 people*
Special turn down escape for the bride and groom
Breakfast-in-bed for the bride and groom the following day
Dedicated wedding coordinator
25 wedding photographs*
Pre-dinner cocktail snacks for up to 25 people*
Hair and make-up for the bride (including trial session)*
One-way airport transfer to your luxury ocean vacation spot
Residence free of charge for the bride and groom
Included in the Extravaganza Wedding Package:
For 25 people and more
This package is fully tailor-made to help you create a unique wedding ceremony in the manner you wish to have it. Our team is here to help you plan it in style- decoration, entertainment, wedding cake, makeup…you just name it, we will do it.
---
Optional services offered as part of the Cape Point Church Wedding Package
Makeup artist
Hair stylist
Manicure session
Pedicure session
Spa session per person
Drink packages per person
Champagne
Floral decoration
Professional DJ and light equipment
Live musician
Fire work show
Pre-dinner cocktail snacks
Sega show
Fire dancers
Wedding photographer
Wedding video
Wedding dinner menu per person
Marquees/Bedouin tents
---
Cape Point Seafront Suites & Penthouses Accomodation
A Resident Concierge & daily housekeeping service
Exclusive Suites and Penthouse ranging from 150 to 250 m2
Luxury bedding, separate sleeping, living & playing or working areas
Private veranda with magnificent sea view overlooking the northern islands
LCD TV with satellite channels in all bedrooms & lounge
Fully equipped gourmet kitchen and Nespresso coffee machine
Chef Services, A LA CARTE menus and Spa Treatments are all available on demand to be enjoyed in the privacy of your residence
Water Sport Activities and Excursions can be arranged with your Resident Concierge
FREE in-house guest laundry
FREE WIFI in all the seafront suites and penthouses
FREE use of kayak & bicycles
24/7 security & private parking area
An elegant, wooden decking with bar area and loungers overlooking the lagoon and outward northern islands
---
About the Cape Point Seafront Suites & Penthouses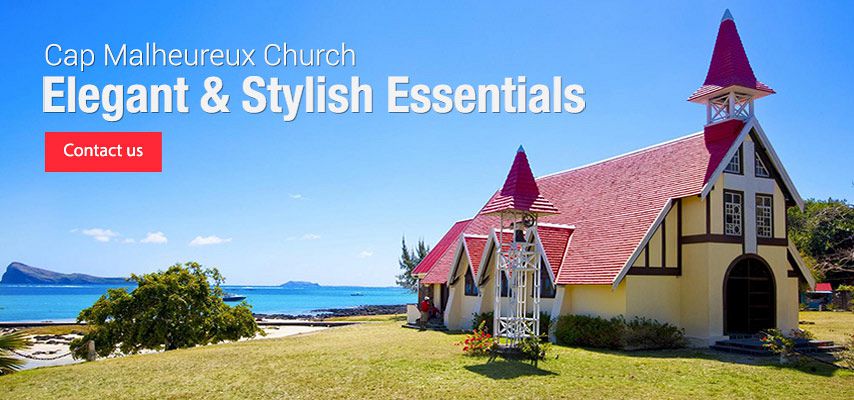 Offering you exhilarating views of the picturesque Coin de Mire Island and the splendid Indian Ocean, the Cape Point Seafront Suites & Penthouse offers you modern and luxurious living accommodations in Cap Malheureux, situated in the northern part of the island. Cape Point Seafront Suites & Penthouse offers 4 Exclusive Suites (2 ground-floor level & 2 first-floor level) and a spacious Exclusive Penthouse on the second level. Each unit is not only very spacious and stylishly decorated but fully-equipped with a variety of amenities as well. A beautiful, enclosed, tropical garden; a pool area, an outdoor bar area, a large deck furnished with sun-loungers, 2 extra-large hammocks and comfortable lounging areas overlooking the lagoon & outward northern islands.
The Notre Dame Aurilliatrice Church is famous for its lovely red roof which attracts a lot of curious passers-by and a picturesque background for postcard-worthy snaps. It is a historical point which marks the arrival of the British onto the island in 1810. This Roman Catholic Church draws in a lot of visitors as well as worshippers. Here, a couple can combine their desire for a traditional church wedding with the gracing elements of the island's splendour.
Book this wedding package
Contact Details