Red Church at Cap Malheureux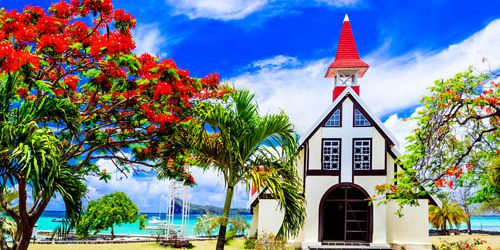 | | |
| --- | --- |
| Location | North |
| Operating Days | All Days |
| Duration | 20 mins |
| Activity Time | Flexible |
| Transportation | Offered as Supplement |
About the Red Church at Cap Malheureux
One of the most renowned churches in Mauritius is the Notre Dame Auxiliatrice Chapel, a Roman Catholic Church famous for its vivid red roof against the bright turquoise sea and azure sky.
Located ten minutes from Grand Bay is the small fishing village of Cap Malheureux. It translates to "Unfortunate/Unhappy Cape", due to the numerous ships, which floundered there in the past.
The Notre Dame Auxiliatrice Church is famous for its lovely red roof, which attracts many curious passers-by and offers a picturesque background for worthy snapshots. This simple chapel was founded in 1938 and is dedicated to the Virgin Mary. It is situated ideally at the very northern point of Mauritius, offering breathtaking views of the five northern islets, including Coin de Mire (Gunner's Quoin).
This Roman Catholic Church draws in a lot of visitors as well as worshippers. On Sunday mornings, many tourists can be found joining the mass. The church, as well as the beach behind the church is a popular spot for newlyweds to have their pictures taken- so it is not uncommon to run into couples here. The beach behind allows you to soak up the sun and enjoy the view, while the kids can play in the white sand and discover aquatic life in the rock pools. Fishermen are also frequently docking, with a fresh catch.
---
History of the Red Church at Cap Malheureux
The name of the red-roofed church is attributed to many sources. Some say that it was named, following the sinking of the vessel Saint Geran on the 18 August 1744, which inspired Bernardin de St Pierre to write his famous novel '' Paul and Virginie ''. While others believe it owes its name to the numerous shipwrecks that occurred in this area at the beginning of the colonization of the island.
It is also a historical point that marks the landing of the British onto the island in 1810, to attack the French. The French who occupied the island then, from 1710 to 1810, named it the Cape of Misfortune after the British surprised them by attacking the north of the island instead of the island's harbour in Mahébourg and took possession of the island.
---
About Cap Malheureux
This small village has a real paradisiac setting with its beach and its fishermen moving about. The area is made of a few private villas and shelters a marine cemetery, a Hindu temple and the famous red-roofed Chapel of Notre-Dame Auxiliatrice, which is found on many postcards and on all tourists' guides.
---
Comments
The site is especially popular for weddings and wedding photoshoots
Mass is held on Saturday at 18h00 and on Sunday at 09h30.
Click Here to Book This Tour