3 days Fishing Trip to Soudan Bank
| | |
| --- | --- |
| Location | North East |
| Minimum Age | 7 |
| Operating Days | All Days |
| Duration | 3 days |
| Activity Time | 12:00 - 11:00 |
| Transportation | Offered as Supplement |
This package is not available until further notice
3 days Fishing Trip to Soudan Bank
Your 3 days Journey to Soudan Bank on board our Professional Fishing Boat
Experience guaranteed catches and endless excitements while fishing on a professional fishing boat in the one among the abundant places in Mauritius Marine for deep sea fishing!
Fishing Experience at the Soudan Bank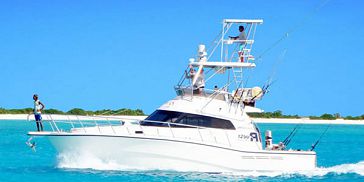 Why fishing at Soudan Bank? The answer is simple, guaranteed catch and endless excitement!
Soudan Bank is a 20 km Plato under the water approximately 50 - 60 meters, with surrounded depth about 3000m. Structure and current flow allows different kind of fish groups together.
The Soudan Bank is located 100 Nautical Miles North East of Mauritius. It is more than 30 Square kilometers and has a depth average of 50 meters and up to 25 meters on the peak.
In addition to it, it would be no exaggeration to say it is a best place for fishing in the region .You can expect amazing surprises when fishing these waters.
This place is exactly for passionate fishermen who would like to be tired of the number of strikes!
Soudan Bank – Trip Introduction
Mauritius Attractions offer you the opportunity to experience an abundant and exciting fishing trip in this well known for 3 days on our boat, a Rodman - 1250 Fisher PRO, which is fully prepared for this kind of trip!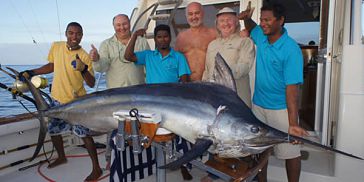 The Soudan Banks are relatively far from the Mauritius mainland and they are not reachable within a day trip or by every boat. In order to reach Soudan Bank and enjoy this remarkable fishing experience you need to dedicate at least 3 days, having a true professional big game fishing vessel taking you the distance.
The Boat has powerful engines for fast cruising in the open sea, it is FULLY Air Conditioned, having generator, and all the key facilities and features for an amazing fishing trip. It also offers the opportunity to watch the strikes using the underwater camera and enjoy the luxurious and comfortable cabins, ideal for accommodation at sea.
So for all you big game fisherman out there, this is the MOST Recommended Fishing trip for you!
Soudan Bank offers the possibilities to practice different type of fishing such as:
Jiggingfor Dog Tooth Tuna, Yellow Fin Tuna, Wahoo, Giant Trevally, Amber Jack, And Grouper.
Trolling for Blue/Black Marlin, Sailfish, Dog Tooth Tuna, Yellow Fin Tuna, Wahoo, Dorado.
Popping for Tuna, Dorado Or Wahoo hunting the surface at the back of your boat this is special fishing trip for true lovers
---
Comments
Maximum number of anglers and guests onboard: 4 Persons
The Fishing trip at Soudan Banks is offered all year round
Sailing Duration From Mauritius to Soudan Bank: 12 Hours/route
The trip consist of 7 guests Crew : 4 guests, The Captain and 2 skipper assistants of whom one is a professional fisherman
Recommended to bring hat, sun-protector cream and any other specialized fishing equipment as per your wishes
Trolling & popping professional equipment and even snorkeling equipments will be provided
Please note that clients will not be allowed to keep any of the fish caught during the excursion.
---
Meals Package
The fishing trip is offered on all-inclusive basis including an American Breakfast, A BBQ lunch and a 3-course dinner
Fresh fish caught will be grilled and served to clients
Drinks: Mineral water, juices, soft drinks, Phoenix Beer, Green Island Rum, wine (rose and white only- 1 bottle per person per day), tea and coffee
---
Target Species
Dog Tooth Tuna , Yellow Fin Tuna, Wahoo , Giant Trevally , Blue/Black Marlin, Dorado , Amber jack, and Grouper.
---
Soudan Bank Fishing - Trip Itinerary
Day 1:
Safety brief by the captain and embarkation
Departure at 12h00-13h00 from Caudan and set sail towards Soudan Bank
Lunch served on board
Fishing - Day trolling during the day
Dinner is served on board
Overnight stay
Day 2:
Arrival at 06h00 at the Soudan Bank
Breakfast, lunch and dinner served
Fishing - Trolling, Jigging, Popping , Casting for the entire day (12 hours)
Depart from Soudan Bank to Mauritius at 17h30-18h00
Overnight stay
Day 3:
Breakfast served
Arrival around 10h00 - 11h00 at Caudan
Disembark
---
About Soudan Bank
The Soudan Banks are a group of underwater high points and reefs off the coast of Africa, known for their good fishing and they are administered by Mauritius. The five banks (actually a single feature) lie on the Mascarene plateau.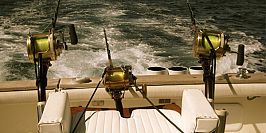 North Soudan contains large salmon stocks and the South Soudan is the largest of the banks, with many reefs and passes. West Soudan is small, rocky, and shallow, and is the least fished of the banks. Central Soudan is the most fished area, with huge reefs and open waters containing a huge abundance of fish. East Soudan, is very remote and is located more than 100 miles away from the other banks. The other banks are closely linked, separated by small shallows or channels.
Two million years ago, Soudan was a large island, as were Nazareth, Cargados Carajos and Saya de Malha. These islands were more than ten times the size of Mauritius, however they have submerged under the ocean
---
About the Fishing Boat
Vessel Type: RODMAN 1250 FISHER PRO
The boat was developed in Spain following a very special request by its owner, requesting to have the best possible fishing vessels for overnight trips far from the mainland.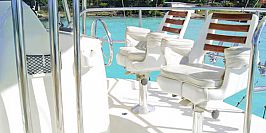 Based on the vast history and tradition of the Rodman Company, the 1250 Fisher Pro is indeed the most equipped fishing boat available in Mauritius.
Packaging arrangement includes: survival chair, outriggers, central rigger, two electric downriggers, 3 tuna tubes, bait box, powerful echo-sounding device with diverse sensors and finding fish function, night fishing illumination, underwater camera and big variety of equipment.
Boat construction allows fishing along the full length. The variety of equipment allows to notice fish in a time and to take necessary action.
There are the most modern tackle on the boat: trolling, bottom-fishing, jigging, casting, bating, deep sea fishing - all the activities have no analogue in Mauritius!
Worth saying, there is a full set of bait, hooks, spikes and belts. Option range is not only numerous but fully justified, which gives the boat special Grand!
SAFETY ABOARD - Security and comfort guarantee are the most important boat terms/conditions. So, in order to provide both of the terms, the boat is equipped with Air-Conditioner, 2 GPS , Satellite Communication, Water Desalination System, Generator, Solar Battery, Ice Maker, Life Tag System, Kitchen equipped with full household appliance set, Inflatable Motor Boat.
The range of equipment allows full safety and comfort on board for you to enjoy!
Additional safety equipment available onboard
Medical Box
Emergency Box
Emergency Position Indicating Radio Beacon ( E.P.E.R.B )
Fire Extinguisher System
Boat Technical Specification
Engine : 2 x 475 bhp Volvo Pro.
Length: 12,5 metres
Width: 4,5 metres
Draft: 1 metre
Fishing equipment of world renown brands like Penn International and Shimano , Air Conditioner , Water maker, Generator , Navigation - Raymarine Flybridge Fridge Fighting Chair , Sunbathing Cushions , Bathing & Diving Platform Totally Equipped Galley , Dual Voltage Fridge Freezer, 2 burner hob Combination , Microwave , Oven Grill , Satellite , Telephone , TV , DVD , Radio.
Equipments on-board
Professional trolling equipment of make Penn International and Shimano, line test 30, 50, 80 and 130 lbs
2 x electrically operated downriggers to troll lures in desired depth under ocean surface
Not Included in the Package
International flights to Mauritius
Meals and accommodation in Mauritius before and after the trip
Personal travel & medical insurance ( for the Medical Insurance , should client wish to , they must apply and process it separately )
---
Additional information
Sea Temperatures & Sea Conditions
The temperature of the Indian Ocean in the region around Mauritius is higher during the summer, and in winter time the temperature of the water will drop a little.
Sea temperatures are generally pleasant throughout the year ranging from 26-29° C in summer to 23-25° C in winter. Strong anticyclones in winter may occasionally cause the sea temperature to fall by 2 or 3° C.
Satellite Phone & Communications
The Soudan Bank has no mobile network; however the boat is equipped with a satellite phone available 24/7 which can be used by guests ( there is no limit for the phone usage , however , the use should be reasonable)
Bed Linen and Towels Change
The cabins will be cleaned once a day and the bed linen will be replaced once a day, towels are also available on-board and will be changed upon request.
Note
Due to the Unpredicted weather conditions , the final booking confirmation is possible 2-3 days prior a trip, and in case of bad weather we will offer you to have the trip done during a different dates or replace it with various fishing trips in Mauritius for a discounted price.
Summary
Honestly, it would be impossible to find any better boat in Mauritius for having this memorable 3-days Journey for a great Fishing trip!
---
Prices
Price for boat charter (up to 4 persons): 3890 Euro
All Inclusive Menu: 250 Euro/ person
This package is not available until further notice