Half Day Hiking Trip in Rodrigues Sur les Pas des Anciens
| | |
| --- | --- |
| Location | Rodrigues |
| Minimum Age | 9 |
| Operating Days | Monday, Thursday |
| Duration | Flexible |
| Activity Time | 08:30 - 12:00 |
| Transportation | Offered as Supplement |
| Comment | All participants must be in good physical conditions. |
Half Day Hiking Trip in Rodrigues (Sur les Pas des Anciens)
The activity is not available until further notice
This guided hiking trip in Rodrigues will give you the opportunity of discovering age-old paths that Rodriguans used to take to head towards the capital in the past.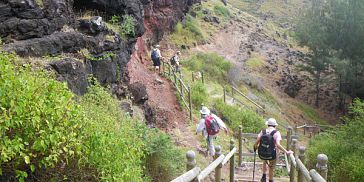 Back when proper infrastructure linking the small villages located in the West and Midwest to the capital city was unavailable on the island, getting around Rodrigues was not an easy and quick task. The natives had to tread along the hilly landscape for quite a while to access Port Mathurin, the capital city and also the harbour.
This 5.3 km trail will take you on a discovery journey of the old and new Rodrigues. While treading on those beaten tracks to go to Port Mathurin, you will get to learn more about the history of the island from an experienced guide, while also exploring magnificent valleys between bordering mountains and the splendid Rodriguan coastline.
Hiking along terrific landscape, that includes majestic mountains, impressive hills and beautiful valleys, while learning about the island's past will undoubtedly be a highly pleasing experience for you.
As part of this Half Day Hiking Trip in Rodrigues your trail will be as follows:
La Ferme
Grand La Fouche Mangues
Limon
Montagne du Sable
Anse Goéland
Vallée Baie Malgache
Montagne Tonnerre
Allée Tamarin
---
Comments
Departure point: La Ferme, in the Midwest
Ending point: Allée Tamarin, Baie aux Huitres in the North
Difficulty level: Easy but with many hills and valleys
Operating Days: Monday & Thursday
Duration:: ½ day
Activity Time: 08:30-12:00
Minimum age required: 9 years
Minimum number of participants: 2
Reservation is required 72 hours in advance by phone & is subject to availability.
All participants must be in good physical conditions.
What to bring: bottle of water, walking shoes, sunscreen, hat, camera.
---
Prices
Price per participant: 19 Euro