Ile des Deux Cocos Wedding
Ile des Deux Cocos Wedding
About Ile des Deux Cocos Wedding Package
It is not just a wedding. It is an escape. A romantic escape on a faraway islet to exchange vows, rings and precious moments in a piece of Paradise. It is your dreamlike wedding coming true…on Ile des Deux Cocos, a sandy secluded haven off the coast of South Eastern Coast of the Island of Mauritius.
Imagine… Tying the knot on the sandy beach of Ile des Deux Cocos with your family and friends by your side and the sky and sea alive with azure tints in the Indian Ocean…It may sound like fantasy, but thanks to the three exceptional wedding packages that we are offering you, your dream wedding can become a reality without the stress or bureaucratic red tape that couples can often experience elsewhere.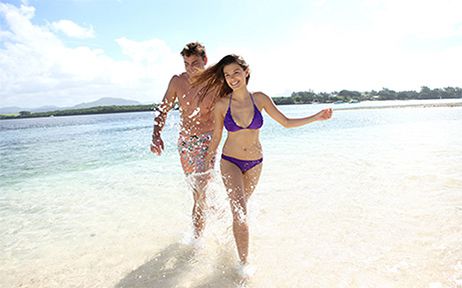 Stunning views of the ocean of the South and giving over the Blue Bay Marine Park to the east will offer you the perfect backdrop for your fairytale wedding on Ile des Deux Cocos. It has everything you could possibly ask for-ultimate intimacy on a deserted private island.
Ile des Deux Cocos is equally home to a magnificent villa built over a century ago by the flamboyant British Governor Sir Hesketh Bell.
It prides itself in its distinctly eccentric charm, blending European and Moorish architectural styles with a traditionally Mauritian-inspired interior that's both enchanting and entirely novel.
This captivating destination will sweep you away on winding paths through the woods to a quiet place under a palm tree or a scenic spot near the ocean. It is simply perfect for your dream wedding with a laid-back island twist.
Your memorable wedding starts by enjoying a scenic private transfer in a short speed glass-bottom boat across the turquoise waters. A world away, you and your future life partner will be greeted with a refreshing cold towel and welcome drink and you will immediately feel the charm of this small paradise island and the relaxed atmosphere all around before exploring this tranquil haven.
The wedding ceremony can take place on the beautiful sandy beach, in the villa or under the Gazebo, depending on the weather.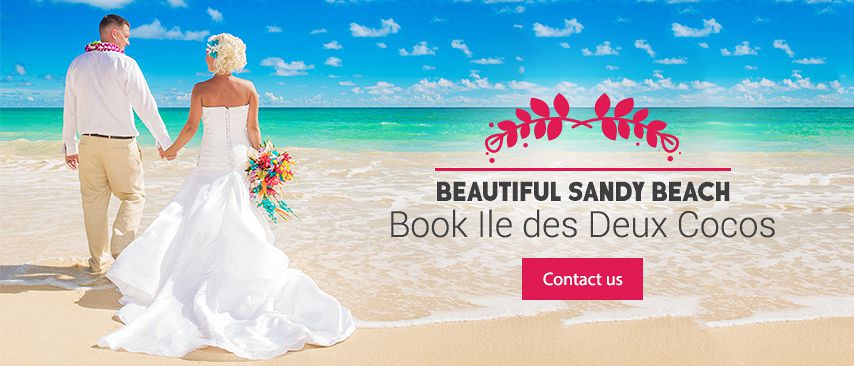 Afterwards, the new couple can go for cake cutting and champagne to celebrate this memorable day. Lunch will be served either at tables in the open overlooking the ocean, or under the shade of a white marquee where you can sink into deep settees.
You can also choose to swim in crystal clear warm waters, snorkel amongst the corals and shoals of bright tropical fish flitting around the offshore marine park or, if you prefer, visit by glass-bottom boat. On shore there is also plenty to do to conclude this perfect day. Laze on the beach, stroll along the small paths through native woodland hand in hand with your life partner, or hand pick fruit from the blossom-scented orchard, enjoying each minute of this extraordinary day.
The three packages have each been designed to suit your tastes and needs accordingly. Even if you aren't staying on Ile des Deux Cocos, you can get married on this paradise romantic island. The Light Package has been designed for couples not wishing to stay in the Villa but nevertheless wish to celebrate their special day in a most memorable and unique way.
The Delight Package is more sumptuous with more personalized details, such as live music and a magnificent décor, added to make the celebration more magical.
We nevertheless are ever open to your requests and suggestions should you wish to have an even more personalized celebration.
---
Included in the Ile des Deux Cocos Wedding Packages
Wedding on Ile des Deux Cocos - Light Wedding Package
Bring your special day to life with our "Light" wedding package, and add a personal touch from the a la carte options. Our dedicated wedding coordinators will work with you to make sure your day is simply stunning.
The Light Package includes:
Personal pre-wedding planner.
Wedding exclusivity, yours is the only wedding at the resort today
Welcome gift for you and your partner to-be
'Light' wedding ceremony set-up
Wedding ceremony
Special wedding menu at our restaurant (excluding beverages)
Wedding cake for the couple + 2 glasses of Champagne
Special breakfast in your room the following day
Optional:
Legal/ administrative procedures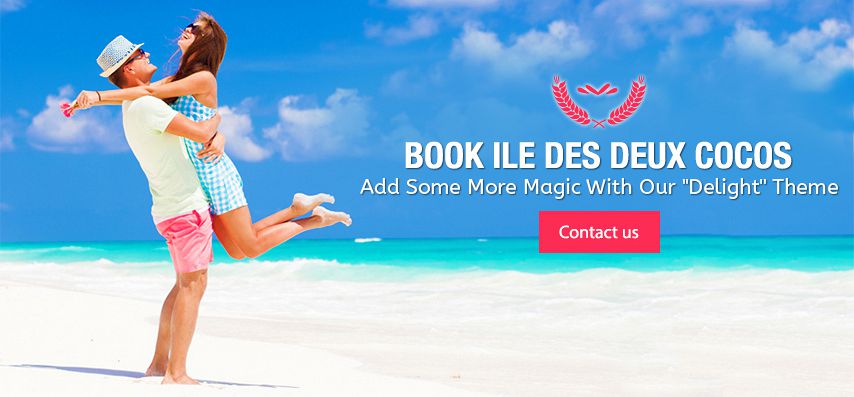 Wedding on Ile des Deux Cocos - Delight Package
Add some more magic with our "Delight" theme. Make your dreams come true with an idyllic location, sumptuous cuisine, inspiring décor, and attentive resort staff. Your wedding is a reflection of your personalities and your life together: music, flowers and a few indulgent details...
The Delight Package includes:
Separate room for the bride on the wedding day, before the ceremony (upon availability)
Hair and Make-up (including trial)
"Delight" wedding ceremony set-up, floral decoration and list of "light"
Bridal Bouquet
Groom's button hole
Live Musician (solo)
Optional:
Legal/administrative procedures
Wedding on Ile des Deux Cocos - Infinity Package
Declare your love in true island style: a fairytale wedding in a picture-perfect setting. Dreams will come true and memories will be made as our prestige offering ensures you live happily ever after...These additional touches will make your dream day simply perfect.
The "Infinity" Package includes:
Spa session for the Bride (massage, manicure & pedicure)
Spa session for the Groom (massage & Body scrub)
Bottle of French Champagne & deluxe canapés after the ceremony
Private location & special menu for the bride and groom (excludes beverages)
Live Trio of Musicians during the ceremony or your private dinner
Romantic room amenities on the evening of the wedding day (Champagne on ice & petals on the bed depending on room category)
Romantic bath amenities
Wedding photography and album (50 images)
List of 'Light' and 'Delight' packages
Optional:
Legal/administrative procedures
---
About Ile des Deux Cocos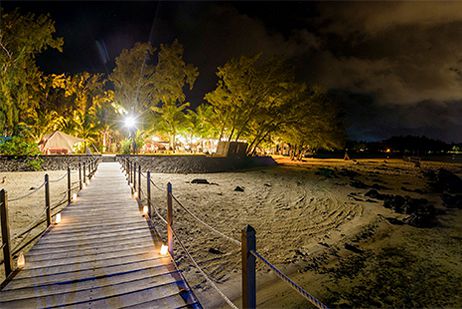 Whoever said life is about the journey, not the destination, probably didn't set foot on a private tropical island retreat. Between the unobstructed views, a picturesque villa and the team of dedicated staff, you can pretty much live out your ultimate castaway fantasy on Ile des Deux Cocos.
This unique gem nested amidst a turquoise ocean lies just off the south east coast of Mauritius.
The island was first known as Ile Aux Bigorneaux before taking officially the name of Ile des Deux Cocos, based on the two abandoned coconut plantations it houses.
It is said that the pirates once inhabited the island and had buried a fabulous treasure somewhere on the islet!
---
Comments:
It is recommended that you bring along flat shoes or sandals to walk on the sand, towels and a solar protection as well.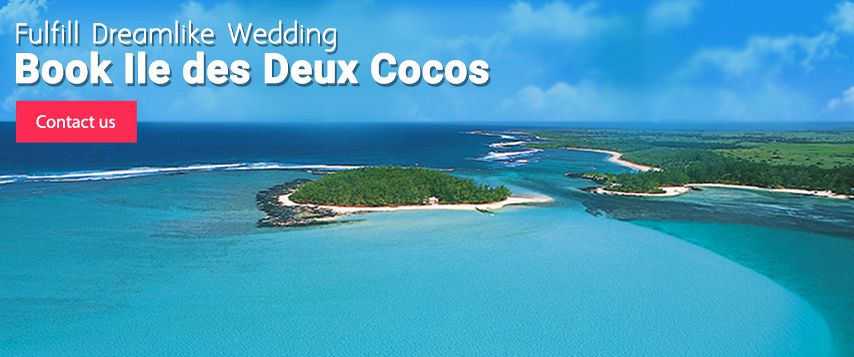 Book this wedding package
Contact Details