Luxurious Submarine Wedding
Luxurious Submarine Wedding
About the Luxurious Submarine Wedding package
How deep is your love? Is it deep enough to take the plunge and say "I do" 30 metres below sea level? At Mauritius Attractions, we are offering adventurous couples the exclusive opportunity to shun away the traditional romantic wedding and exchange vows inside an impressive submarine in the crystal clear waters of the Indian Ocean.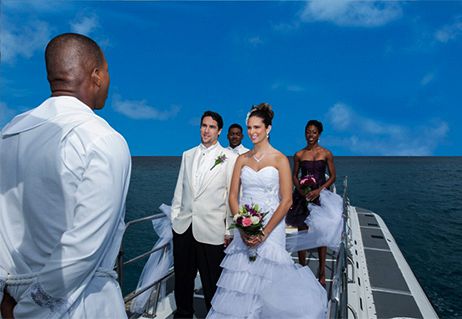 Idealistically secluded, Mauritius' natural land and marine beauty is the picture-perfect setting for the most dreamlike weddings. It has a wide range of various types of romantic locations to tie the knot and is similarly a well-known destination worldwide to take the plunge under the waves for your vows.
What can be more magical than saying "Yes" to your better half with angel fish, clownfish and other colourful tropical creatures around you? The underwater setting will offer you a calm presence and sense of space-a place to dream and hope for your future.
The Luxurious Submarine Wedding is a concept that seeks to bring the ultimate in romance and commitment. If your dream is to be even more stunning in your perfectly elegant white floating bridal dress or in any other extravagant wedding attire.
you may do so even while being 30 metres underwater inside the magnificent transparent submarine. On your special day, you might equally wish to be accompanied by people you cherish or a best man and a maid of honour. You may certainly do so as the submarine may accommodate 4 passengers altogether, apart from the pilot.Should your number of guests be more, you may optionally wish to book a 10-seater submarine for them. It will allow them to experience an absolutely memorable under water trip aboard the 7.5 metre long, specially designed to give you a great under-water view through individual windows.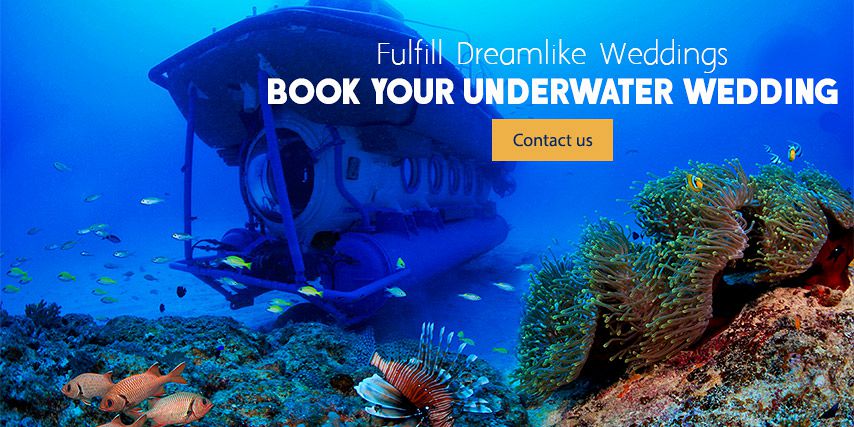 The seating area is similar to the inside of a small plane, so you are comfortable at all times. There's also a TV screen on board that shows images from a camera on the outside, so none of you will miss any of the wonderful sights.
This unique wedding ceremony will start at the jetty at the sunny beach of Trou aux Biches in the North West of the island where a dedicated and pleasant skipper will be waiting for you. You will get aboard a decorated transfer motorized boat full of balloons to be taken away from the coast onto a platform in the lagoon to board the submarine. Upon your arrival, you will be welcomed by the warm crew members. The bride will definitely have a magnificent bouquet waiting for her.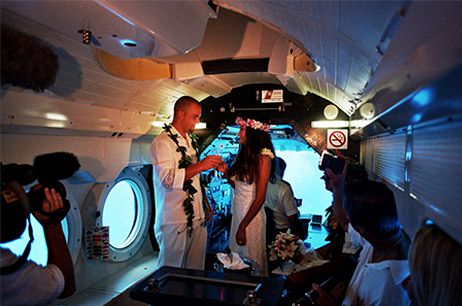 To start spicing up the moment, you might wish to enjoy the champagne offered to you on the platform itself or once you will descend comfortably in the submarine. No need to say that you will definitely wish to immortalize the whole ceremony with the services of a professional photographer and/or cameraman. A picture of both of you taken while entering the submarine with the perfect azure lagoon backdrop will certainly be one of the best clicks.
You will be enraptured by luxury from the very moment you get inside the submarine. Comfortably seated inside an air-conditioned and completely transparent cabin, the pilot will explain to you the procedures of the dive. The submarine will then start its decent into deep sea for a real fantasy adventure wedding. You will get to enjoy the magnificent marine beauty as you descend.
This is an exciting way to begin married life together, creating memories that you will remember forever, amidst clear water and colourful fish serving as your bridal party. As part of this package, a diver-cameraman will record the ceremony. You may also wish to cut a delicious wedding cake inside the submarine just after the ceremony. Same can be arranged for you.
And because every wedding is by definition unique and personal, we are absolutely open to tailor your requests or adapt the package in a personalized way as per your wishes and inspirations.
---
The Luxurious Submarine Wedding Package includes:
Exclusive rights of the submarine
Underwater wedding ceremony
Boat transfer to the submarine
Bouquet of flowers for the bride
Champagne
Video film or DVD of 10-15 minutes, delivered after 2 days.
Decoration of the submarine
Photo souvenirs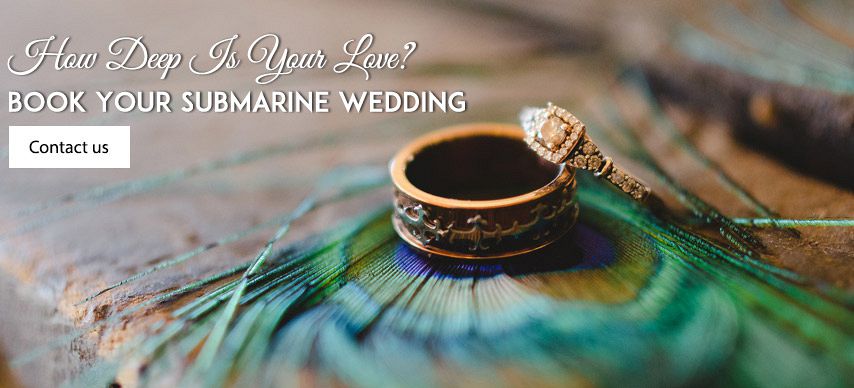 ---
Optional Services Offered as part of the Luxurious Submarine Wedding Package:
As part of this Wedding package, we may also provide for the following at additional costs:
Wedding cake for 4-5 passengers
Canapés
10-seater submarine for guests
---
Comments:
The submarine can accommodate 5 passengers (bridal couple may be accompanied by 2 guests/witnesses/Civil Status Officer)
The pilots of the submarine are well trained to provide a safe trip to all the travelers
All submarines are approved and certified by the international authorities for design and safety at sea
The submarine is operated in the North of Mauritius. The departure point is at Trou aux Biches about 2km from the center of Grand Bay
The submarine is operational between 08:30-16:30. You can choose to go for the exclusive submarine trip anytime during the operational hours
The dive will last for one hour, including 40 minutes under the sea
Book this wedding package
Contact Details