Overnight Catamaran Cruise - Exclusive Trip along the West Coast
| | |
| --- | --- |
| Location | West |
| Operating Days | All Days |
| Duration | Flexible |
| Activity Time | Flexible |
| Transportation | Offered as Supplement |
Transportation
Offered as Supplement
Private Overnight Catamaran Cruise in Mauritius - Exclusive Trip along the West Coast - Overview
Discover the west coast of the island on board the luxurious Pajot Mahé 36 Catamaran & explore the beautiful coves and exceptional lagoons.
This trip is all about having a unique and memorable experience, one to celebrate with your loved ones, having a couple's romantic cruise, a family experience with your little ones, or an adventure with friends.
If you're lucky enough, you will witness a dolphin spectacle as the stunning mammals jump in and out of the water beside the catamaran, offering a unique 'show' spinning in the air and splashing their tails in the glistening ocean.
Gaze at the horizon until the sun goes down, and the colour of the sky fades to light hues of grey until night sets in, studded with twinkling stars. Whether you're looking for an intimate cruising experience on your own exclusive catamaran, or the perfect retreat with nothing but the ocean between you and the horizon, then this is the right package for you!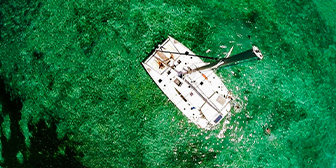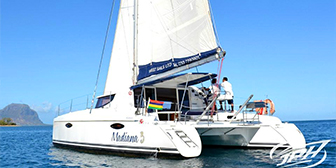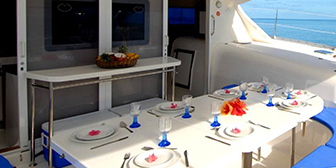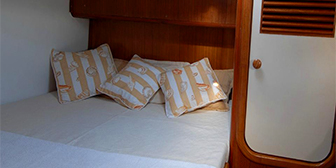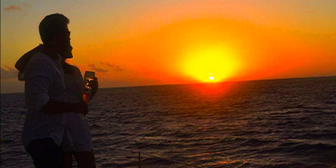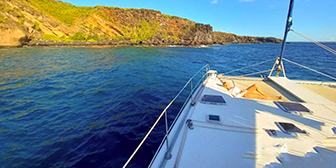 Highlights of this package:
15.5 Hours or 23 Hours Private Catamaran Cruise
Cruise along the pristine west coast of Mauritius
Opportunity to see dolphins in their natural habitat
Spectacular panoramic views, including sunsets and sunrises
Spending the night in maximum privacy and comfort onboard
Optional meals served on the Fontaine Pajot Mahé Catamaran
---
The Private Overnight Catamaran Cruise- West Coast includes:
Overnight stay on the luxurious catamaran cruise
Sail all the way to the north & back to the south west
Unlimited soft drinks throughout the trip
Facilities onboard (Cabin, bathroom, deck, lounging area)
Snorkelling break in the Mauritian waters
Snorkelling & fishing equipment
Optional: Breakfast, Lunch or Dinner with Drinks (for a supplement)
Note: Meals are not included in this package; the same is available for a supplement.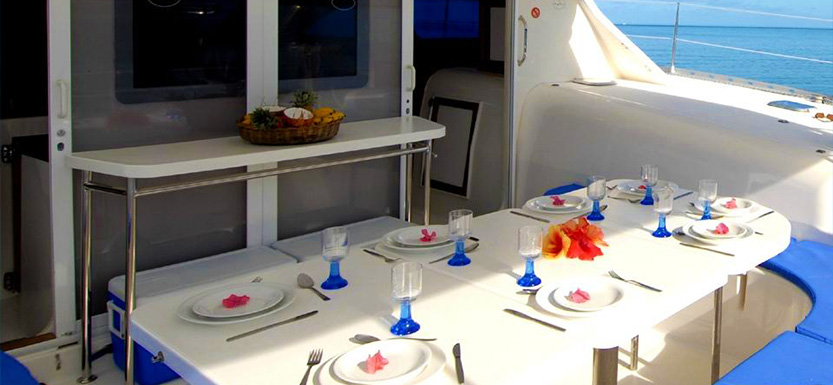 ---
Transportation & Driver Details
Transport is available for an additional supplement and will include pick up and drop off from any place / place of accommodation in Mauritius.
Car Capacities
You can choose from a selection of vehicles types:
Family Car - Up to 4 passengers
6 Seater vehicle - Up to 6 passengers
Minivan - Up to 10 passengers
About the Drivers
All drivers speak fluent English and French (Upon special request we can organise drivers who speak additional languages). The drivers, citizens of Mauritius, will be happy to provide you with information about Mauritius and each of its sights.
All drivers are very professional, time efficient and friendly. There is high emphasis on being always on time and providing reliable devoted service to customers.
---
Riviere Noire - Black River Village, Western region
| | |
| --- | --- |
| Duration: | 15.5 Hours or 23 Hours |
| Operating Days: | Everyday (upon availability) |
| Activity Time: | 1 Night: 17h00 - 08h30 |
| | 1 Night + 1 Day: 17h00 - 16h00 |
---
About the Overnight Catamaran Cruise - West Coast Mauritius
Pack your essentials and get ready for the most memorable experience of your vacation in Mauritius as you embark on the luxury Fontaine Pajot Mahé Catamaran. From 17h00 till the next morning (or for the full 23 hours experience), you'll be getting a break from the daily stress and bask in pure serenity, cruising along the west coast, all the way to the north at a leisurely pace.
Given that this is a private trip, it'll be a once-in-a-lifetime opportunity to have a catamaran all to yourself, accompanied by your loved ones, with the privilege of customising the trip to your needs upon request. No need to mingle with strangers when you can enjoy the company of your own people!
Admire the silver coastline slowly becoming distant until you find yourself in the middle of the sea, admiring the gradual colour change of the sky and the water at sunset. A whole spectrum of red, pink and orange shades will turn into lighter shades as the sun goes back to its hiding spot.
Time for an up-close experience of the trademark Mauritian hospitality! A team of professionals will attend to each and every need of yours during the trip to ensure that you're having a great time. Given that all meals and drinks are available onboard for just a small supplement, you don't need to worry about running errands and packing food for the trip.
For a surcharge, you get to enjoy a mystical dining experience in the evening, where you'll delight your taste buds with an exquisite meal and a selection of beverages to cleanse your palate and hydrate yourself in between bites. The most special part is that you can gaze out at the bay, basked in the moonlight as you feast on appetising dishes.
As the night falls, it'll be time to bundle up in bed within your comfortable cabins, in order to recharge your batteries for the next day - even though you'll feel like staying awake so you can cherish each and every second of your trip.
Day 2
Wake up to the sound of waves lapping, and soak in the early sun rays aboard the luxe catamaran, or jump in the water for a quick swim to refresh your senses before heading for your morning meal (optional). The delish breakfast will give you an instant energy boost, enough to last you the whole day!
If you opt for the 1 Night and 1 Day package, you'll have ample time to explore the ocean! Take a cooling dip in the turquoise blue sea, chill and relax under the pleasant warm sunlight, and let go of all your worries. Make the most out of the trip and gear up for a snorkelling break amidst the crystal clear waters to discover the abundance of marine life and encounter fascinating creatures.
You will come across shoals of angelfish, clownfish and other colourful species as well as a diverse range of vibrant corals on your underwater trip. Look up and gaze at the never-ending sea and dip back into the spectacular aquatic dimension, experiencing the best of both worlds.
On the way back, make sure to revel in the shining sun for that tropical glow, relax and marvel at the pleasant views around and reconnect with your favourite people. There's something absolutely magical about snuggling up with your special someone and taking in some of the most breathtaking sceneries that nature has to offer…
Optional Menu available onboard
For 1 night option, an optional BBQ Dinner and Continental Breakfast are offered. (charges apply)
As for the 1 night & 1 day option, an optional Continental Breakfast and BBQ Dinner are available for purchase. For lunch, fish or chicken curry with rice, accompanied with a soup of black lentils and a salad can be provided (for a surcharge).
Please refer to the Food & Beverages section for more details.
About the Catamaran
Madiana 3 – Fontaine Pajot Mahé 36
Based on an Olivier Flahault design and with a Joubert / Nivelt hull, this boat is built for safe navigation with comfortable, bright living areas and a fully protected cockpit alongside the saloon. The Mahé 36 allows you to move around freely onboard, enjoying comfort while navigating or while moored. She also presents excellent sailing performances.
The catamaran cruise accommodates two double cabins, each with all the comfort needed for a relaxing cruise.
Characteristics
Length: 36.19 ft
Main sail area: 505.92 sq ft
Genoa area: 279.87 sq ft
Standard engines: 2 x 14.914 KW
Standard version: 1 owners suite + 1 bathroom / 2 double cabins
---
We suggest you to bring the following:
Hats
Spare Clothes
Extra sun block cream for sun protection
Camera
Swimsuits
Towels
---
Private Overnight Catamaran Cruise in Mauritius - Menu Details
---
| Overnight Catamaran Cruise - Exclusive Trip along the West Coast | |
| --- | --- |
| 1 Night | 635 Euros / Bare Boat |
| 1 Night - Optional Breakfast | 19 Euros / Pax |
| 1 Night - Optional BBQ Dinner | 39 Euros / Pax |
| 1 Night + 1 Day | 780 Euros / Bare Boat |
| 1 Night + 1 Day - Optional Breakfast | 19 Euros / Pax |
| 1 Night + 1 Day - Optional Lunch | 39 Euros / Pax |
| 1 Night + 1 Day - Optional BBQ Dinner | 39 Euros / Pax |
---
Booking Attributes