Exclusive Day Package - Swimming with Dolphins, Lunch & Quad
| | |
| --- | --- |
| Location | South |
| Minimum Age | 5 |
| Operating Days | All Days |
| Duration | 10 hrs 30 mins |
| Activity Time | 07:30 - 18:00 |
| Transportation | Included in price |
| Comment | This is an exclusive-private day package suitable for up to 8 people. Children must be accompanied by parents. |
This Activity Is Not Operational Until Further Notice
Exclusive & Private Day Package - Swimming with Dolphins, and 2-hour Quad drive
Experience a fun-packed day in the South of Mauritius with a selection of activities.
If you are a nature lover looking to explore the south of the island through exciting experiences, this package is for you.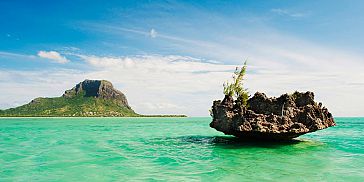 Start this wonderful day by swimming with dolphins in the southern lagoon of the island.
To explore the spectacular lives of these magnificent marine mammals in their natural aquatic habitat, you will have the splendid opportunity of enjoying the adventure of a lifetime.
For lunch, you will get a taste of the local cuisine with a 3-course Mauritian meal at the L'Exil Lodges.
After that, a private 2-hour quad drive will take you to beautiful surrounding key sites like the volcanic cliff of Gris-Gris, La Roche qui Pleure, Rochester Falls and other amazing sites that should not be missed.
As part of this amazing Exclusive & Private Day Package you will enjoy:
2 ½ hour Private speedboat trip and Swim with Dolphins & Snorkelling
Road trip along the West & South coast
3-course Lunch at L'Exil Lodge
2-hour Private Quad drive in the South
---
Additional Info - Exclusive Day Package - Swimming with Dolphins, Lunch & 2-hour Quad Drive
This Special Full Day Package includes:
07h00 - 09h30 Private 2.5 hours of Swimming with Dolphins
Immerse yourself in the adventure of a lifetime by swimming with dolphins and watching them from up close.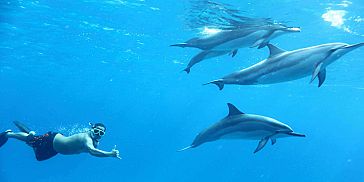 You will sail on speed boat to look for the dolphins. You will not only encounter these mammals but will have the unique opportunity to swim with them in their natural habitat.
Unlike many other dolphin facilities that limit a swim with dolphins program to pools or shallow water encounters, we provide the unique opportunity to enter the dolphins' natural environment and enjoy an encounter with the dolphins in open sea.
This trip is done on a speed boat, having the boat exclusively for you to enjoy your own tailor-made trip.
10h15- 12h15: Road trip along the Southwest Coast
Discover the beautiful southern and western coasts of the island through this delightful road trip. The South of Mauritius is known for its picturesque, uncrowded beaches and preserved environment.
While heading south, you will come across Le Morne Brabant, a UNESCO World Heritage site with a summit of 500 meters and known to be an escape haven for runaway slaves in the 19th century. The mountain is also the natural habitat of a very large variety of endemic species, such as the rare Trochetia Boutoniana, which is the floral emblem of Mauritius.
Further on, you will also come across the Macondé Viewpoint, located between Le Morne and Baie du Cap. Set on the curve of the coastal road, the peak of the small rocky cliff allows you to enjoy breathtaking views of the Indian Ocean and the majestic Le Morne mountain.
12h30: Lunch at L'Exil Lodge
For lunch you will head to L'Exil Lodge's restaurant, ideally located in proximity of the cliffs. The restaurant is a magical place offering a panoramic view where guests can spend unforgettable moments and discover the best of the local Mauritian cuisine. You will get to savour a typical 3-course Mauritian meal including a starter, a main course and a delicious dessert.
15h00 - 17h00: 2-hour Private Quad in the South
For those who would like to show off their off-road skills, this 2-hour private quad biking trip is just the thing. Specially designed for adrenaline junkies, the 2-hour quad ride allows you to discover the South of the island in a fun way. During the quad biking activity, you will be able to witness the beautiful flora and fauna of Mauritius while also riding along splendid landscapes, including extraordinary views of the island and its marvellous valleys, mountains and waterfalls.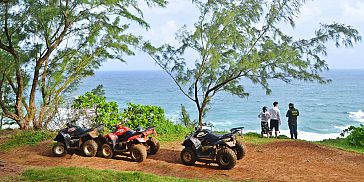 The Exclusive Quad Ride guarantees you personal guidance from the accompanying guide and a ride at your own pace with no rush or being delayed by others!
Departing from the L'Exil, the 2-hour ride will help you explore the most exotic and scenic sites of the south, like the volcanic cliffs of Gris-Gris, La Roche qui Pleure, Rochester Falls and others. The breathtaking scenery, cascading waterfalls, pools of clear water, and luxuriant greeneries surrounding the region, make them wonderful sites for you to explore.
---
L'Exil Lodges Restaurant - Lunch Menu
Starter – Mauritian fritters
Main Course (Choose one)
Chicken Salmi
Fish Vindaye
Sautéed Tofu
served with Rice, Pulses & Condiments
Dessert – Banane Flambée
Beverage – Bottle of water
---
Transportation
The Transportation prices are per vehicle (and not per person). You can choose the vehicle type according to the number of passengers in your group.
Private Daily Tour in a family Car (for up to 4 people): 95 Euro
Private Daily Tour in a 6 Seater vehicle (for up to 6 people): 105 Euro
Private Daily Tour in a Minivan (up to 12 people): 125 Euro
The transportation charges are per vehicle (and not per person) referring to the number of passengers applicable for each vehicle type.
About the drivers
All drivers speak fluent English and French (Upon special request we can organize driver who speaks additional languages). The drivers, citizens of Mauritius, will be happy to provide you with information about Mauritius and each of its sights.
All drivers are very professional, time efficient and friendly. There is high emphasis on being always on time and providing reliable devoted service to customers.
---
Comments
General
What to bring: Sunglasses, sun cream, snorkeling equipment, towel, swimming suit, spare set of clothes and mosquito repellent.
What to wear: It is recommended to participants to wear sports shoes with socks, trousers, t-shirt, sweatshirt, hat or cap.
This excursion/itinerary depends solely on climatic conditions. An alternate route or date will be proposed should the weather be unfavourable.
Private 2.5 hours of Swimming with Dolphins
Snorkeling equipment is not provided due to sanitary measures. Clients are requested to bring their own - mask,snorkel and fins.
Safety requirement: This trip is not recommended for pregnant women.
Quad Restrictions
Double Quad:
Children between ages of 12 - 16 years old can drive the double quad and must be accompanied by an adult.
Children above the age of 6 can enjoy this activity alongside an adult on a double quad bike.
Single Quad:
Children as from 16 years old can drive the single quad upon their parent's authorization
Minimum height: 1m50
Health and Safety Restrictions
The quad bike tour is strictly forbidden for pregnant women.
No one under, or suspected of being under the influence of alcohol or drugs, will be allowed to take part in the ride.
All participants will be required to sign a disclaimer form prior to the activity.
---
This Activity Is Not Operational Until Further Notice
Prices
Exclusive Day Package - Swimming with Dolphins, Lunch & Quad (Including Transport)
| | |
| --- | --- |
| Number of Participants | Total Price |
| 2 Adults | 708 Euro |
| 3 Adults | 862 Euro |
| 4 Adults | 937 Euro |
| 5 Adults | 1049 Euro |
| 6 Adults | 1220 Euro |
| 7 Adults | 1342 Euro |
| 8 Adults | 1417 Euro |