Private Traditional Mauritian Boat Trip To Coin de Mire
100% Level of Satisfaction
Based on 1 review
| | |
| --- | --- |
| Location | North |
| Operating Hours | 08:30 - 16:00 |
| Operating Days | All Days |
| Duration | 6 hrs |
| Activity Time | Flexible |
| Transportation | Offered as Supplement |
Private Traditional Mauritian boat trip at the North of Mauritius to Coin de Mire
This private Traditional Mauritian boat trip is about discovering Mauritius northern coastline and best snorkeling site as part of a great exclusive day package which also includes lunch in a truly traditional Mauritian style.
You will enjoy a relaxed sailing on our Traditional Mauritian boat across the crystal clear water of our beautiful lagoons of the North of Mauritius with breathtaking scenery all around.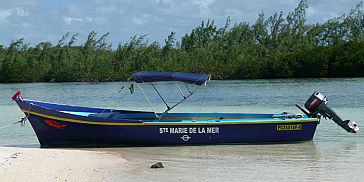 As part of this private boat trip you will get to explore the rich marine life by snorkeling at Coin de Mire Island which is considered the best snorkeling site in Mauritius, observe the large number of native birds flying around the island, and end up this remarkable day with a delicious BBQ lunch and drinks (both soft drinks and alcoholic) on the private Hibiscus beach.
This is definitely a must trip for any snorkeling fan and for any visitor to Mauritius who is looking to discover the remarkable underwater marine world, home to some of the world's most breathtaking coral reefs and marine life in a relaxed traditional Mauritian style.
The Traditional Mauritian Snorkeling trip to Coin de Mire Island includes:
Cruising along the north coasts of Mauritius
1.5 hours to enjoy snorkeling, swimming and relaxation along Coin de Mire Island
Many bird watching opportunities
Snorkeling gear for each passenger
Mauritian snacks and a Delicious BBQ lunch and drinks served on the private beach of Hibiscus
Trip Description
This unique 6 hours private Traditional Mauritian boat trip departs at 9.00am from the coast of Grand Bay where you will enjoy a relaxed cruise admiring the remarkable sceneries all around before reaching Coin de Mire.
You will get to spend about 1.5 hours along the Coin de Mire Island having free time for snorkeling in this amazing snorkeling site for you to discover the amazing underwater marine world found along the island.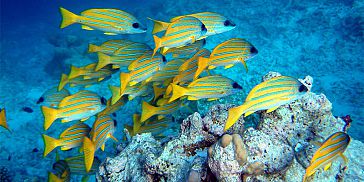 When snorkeling at Coin de Mire you will have a great view of the reef, fish and of large selection of corals. You will explore the colorful fauna and flora of the Coin de Mire reef which is absolutely stunning.
For those who enjoy bird watching, a number of native birds can be seen flying around the Coin de Mire or nesting in the cracks of the cliffs such as the famous Mauritius national bird - the 'pailles en queue, as well as the Wedged tail shearwater, Red tailed tropic bird and the White tailed tropic bird. Common birds like sparrows, doves can also be seen on the island.
After the Snorkeling trip, you will sail to the private beach of Hibiscus, which is only accessible by boat. This is a wonderful opportunity to enjoy a delicious BBQ lunch in an amazing and calm setting.
In order for you to experience the local cuisine, a selection of typical Mauritian snacks and a special alcoholic punch cocktail (specialty of the Captain) will be provided while the wonderful cooks will start preparing the lunch as soon as you will be on the beach, all that in a joyful and friendly atmosphere.
You will be eating a delicious BBQ lunch of: Grilled Chicken, Fish, Sausages and Salads. Dessert: Banana and Pineapples flambé.
Additional information on this traditional Mauritian day trip package
Drinks: Soft Drinks (Coca, Sprite), Water, Fruit Juice, Wine, Rhum and Beer.
Snorkeling Gear - complete snorkeling mask and fins are provided and available for using by all participants.
What to bring: We recommend that you will bring sun screen, hat, towel, swimsuit, a camera (or underwater camera).
About the boat
It is a very spacious Traditional Mauritian boat (25ft), sits up to 8 passengers very comfortably (8 passengers and 2 boat staff).
The boat is a Traditional Mauritian boat used for centuries by the locals for fishing in the lagoons. In creole, it is called "pirogue"; it is a shallow- draft boat ideal for fishing as well as shallow lagoon cruising. The "Pirogues" in Mauritius are very colourful, reflecting our unique multi-cultural Mauritian population.
About Coin de Mire Island
The Coin de Mire, also called Gunner's Quoin, situated 8 km north of Mauritius, is well known by divers as one of the best diving sites of the north of Mauritius.
Full with hundreds of bright-colored fish, the underwater world of Mauritius can be deemed a natural wonder, and Coin de Mire is the best place to discover this underwater wonder without the requirement of going diving. The reef is home to variety of fish species that include Damselfish, Surgeonfish, Butterfly fish, juvenile Sailfin tangs, as well as tiny Pipefish and large Trumpet fish.
At an average depth of 6 meters (depth ranges from 3-9 meters), with crystal clear water offering great visibility, the snorkeling conditions are ideal year-round.
Price
Price for Exclusive boat hiring for the day (bare boat): 130 Euro
Price per passenger (maximum of 8 passengers): 25 Euro / person
Reviews
100% Level of Satisfaction
Based on 1 review
|
reviewed by annie baik – United States
|
October 29, 2017
Level of services provided as part of the activity?
I had a wonderful time on the tour with the Ashoks. They were so very kind and caring, and it was a very relaxing tour. The lunch was the best meal I had in Mauritius!
---