Coin de Mire - Private Snorkeling Trip
90% Level of Satisfaction
Based on 3 reviews
| | |
| --- | --- |
| Location | North |
| Operating Hours | 08:30 - 16:00 |
| Operating Days | All Days |
| Duration | 2 hrs |
| Activity Time | Flexible |
| Transportation | Offered as Supplement |
Private Snorkeling trip to Coin de Mire (Gunner's Quoin)
This private speed boat snorkeling trip is about discovering Mauritius best snorkeling site and having many bird watching opportunities.
You will enjoy sailing through the crystal clear water of the beautiful lagoons of the North of Mauritius with breathtaking scenery all around, explore the rich marine life by snorkeling at Coin de Mire Island which is considered the best snorkeling site in Mauritius, observe the large number of native birds flying around the island, and enjoy selection of snacks and drinks (both soft drinks and alcoholic).
This is definitely a must trip for any snorkeling fan and for any visitor to Mauritius who is looking to discover the remarkable underwater marine world, home to some of the world's most breathtaking coral reefs and marine life ever to be seen.
Full with hundreds of bright-colored fish, the underwater world of Mauritius can be deemed a natural wonder, and Coin de Mire is the best place to discover this underwater wonder without the requirement of going diving.
The snorkeling trip to Coin de Mire Island includes:
1.5 hours to enjoy snorkeling, swimming and relaxation along Coin de Mire Island
1/2 hour cruising along the north coasts of Mauritius
Many bird watching opportunities
Snorkeling gear for each passenger
Snacks and drinks
As part of this 2 hours private speed boat trip at the North of Mauritius you will get to spend about 1.5 hours along the Coin de Mire island and having several snorkeling breaks in few key locations for you to discover the amazing underwater marine world found along the island.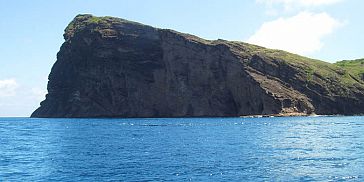 The Coin de Mire, also called Gunner's Quoin, situated 8 km north of Mauritius, is well known by divers as one of the best diving sites of the north of Mauritius.
At an average depth of 6 meters (depth ranges from 3-9 meters), with crystal clear water offering great visibility, the snorkeling conditions are ideal year-round.
When snorkeling at Coin de Mire you will have a great view of the reef, fish and of large selection of corals. You will explore the colorful fauna and flora of the Coin de Mire reef which is absolutely stunning.
The reef is home to variety of fish species that include Damselfish, Surgeonfish, Butterfly fish, juvenile Sailfin tangs, as well as tiny Pipefish and large Trumpet fish. Also, with some luck you may see sea turtles as well as dolphins during the snorkeling.
For those who enjoy bird watching, a number of native birds can be seen flying around the Coin de Mire or nesting in the cracks of the cliffs such as the famous Mauritius national bird - the 'pailles en queue, as well as the Wedged tail shearwater, Red tailed tropic bird and the White tailed tropic bird. Common birds like sparrows, doves can also be seen on the island.
For the benefit of all participants selection of refreshments and snacks are provided during the trip.
Refreshments included as part of the trip
Beer
Soft drinks
Juice
Mineral water
French Champagne or sparkling wine can be made available on request.
Snorkeling Gear - complete snorkeling mask and fins are provided and available for using by all participants.
What to bring
We recommend that you will bring sun screen, hat, towel, swimsuit, a camera (or underwater camera).
About the boat
It is a very spacious speedboat (25ft), sits 8 passengers very comfortably. The boat is also equipped with a small diving platform with swimming ladder, a small arch with canopy for protection from the sun, a GPS/Fish finder, a VHF radio and many other safety devices. It is powered with two 90hp Evinrude E-Tec outboard engines.
The boat offers excellent performances, comfort and reliability even in challenging ocean conditions, and is designed to cope with high seas. It is a multi-purpose boat, built for offshore travel as well as shallow lagoon cruising.
Prices
Minimum 4 persons required
Up to 4 Persons: 220 Euro
5-8 Persons: 250 Euro
Reviews
90% Level of Satisfaction
Based on 3 reviews
|
reviewed by Gordon Middleton – United Kingdom
|
October 22, 2019
Level of professionalism by activity operator staff / guide
Your level of enjoyment from the activity
Quality of meals & drinks included (if applicable)
Ease of booking the activity
Overall satisfaction from the activity
Reaction time to your queries and requests
Travel consultant's professionalism level
Added value given to you by the travel consultant
Consultant's knowledge of Mauritius and the products / services
Overall satisfaction from the customer support service
Level of services provided as part of the activity?
---
|
reviewed by Carlene Davidson – Australia
|
November 25, 2017
Great day, lovely staff, lovely water, great clarity in the water and lots of fish. Would do it again in a heartbeat.
---
|
reviewed by Tobias Graedel – Switzerland
|
October 01, 2017
Reaction time to your queries and requests
Travel consultant's professionalism level
Overall satisfaction from the customer support service
Level of services provided as part of the activity?
Level of professionalism by activity operator staff / guide
Your level of enjoyment from the activity
Ease of booking the activity
---