Relaxing Couple Massage on a Private Floating Dock
100% Level of Satisfaction
Based on 1 review
| | |
| --- | --- |
| Location | North East |
| Operating Hours | 09:00 - 17:00 |
| Operating Days | Monday, Tuesday, Wednesday, Thursday, Friday, Saturday |
| Duration | Flexible |
| Activity Time | Flexible |
This Activity Is Not Operational Until Further Notice
Relaxing Couple Massage on a Private Floating Dock in the Northern Lagoon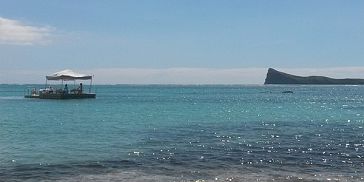 Situated in the crystal-clear, turquoise waters of the northern lagoon of the island, the secure floating dock offers a breathtaking setting for you to enjoy a romantic couple's spa treatment and spend quality time together.
This is nothing like your usual spa sessions – enjoy a romantic escape in a magnificent natural setting, floating away on a calm lagoon with the gentle sea breeze caressing your skin and the sound of waves in the background. Lie down, appreciating the utterly serene and most exotic spa setup, and take in panoramic views of the turquoise blue sea and picturesque coastal landscapes while dedicated, experienced spa therapists work their magic on both, you and your partner.
This relaxing couple massage is an excellent treat for you to indulge yourself and your partner. The pampering spa treatment provides you with an intimate, romantic experience, by literally drifting away from conventional spas. Enjoy an utterly relaxing and soothing couple massage aboard a private floating platform on the beautiful Northern lagoon of the island. This couple massage can be the ideal way for you to bond with your partner as you enjoy an incredibly relaxing treatment side by side.
More about the Relaxing Couple Massage on a Private Floating Dock in the Northern Lagoon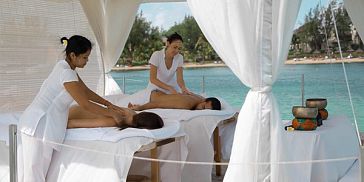 Whether you simply want to have a completely novel experience or you wish to spoil a special someone during your vacation on the island, this luxurious relaxing spa treatment offered on a private floating dock amidst turquoise waters will help you achieve a perfect state of balance, calm and relaxation. All in extreme intimacy far away from the concept of traditional treatments in spas. The therapist will welcome you with a home-made fresh infusion to hydrate your body and help in naturally flushing toxins out of your body.
The Relaxing Couple Massage on a Private Floating Dock is the perfect romantic escape for you and your loved one. This package has been specially crafted to offer you a VIP experience on a floating platform. Glide away in blue waters in the middle of the calm northern lagoon while spoiling yourself with a 60-minute pure relaxation massage offered in an intimate setting, exclusively for you and your partner.
The Relaxing Couple Massage techniques used are derived from a tradition that has been carried on through millennia by cultures worldwide, making use of essential oils which will penetrate your body through the skin and trigger vital chemical reactions to remove accumulated toxins in the body and release endorphins. These effects are boosted by the nurturing touch of the expert therapists who will make sure you have a memorable time onboard.
After your treatment, you will be welcomed to spend a while simply drifting away on the platform and enjoy scrumptious snacks with soft drinks and beers.
This Royal Floating Relaxation Massage package includes:
Fresh towels
Welcome drink
60 minutes relaxation massage on the floating platform
60 minutes relaxation while navigating time
Soft drinks - Coca, Sprite, Fanta
Soft drinks & Beers
Assortment of snacks
---
Optional Add-ons:
Upon request, the client can choose to have some other drinks at an additional cost:
---
Additional Information on the Relaxing Couple Massage on a Private Floating Dock
About Grand Gaube Beach: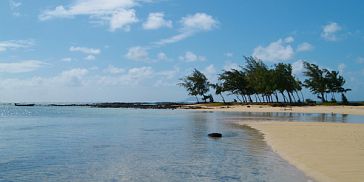 One of the most beautiful sites in the northern region of Mauritius, Grand Gaube Beach offers you the opportunity to admire gorgeous ocean views and the coastal landscape lined with luxury hotels and sandy beaches. You can also enjoy spectacular views of the northern islets of Mauritius from the sea - Gunner's Quoin (Coin de Mire), Flat Island, Round Island and Serpent Island.
Take a break in one of the most beautiful coasts of Mauritius; this is island life at its most vibrant and joyful!
About the Floating Dock
Along with being environmentally friendly and reliable, The Candock modular floating system is lightweight and sturdy. To ensure maximum safety aboard, it has undergone rigorous testing. Its safety features include excellent dock stability, high load capacity, an anti-skid surface and no metal parts.
---
Comments
---
Prices
Price per Couple: 200 Euros
Supplement per additional person: 95 Euros
Optional add-ons:
Minimum number of participants: 2
Note: Trips are still carried out under rain unless safety is compromised
 You are requested to arrive at least 15 minutes earlier prior to departure time.

Wine (red,white,rose): 29 Euros
This Activity Is Not Operational Until Further Notice
Reviews
100% Level of Satisfaction
Based on 1 review
|
reviewed by Matthew De Gabriele – Malta
|
November 28, 2019
Reaction time to your queries and requests
Travel consultant's professionalism level
Added value given to you by the travel consultant
Consultant's knowledge of Mauritius and the products / services
Overall satisfaction from the customer support service
Level of services provided as part of the activity?
Level of professionalism by activity operator staff / guide
Your level of enjoyment from the activity
Ease of booking the activity
Overall satisfaction from the activity
---