Romantic Candlelight Beach Dinner
| | |
| --- | --- |
| Location | South |
| Operating Days | All Days |
| Duration | 5 hrs |
| Activity Time | 18:00 - 23:00 |
| Transportation | Offered as Supplement |
| Comment | Includes: All Food , Welcome Drinks, Set-up charges, Romantic Setting and Bon-fire |
This activity is currently unavailable
Divine Romantic Beach Dinner
Are you looking for a perfect romantic setting to have the most amazing dinner with your loved one?
Then, we offer you the ideal package to enjoy a romantic beach BBQ dinner with your loved one on fabled South of Mauritius Beach. Be treated like royalty with a personal server, chef and steward.
What better way to enjoy the evening than with a private beach dinner for two on the white sand beaches at the Shanti Maurice 6 Star Luxury Resort! Reminisce on your glorious day and meditate under the moonlight while you await your dinner.
Cozy up in your private cabana bed on the beach, secluded by flowing cotton curtains and adorned by a nearby bonfire. When you're ready to dine, your table set for two is just a few steps away. Sip champagne while a violinist serenades you. You'll work directly with your chef and butler to create the courses you prefer, making for a perfect evening on the beach.
The Divine Beach Dinner Experience
As soon as you get to the entrance of the hotel, you will be charmed by the peace and bliss that prevail in the resort and its surroundings- A great beginning to a super romantic evening!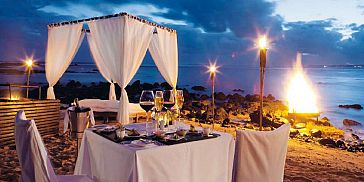 Entering the resort, you will be warmly welcomed by the ever-smiling staff.
Be ready to be dazed by the impressive architecture of this 5 star hotel which is a clear replica of the typical Mauritian style as you walk towards the beach…
As you move towards your destination, you will surely be overwhelmed by the feeling of complete satisfaction as per your choice of setting-The slightly dim light from the wooden garden lights, the sweet sound of the waves of the calm sea, the attractive and vivid decoration of the table and the amenities set especially for you altogether make up a highly romantic setting-All that you are looking forward to…
You will definitely be taken up to another world as you will be treated like royalty by a personal server, Chef and a steward who will cater for all your needs and desires and see to it that your Divine Dinner meets a successful and highly satisfactory end.
The culinary art is sacred at Shanti Maurice, an unforgettable mix of inherent and artisanal experiences. Fresh from the ocean, from the herbs and spice garden or from nearby farms, the skilled chefs offer local produce and imaginative choices.
Enjoy a BBQ dinner which will be concocted by the resident Chef in front of you.
Beach Dinner Menu
Relish a complete and delicious dinner full of exotic flavors or rather a FEAST!
Begin your dinning experience with a wide choice of starters:
Vanilla island tuna carpaccio
Sesame scentred beef tartare
Red curry spiced Shellfish bisque with sweet corn
Crispy soft shell crab pakora
Venison tatake
You will be served with garden salad of your choice
Spicy Green Papaya Salad with lime and palm sugar
Tomato with basil and onion
Palm Heart Salad with peppers and coriander
Island Cucumber Salad
Mesclun Greens lemon dressed
Then, as per your wish and indication, you will be served with the main dishes of your choice
BBQ Spinney Lobster
Giant Prawn
Seabass in Banana Leaf
Lamb Chop
Beef Medallion
Main courses served with lemon butter sauce, jus, sauce verge.
After a sumptuous dinner, you will be served fine desserts
Chocolate Symphony fondant
Nougat
Cappuccino Coated ice cream of valrhona chocolate
Then, after your dinner, you will have free time to relax on the beautiful beach or to enjoy a stroll along the many paths of the hotel property.
Price Includes
All Food
Welcome Drinks
Set-up charges for the most romantic setting
Bon-fire
As its name, this is without a doubt a truly "Divine Beach Dinner", devoted to your maximum pleasure, an experience you will cherish forever.
Prices
Total price for a couple for the Divine Beach Dinner:490 Euro (245 Euro / person)
This activity is currently unavailable