Try Scuba Diving Package
98% Level of Satisfaction
Based on 1 review
| | |
| --- | --- |
| Location | North |
| Operating Hours | 08:00 - 16:30 |
| Operating Days | Monday, Tuesday, Wednesday, Thursday, Friday, Saturday |
| Duration | 2 hrs |
| Activity Time | Flexible |
| Transportation | Offered as Supplement |
| Comment | Minimum age is 10 years old |
Try Scuba Diving In Mauritius
Imagine yourself in the deep blue waters of the South Indian Ocean. Discover and explore the wonderful marine ecosystem of Mauritius without any prior experience required.
So, you never scuba dived before, or you wish to make your vacation more fun and thrilling through scuba diving? The turquoise, crystal clear waters, amazing coral reefs and rich biodiversity make Mauritius just the right place to try scuba diving for the first time!
The island is home to a variety of colourful fish such as the king fish, moray eels, triggerfish, stone fish, lion fish, parrot fish, leaf fish and sea slugs. You will also have the chance to see mesmerizing and colourful soft corals and algae and might have the chance to spot some gorgeous dolphins and sea turtles!
About The Try Scuba Diving Package In Mauritius
You do not need to have prior diving experiences to scuba dive; all you need is passion and a sense of adventure! Your instructor will always be there to guide and assist you whenever possible. Enjoy an amazing diving experience around the Northern Coast of Mauritius, where you can explore the undersea world nearby the five incredible islets among which is the majestic Coin De Mire. Dive in any one of these locations which are considered the best diving spots around the island; having depths and topographies for all levels.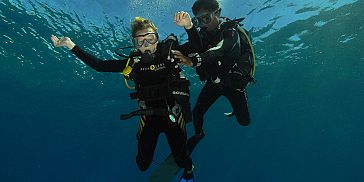 The Try Scuba Diving package will be done under the guidance of highly trained SSI, PADI, and CMAS instructors for a wonderful scuba diving experience. There will be a briefing before your diving session and all your questions can be directed to the expert divers to clear all your doubts.
The package consists of a dive with a boat trip where equipment such as wetsuits, masks, snorkels, fins, regulators, buoyancy control devices and tanks will be provided. As a beginner, you can look forward to the feeling of weightlessness where you can swim in whichever direction you want and let your buoyancy compensator support you.
As part of the Try Scuba Diving Package you will benefit from:
Briefing from qualified instructors
*15 to 30 minute Pool Initiation
*30 to 45 minute Sea Dive
All equipment provided on arrival (wetsuits, a mask, snorkel, fins, regulator, buoyancy control device and a tank)
*Pool Initiation Includes:
Review scuba equipment used to dive and explore how easy it is to move around underwater with gear
Explore what it's like to breathe underwater
Learn key skills that you'll use during every scuba dive
*Sea Dive Includes:
Enjoy swimming and exploring the underwater world of Mauritius
---
Additional Information About The Scuba Diving Centre In Mauritius
The diving center, fully-equipped and certified, offers amazing diving experiences around the five northern islets of Mauritius. These spots are considered as great diving sites where both beginners and advanced divers can experience depths and topographies of all levels. Diving sites include; square profiles, multilevel dives, caves, wreck explorations, cliffs, coral gardens, shark dives, drift dives and safari dives.
Dive Centre consist of:
Reception
Wet Area
Equipment Room
Compressor Room
Training Pool
Outside hang out area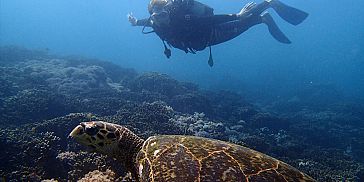 The full-time and highly trained SSI, PADI and CMAS instructors provide diving courses and programs designed to suit your needs.
The diving centre is equipped with: a reception, a dive shop, changing rooms, Wifi and an external air & nitrox compressor room. There are also safe lockers to store your belongings.
The centre is pleased to allow beginners and experienced divers to choose their own training path through several international Scuba Diving organizations such as: PADI, SSI, SDI and TDI.
---
Comments
Dive Centre Hours: Monday to Saturday 8:00 to 16:30
Session: Scuba Dive with a boat trip
Duration: 2 hours
Restriction: A medical certificate stating no indication against diving must be provided on arrival
Reservation: Required 48 hours in advance and is subject to availability.
What to bring: Sunscreen, towel, and other items that you deem necessary.
Note:
Minimum age: 10 years old
Dives are still carried out under rain unless safety is compromised
Parents should accompany children (under the age of 18) on the first day to complete some formalities.
---
Prices
Price per participant: 75 Euro
Reviews
98% Level of Satisfaction
Based on 1 review
|
reviewed by Melinda Marton – Hungary
|
May 14, 2019
Reaction time to your queries and requests
Travel consultant's professionalism level
Added value given to you by the travel consultant
Consultant's knowledge of Mauritius and the products / services
Overall satisfaction from the customer support service
Level of services provided as part of the package / tour?
Level of professionalism by on-site staff / guide?
Your level of enjoyment from the package / tour
Ease of booking the package / tour
Overall satisfaction from the package / tour
---