Try Scuba Diving Package
98% Level of Satisfaction
Based on 1 review
| | |
| --- | --- |
| Location | North |
| Operating Hours | 07:30 - 16:30 |
| Operating Days | Monday, Tuesday, Wednesday, Thursday, Friday, Saturday |
| Duration | 2 hrs |
| Activity Time | Flexible |
| Transportation | Offered as Supplement |
| Comment | Minimum age is 10 years old |
Operating Hours
07:30 - 16:30
Operating Days
Monday, Tuesday, Wednesday, Thursday, Friday, Saturday
Transportation
Offered as Supplement
Comment
Minimum age is 10 years old
Mauritius Scuba Diving Package - Overview
So, you've never scuba dived before, or you wish to make your vacation more fun and thrilling through scuba diving? The turquoise, crystal clear waters, amazing coral reefs and rich biodiversity make Mauritius just the right place to try scuba diving for the first time!
Exploration, Excitement, Experiences - this is what scuba diving is all about. Under the direct supervision of an instructor, learn how to use scuba gear to breathe underwater and swim around in the pool's shallow water, before heading to the open ocean to put your new found skills to use. Imagine yourself swimming in the deep blue waters of the Indian Ocean…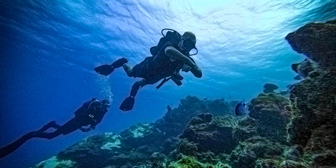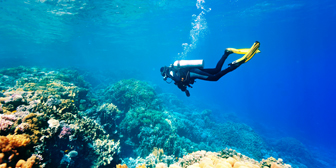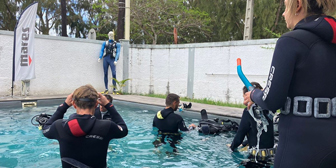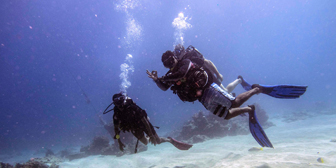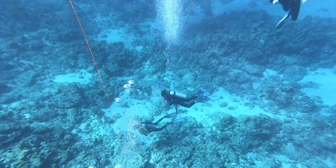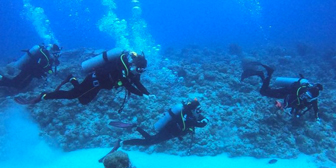 Highlights of this activity:
A great introduction to scuba diving in one of the world's best diving spots
Ignite a passion for one of the most enchanting sea activities
Build confidence to dive independently in the open sea
Training sessions and open water dives in a safe, monitored environment
Explore the amazing diving sites and marine life Mauritius
Experienced instructor throughout the entire session
Hassle-free diving session with all necessary equipment provided
---
Try Scuba Diving Package (North of Mauritius) - Inclusions:
Briefing from qualified instructors
15 to 30 minutes Pool Initiation
30 to 45 minutes Sea Dive
All equipment provided - wetsuits, masks, snorkels, fins, regulators, buoyancy control devices and tanks
Short boat trip to the diving sites
Learn key skills for a good diving session
Scuba dive at popular spot off Northern coast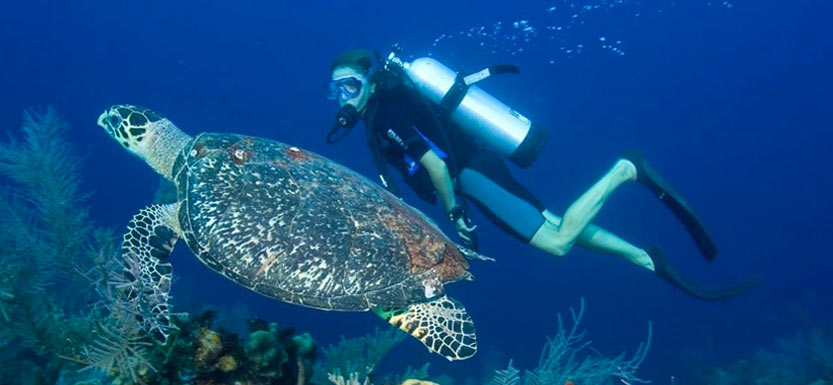 ---
Transportation & Driver Details
Transport is available for an additional supplement and will include pick up and drop off from any place /place of accommodation in Mauritius.
Car Capacities
You can choose from a selection of vehicles types:
Family Car - Up to 4 passengers
6 Seater vehicle - Up to 6 passengers
Minivan - Up to 10 passengers
About the Drivers
All drivers speak fluent English and French (Upon special request we can organise drivers who speak additional languages). The drivers, citizens of Mauritius, will be happy to provide you with information about Mauritius and each of its sights.
All drivers are very professional, time efficient and friendly. There is high emphasis on being always on time and providing reliable devoted service to customers.
---
| | |
| --- | --- |
| Activity Time: | 07:30 to 16:00 |
| Duration: | approximately 2 hrs |
| Operating Days: | Monday to Saturday |
---
About The Try Scuba Diving Package in the North of Mauritius
If you've ever dreamed of diving into the deep blue ocean but felt inept, then this Try Dive Scuba Diving activity is for you. You don't need to have any diving experience to scuba dive with this package; all you need is passion and a sense of adventure!
Mauritius is a prized diving destination, where its crystal clear water, abundant fish life and colourful reefs provide magnificent backdrops. Unlike the reefs in other popular diving spots, the coral reefs in Mauritius have not been significantly bleached or affected by the warming of the ocean.
The island is home to a variety of colourful fish such as the kingfish, moray eels, triggerfish, stone fish, lionfish, parrot fish, leaf fish and sea slugs. You will also have the chance to see mesmerising and colourful soft corals and algae and if luck is on your side, spot some gorgeous dolphins and sea turtles!
This introductory scuba diving package consists of everything you need to learn the basics of diving. Don't worry about gear since all equipment such as wetsuits, masks, snorkels, fins, regulators, buoyancy control devices and tanks will be provided. As a beginner, you can look forward to the feeling of weightlessness where you can swim in whichever direction you want and let your buoyancy compensator support you.
After some formalities and an introduction to the diving lesson, you will begin the Pool Initiation session. During this Pool Initiation, you'll learn about the scuba equipment used to dive and learn key skills that you'll use during every scuba dive. Explore what it's like to breathe underwater and how easy it is to move around with all the gear strapped on.
After you've mastered the basics in the safety of the pool, it's time for the real deal. You'll then head out for the Sea dive which will have you put your new found skills to use and explore the underwater world of Mauritius. Enjoy a short boat trip to the dive site around the Northern Coast of Mauritius, where you can explore the undersea world nearby the five incredible islets among which is the majestic Coin De Mire. Dive in any one of these locations which are considered the best diving spots around the island; having depths and topographies for all levels.
And don't worry about being thrown in the deep end, your instructor will always be there to guide and assist you whenever possible. The Try Scuba Diving package will be done under the guidance of highly trained SSI, PADI, and CMAS instructors for a wonderful scuba diving experience. There will be a briefing before your diving session and all your questions can be directed to the expert divers to clear all your doubts.
About The Scuba Diving Centre In Mauritius
The diving centre, fully equipped and certified, offers amazing diving experiences around the five northern islets of Mauritius. These spots are considered as great diving sites where both beginners and advanced divers can experience depths and topographies of all levels. Diving sites include; square profiles, multilevel dives, caves, wreck explorations, cliffs, coral gardens, shark dives, drift dives and safari dives.
The full-time and highly trained SSI, PADI and CMAS instructors provide diving courses and programs designed to suit your needs. Beginners and experienced divers can choose their own training path through several international Scuba Diving organisations such as: PADI, SSI, SDI and TDI.
The diving centre is equipped with: a reception, a dive shop, changing rooms, Wifi and an external air & nitrox compressor room. There are also safe lockers to store your belongings.
Dive Centre - Facilities :
Reception
Dive Shop
Wet Area
Equipment Room
Compressor Room
Changing Room
Training Pool
Outside hang out area
Lockers
Wifi
---
Sunscreen
Spare clothes
Towel and other items that you deem necessary
Divers must bring their log books and diving qualification certificates.
---
| Try Scuba Diving Package | |
| --- | --- |
| Price per Participant | 92 Euros |
---
Booking Attributes
Reviews
98% Level of Satisfaction
Based on 1 review
|
reviewed by Melinda Marton – Hungary
|
May 14, 2019
Reaction time to your queries and requests
Travel consultant's professionalism level
Added value given to you by the travel consultant
Consultant's knowledge of Mauritius and the products / services
Overall satisfaction from the customer support service
Level of services provided as part of the package / tour?
Level of professionalism by on-site staff / guide?
Your level of enjoyment from the package / tour
Ease of booking the package / tour
Overall satisfaction from the package / tour
---