Private Speed Boat Trip-Gabriel Island & Coin de Mire-Promotion!
100% Level of Satisfaction
Based on 1 review
| | |
| --- | --- |
| Location | North |
| Operating Days | All Days |
| Duration | 7 hrs |
| Activity Time | 08:00 - 15:00 |
| Transportation | Included in price |
| Comment | Non-stop supply of complimentary drinks |
Private Speed Boat Trip to Gabriel Island & Coin de Mire Island
Enjoy a fun and exciting, full day, private speed boat trip to the beautiful Gabriel Island cruising in high speed and in maximum comfort aboard a beautiful 28 feet speed boat.
As part of this private trip you will experience sailing through the crystal-clear water with breathtaking scenery all around. Relax on the beautiful sandy-white beaches, snorkel inside the lagoons of Gabriel Island, explore the local marine life at one of Mauritius' best diving/snorkeling sights – the Coin de Mire Island, and enjoy delicious food and bar services on Flat Island. This cruise is all about making sure you have a full day of fun, excitement and discovery of Mauritius and its breathtaking natural beauty, all whilst in the exclusive company of your loved ones.
The Gabriel Island Private Speed boat trip includes
Private Speed Boat Trip with only your group
Full day trip to Gabriel Island in a beautiful 28 feet speed boat to Gabriel Island
Snorkeling break at Coin de Mire Island
Non-stop supply of complimentary drinks served on the Flat Island
BBQ lunch buffet served on Flat Island
---
Cruise description
The Private Speed Boat departs at 08:00 from Grand Bay at the North of Mauritius. You and your group will solely board the vessel so that you can share this experience with only your loved ones. From Grand Bay, you will cruise inside the bay and along the lagoon proceeding all the way to Gabriel Island, a natural paradise island.
On the way, you will be able to admire the scenic beauty of Grand Bay, Pereybere and Cap Malheureux. While cruising closely along the side of Gunner's Quoin (Coin de Mire), you will be amazed by the wildlife, namely the Paille en Queue bird and other species.
During the cruise you will enjoy the breathtaking scenery along the way of the Mauritius coastline and of the crystal clear water all around, and feel the adrenaline pumps as you fly high speed on the waves with wind in your hair.
Unlike other sailing trips to Gabriel Island which takes about 1:30 – 1:45 hours, the speed boat trip to Gabriel Island takes only about 25-30 minutes, making it an ideal alternative for both those suffering from sea sickness and for anyone looking for a fun and exciting cruising experience in high speed.
The island is most famous for if its beautiful unspoiled beaches, with crystal clear water surrounding the entire island. This is the ideal place to enjoy sunbathing, swimming or snorkeling.
At around 11:30 you will enjoy full delicious BBQ lunch buffet provided at the Flat Island beach restaurant. The lunch menu consists of fresh fish, chicken and a selection of salads. If you are a vegetarian, please advise us before, so we can arrange the necessary additions to the lunch.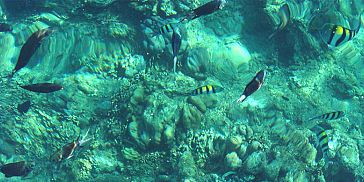 As part of the cruise you will pass by an amazing lagoon, where swimming and snorkeling are a must.
Sometimes during this excursion you will be able to see whales as well as dolphins. If this will happen, the crew will stop the boat, in order for you to observe these great animals from close in their natural environment.
Of course you can choose to stay on the beautiful white sand beaches, enjoy a sun bath or a nice walk on the Island. This amazing paradise island is the perfect setting for a relaxing day of sun worship.
This is no doubt a great place to enjoy a day of relaxation and fun on one of the picture-postcard beaches or enjoy swimming and snorkeling in the sea.
Afterwards, you will head to Coin de Mire Island for you enjoy snorkeling in one of Mauritius best snorkeling sights. At Coin de Mire you could see hundreds of fish in variety of colors as well as see the well preserved coral reef. This is a must place to snorkel for anyone looking to discover Mauritius marine life.
Then after, the speed boat will continue cruising in speed back to Grand Bay. Expected arrival time back to Grand Bay is 15:30.
Day Itinerary
Departure Cruise will route towards Coin de Mire Island
Anchoring in the lagoon Gabriel Island
Free time for visiting the island or snorkelling
Lunch on Flat island
Free time for visiting the island or snorkelling
Cruise to Coin de Mire Island
Snorkeling stop at Coin de Mire
Arrival at Sunset Boulevard
---
About Gabriel Island
Known also as Îlot Gabriel, Gabriel Island is located near the Round Island and the Flat island, at the extreme north of Mauritius, about 10 kilometers north of Cap Malheureux and 15km north east of Grand Bay.
The distance between Gabriel Island and Flat island is only 750 meters. The size of the island is only 42 hectares, making it much smaller than Flat island, and the highest point is of 28 meters.
Gabriel island is a protected natural reserve. The island is most famous for if its beautiful unspoiled beaches, with crystal clear water surrounding the entire island. It is a very popular site for snorkelers, where you can discover very rich marine life by snorkeling along the island's beaches.
---
The Gabriel Island Private Speed Boat Trip includes
BBQ Lunch menu (will be served on Gabriel island)
Either fresh Dorade or fresh Marlin or Fresh Tuna
Fresh Chicken
Sausages
Pasta Salad
Rice Salad
Mixed Salad
Banana Flambé
Non-stop supply of complimentary drinks such as: water, Soft Drinks (Diet Coke, coke, soda, Fanta, Sprite), Green Island Rum , Phoenix local Beer, white wine, red wine - ALL DAY LONG.
Note:Local rum, Lobster, French Champagne or sparkling wine can be made available on request.
---
Comments
A minimum number of 8 participants is required for this Private Speed Boat Trip
---
Prices
Price per adult: 55 Euro (Minimum 8 Participants Required)
Price per child (ages 3-9):29 Euro
Price per baby (ages 0-2): Free of Charge
Reviews
100% Level of Satisfaction
Based on 1 review
|
reviewed by Abdul Kabiri – Le Meridien Hotel
|
April 21, 2017
Reaction time to your queries and requests
Travel consultant's professionalism level
Added value given to you by the travel consultant
Consultant's knowledge of Mauritius and the products / services
Overall satisfaction from the customer support service
Level of services provided as part of the activity?
Level of professionalism by activity operator staff / guide
Your level of enjoyment from the activity
Quality of meals & drinks included (if applicable)
Ease of booking the activity
Overall satisfaction from the activity
---