Half Day Hike at Le Morne Brabant
76% Level of Satisfaction
Based on 4 reviews
| | |
| --- | --- |
| Location | South West |
| Minimum Age | 10 |
| Operating Days | All Days |
| Duration | 4 hrs |
| Activity Time | Flexible |
| Transportation | Offered as Supplement |
Transportation
Offered as Supplement
Half Day Hike at Le Morne Brabant - Overview
Hike on the majestic Le Morne Brabant trail in the South Western Coast of Mauritius, and enjoy spectacular ocean views.
Hiking on the path of the runaway slaves at Le Morne Brabant has to definitely be among the top things to do while staying in Mauritius. For nature and history lovers, this activity would hit two birds with one stone.
Get into the heart of nature while you experience both the extreme opposites of lush greenery together with the rough and dry patches of the World Heritage Site. While hiking up the mountain, listen to the rustling trees, chirping of the tropical birds, and contemplate on the wild beauty with outstanding turquoise-blue ocean views.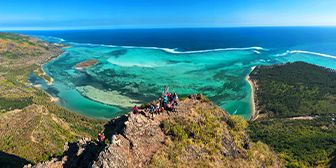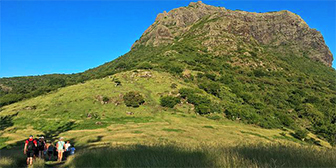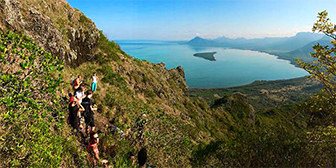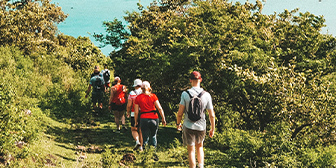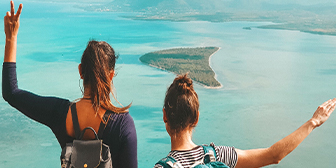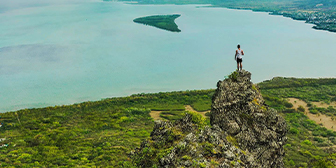 Half Day Hike at Le Morne Brabant - Highlights
Hike up the UNESCO World Heritage site, Le Morne
Discover the Historical slave trail
Spectacular ocean views from the top of the Le Morne Mountain
Suitable for Nature lovers as they get to discover the local fauna and flora along the way
The trail is ideal for groups so bring your family and friends along
---
Half Day Hike at Le Morne Brabant includes:
4 hour hike up the UNESCO Le Morne Mountain
Experienced and professional guides for the entire trail (EFR/WFA Certified)
Exclusive access to the second part of the mountain
Choice between morning or afternoon hike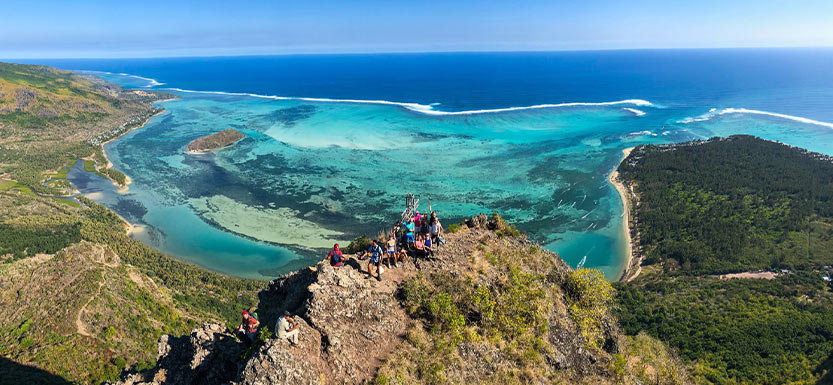 ---
Transportation & Driver Details
Transport is available for an additional supplement and will include pick up and drop off from any hotel / place of accommodation in Mauritius.
Car Capacities
You can choose from a selection of vehicles types:
Family Car - Up to 4 passengers
6 Seater vehicle - Up to 6 passengers
Minivan - Up to 10 passengers
About the Drivers
All drivers speak fluent English and French (Upon special request we can organize drivers who speak additional languages). The drivers, citizens of Mauritius, will be happy to provide you with information about Mauritius and each of its sights.
All drivers are very professional, time efficient and friendly. There is high emphasis on being always on time and providing reliable devoted service to customers.
---
Parking facing the entrance "Le Paradis Hotel", Le Morne, South West Region
| | |
| --- | --- |
| Monday to Sunday: | Morning Hike |
| Monday to Friday | Afternoon Hike |
| Meeting Time: | |
| 1st November to 31st March | Morning Hike : 5:50 AM |
| | Afternoon Hike : 1:50 PM |
| 1st April to 31st October | Morning Hike: 6:50 AM |
| | Afternoon Hike : 12:50 PM |
| Duration of Hiking: | 4 hours |
---
Half Day Hike at Le Morne Brabant
The half day Le Morne Brabant hiking trail invites nature lovers and adventurers for an exciting hiking experience in the southernmost tip of the island. The hike can last between three to four hours, where you will be guided by professionals with EFR/WFA certification.
The hiking trail has two sessions, either in the morning or in the afternoon. You can choose your session according to your preference. The base of the hiking trail is generally flat and wide. Sign boards make it easy to locate paths, some of which are mostly shaded and not too physically demanding. Access to the second part of the mountain is only accessible through authorized guides.
Deep into the woods, you may encounter the exquisite sea bird, Paille en Queue, and indigenous plant species that will captivate your attention. As you advance, you will find yourself in the dry and rough terrain of the mountain, which can be quite challenging. The heat will elevate and thus it is recommended to take a sun hat or cap and water with you. It is also important that you are well-equipped with sunscreen and good trekking shoes due to the uneven tracks.
Moving on, you will find a gigantic, basalt rock peak dotted with caves which once harbored runaway slaves. You will have to climb a rocky hill with equipment provided by the guides which can be quite a challenging experience. As you gradually move to the summit you can easily spot the huge metal cross which marks the highest accessible point. Take this chance to marvel at the absolutely stunning views of Ile aux Benitiers, Le Morne beach, and the spectacular surrounding areas.
About Le Morne Mountain
The symbolic Le Morne Brabant is a majestic mountain located in the South Western part of Mauritius, on the Le Morne peninsula. The majestic mountain has been declared as a World Heritage site by UNESCO since July 6, 2008 to commemorate the Maroonage (runaway slaves) legacy in Mauritius. It is believed that the slaves were committing suicide by jumping off the cliff of the mountain due to the very inhumane treatment they suffered.
Le Morne Brabant is one of the most preserved and wildest mountains of the island. It is a habitat to a very large variety of endemic and narrow-endemic species, such as the rare Trochetia Boutoniana, which is the floral emblem of Mauritius.
About The Guide And The Spirit Of The Trip
All hiking excursions and treks will be supervised by experienced and professional guides in Mauritius. During the hike, the guide will share extensive knowledge about the reserve and its surrounding areas.
The trip will take you around some of the most beautiful places in Mauritius and you will get to learn more about the fauna and flora and what's being done towards its preservation, making this a unique and enriching experience.
About Hiking In Mauritius
The little gem of Mauritius raises its glory much more above the elongated white sandy beaches, swaying palm trees and stretched blue azure lagoons. Being a volcanic island, it has several breathtaking summits and valleys to explore on foot. The island is well known for its distinct flora and fauna. Its flora is composed of 700 species of indigenous plants.
To learn more about hiking and trekking in Mauritius, check our Trekking in Mauritius page
---
Water

Hiking Shoes

Sunscreen

Sunhat/ Cap

Mosquito repellent

Spare Clothes
---
| Half Day Hike at Le Morne Brabant | |
| --- | --- |
| Price per Adult | 54 Euros |
| Price per Child | 39 Euros |
---
Booking Attributes
Reviews
76% Level of Satisfaction
Based on 4 reviews
|
reviewed by Hana Smekalova – Merville Hotel
|
October 23, 2017
Reaction time to your queries and requests
Travel consultant's professionalism level
Overall satisfaction from the customer support service
Level of services provided as part of the activity?
Level of professionalism by activity operator staff / guide
Ease of booking the activity
Overall satisfaction from the activity
---
|
reviewed by Tim Willmott – United Kingdom
|
August 14, 2017
Reaction time to your queries and requests
Travel consultant's professionalism level
Added value given to you by the travel consultant
Consultant's knowledge of Mauritius and the products / services
Overall satisfaction from the customer support service
Level of services provided as part of the activity?
Level of professionalism by activity operator staff / guide
Your level of enjoyment from the activity
Ease of booking the activity
Overall satisfaction from the activity
---
|
reviewed by Eivind Fossland – Norway
|
July 08, 2017
Travel consultant's professionalism level
Added value given to you by the travel consultant
Your level of enjoyment from the activity
---