Breakfast with Giraffes at Casela Nature Parks
| | |
| --- | --- |
| Location | West |
| Operating Hours | 09:00 - 17:00 |
| Operating Days | All Days |
| Duration | 1 hrs 30 mins |
| Activity Time | 08:00 - 09:30 |
| Transportation | Offered as Supplement |
| Comment | The Breakfast with Giraffes is offered every day but bookings need to be made at least 72 hours in advance |
Operating Hours
09:00 - 17:00
Activity Time
08:00 - 09:30
Transportation
Offered as Supplement
Comment
The Breakfast with Giraffes is offered every day but bookings need to be made at least 72 hours in advance
Kindly note that the Tulawaka rollercoaster will be temporarily closed for maintenance from 20 to 24 Nov 2023 approximately. During this period, Tulawaka will be replaced by 2 x 4D Cinema tickets (choice of 5 movies).
Breakfast with Giraffes at Casela Nature Parks: A Unique Dining Experience at Its Finest - Overview
Picture yourself sitting down to a scrumptious breakfast spread, surrounded by the towering presence of giraffes… Well, this incredible encounter can come to life right here in Mauritius! Brought to you by Mauritius Attractions, the Breakfast with Giraffes activity at Casela Nature Parks is an exclusive opportunity to dine alongside the gentle giants of Africa.
As you savour each delicious bite, you'll have the chance to interact with the magnificent giraffes up close. Feed them by hand and witness their gentle nature and graceful movements firsthand. Don't forget to capture the magic of the moment by snapping awe-inspiring photos that will leave your friends and family in awe.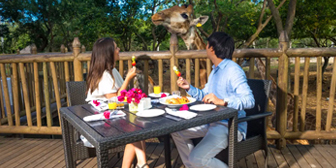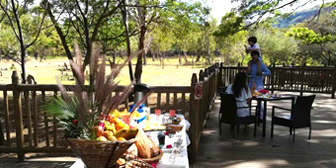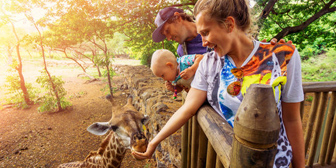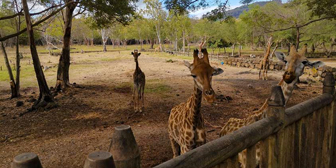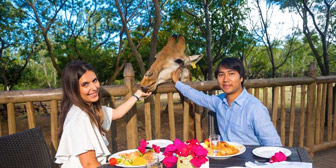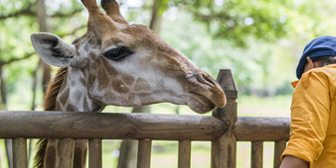 Highlights of this activity:
Experience a truly unique breakfast with giraffes at Casela Nature Parks
Indulge in a delicious spread of breakfast dishes while being surrounded by giraffes
Get up close and personal with the gentle giants as you feed them by hand
Capture stunning photos and videos of this extraordinary experience, making memories that will last a lifetime
Benefit from convenient transportation from the welcome centre to the giraffe platform
Extend your adventure with a Safari Truck Tour, exploring more of the park's remarkable wildlife
Find unique gifts and mementos during your visit to the souvenir shop
---
The Breakfast Encounter with Giraffes at Casela Nature Parks includes:
Entrance ticket (viewing of birds / petting farm animals / big cats area)
Bus from welcome centre to giraffe platform
Breakfast with giraffes (food & beverages)
Giraffes feeding bag
Safari truck tour (on sharing basis)
Free secure parking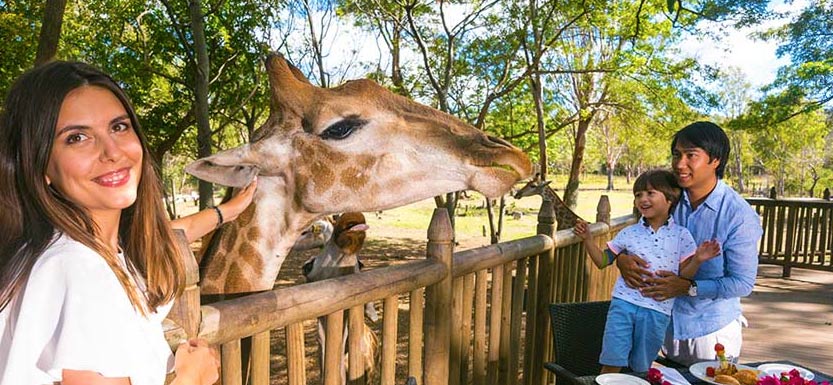 ---
Transportation & Driver Details
Transport is available for an additional supplement which will include pick up and drop off from any hotel / place of accommodation in Mauritius.
Car Capacities
You can choose from a selection of vehicles types:
Family Car - Up to 4 passengers
6 Seater vehicle - Up to 6 passengers
Minivan - Up to 10 passengers
About the Drivers
All drivers speak fluent English and French (Upon special request we can organise drivers who speak additional languages). The drivers, citizens of Mauritius, will be happy to provide you with information about Mauritius and each of its sights.
All drivers are very professional, time efficient and friendly. There is high emphasis on being always on time and providing reliable devoted service to customers.
---
Casela Nature Parks, West Region
| | |
| --- | --- |
| Park Operating Times: | The park is open daily from 09h00 to 17h00, except on Saturdays until 21h00 for Casela By Night | Safari activities closed on Sundays |
| Breakfast with Giraffes Hours: | 08h00 - 09h30 |
| Visit of the park - Duration: | Flexible (from 09h00 to 17h00) |
| Holiday Closure | Please note that the park will be closed on 25 Dec 2023 & 01 Jan 2024, and will remain open on 24, 26, 31 Dec 2023 & 02 Jan 2024. Casela by Night closed. |
| | Big Cats Activities including Walk with Lions, Drive Thru, Interactions, Feedings & Camel Paddock Rides will not be available on 24, 25, 26, 31 Dec 2023 & 01-02 Jan 2024. |
| | Big Cats Viewings will be available as usual on 26 Dec 2023 & 02 Jan 2024; half day until 12:30 pm on 24 & 31 Dec 2023; and closed on 25 Dec 2023 & 01 Jan 2024. |
---
A Magical Morning: Breakfast with Giraffes in Mauritius (Casela Nature Parks)
Experience the ultimate adventure at Casela Nature Parks, the top-rated attractions park in Mauritius. With over 1,800 animals, including endemic species, this park offers an incredible wildlife encounter. One of the highlights is the exclusive breakfast experience with the majestic giraffes.
Set against the backdrop of the park's scenic landscape, your Breakfast with Giraffes begins at 08:00, treating you to a mouthwatering spread of delectable dishes. Indulge in a variety of viennoiseries, pancakes with an array of tempting toppings, grilled chicken sausages, eggs with savoury beans in tomato sauce, and much more. Every palate is sure to be satisfied with the diverse selection on offer.
As you relish your breakfast, prepare for an awe-inspiring moment as you have the rare opportunity to personally feed the magnificent giraffes. These gentle giants will enchant you with their graceful presence, and you can capture the surreal experience through stunning photographs. Interacting with these extraordinary creatures in such an intimate setting is truly a once-in-a-lifetime encounter.
To enhance your visit, your package includes a convenient bus transfer from the welcome centre to the giraffe platform, ensuring a seamless experience. Additionally, you can embark on a thrilling Safari Truck Tour, further immersing yourself in the wonders of the park. After breakfast, explore the various activities available in these sections for added excitement (additional fees may apply).
Before bidding farewell to this unforgettable experience, don't forget to visit the Souvenir Shop. Discover a wide range of mementos to commemorate your day and find the perfect gifts for your loved ones. Make sure to choose something special for yourself as a lasting reminder of this extraordinary adventure.
Exclusivity of the Giraffe Platform (Optional)
This optional extra gives you exclusive access to the giraffe platform and enhances the overall experience of Breakfast with Giraffes at Casela Nature Parks, ensuring that you have a private and tranquil setting to connect with these incredible animals.
By opting for exclusivity, you and your group will have the entire giraffe platform to yourselves, hence creating a more personal and unforgettable encounter with the giraffes. You can savour your breakfast while being in close proximity to the tall quadrupeds, observing their graceful movements and even feeding them directly.
To fully enjoy this extraordinary activity, be sure to book the Breakfast with Giraffes in addition to selecting the Breakfast with Giraffe Exclusivity Supplement. This way, you can have a remarkable and exclusive encounter with the giraffes while enjoying a delightful breakfast in their company.
Visit of the Casela Nature Park - World of Adventures
About the Casela Nature Park: Located beside the Rempart Mountain on the South-West of Mauritius, the Mauritius Casela Nature Park stays true to being a real nature and adventure park. Along with plenty of activities and attractions for all ages, that park also offers magnificent views of the countryside, rolling down the west coast of Mauritius.
Entrance ticket includes:
African Safari: Get a taste of Africa in Mauritius with a unique chance to encounter antelopes, white rhinos, zebras and ostriches. Immerse yourself in the wild in the company of Kudus, Impalas, Oryx, Nyalas, and Waterbucks, just to name a few. The African reserve is of extraordinary scenic beauty with the iconic Rempart Mountain serving as a backdrop.
Visit Birds Paradise Park - Walk thru the aviary: Get ready to be fascinated when visiting the Bird Paradise. Walk through the bird aviary to discover various colourful bird species from all around the world.
Animal viewing: Giraffe, camel, pygmy hippo, llama viewing - Among the many animals in the park, you will get to see giraffes and pygmy hippos for a unique viewing experience. Meet the camels and llamas, considered as one of the friendliest and most loving animals you will ever meet. Spend some time getting to know these amazing creatures.
Petting farm and Tortoise pen: Be sure to stop by the Petting farm and Tortoise pen, the ideal setting for people of all ages, especially children to interact with farm animals as well as tortoises.
Access to Pangia Kid's Park: The new Pangia Kid's Park boasts a children's playground that will offer fun to the young ones! Make sure to bring along the little ones to let them have their fair share of fun!
Visit Predator Kingdom (Big Cats Kingdom): For Big Cat lovers, this is a dream come true! Visit the Predator Kingdom to enjoy a close view of the big cats such as the roaring lions, the magnificent caracals and the majestic tigers.
Additional Info about Casela Nature Parks
The Casela Adventure Park is home to 150 species of birds from 5 different continents, including the lovely long necked Pink Pigeons which until recently were threatened with extinction. The Pink Pigeons can be seen alongside hundreds of other exotic species from Asia, Australia, Africa and America.
The park includes several thematic worlds, as well as a hub for discovery and learning.
African Safari: Casela Nature Parks offers several fun ways to get closer to animals of the African Safari: choose between our zebra bus or the safari Quad.
Predator Kingdom: At the Predator Kingdom, Safari adventures brings you the best of the Big Cats experiences in Mauritius. This is a unique opportunity for visitors to have once in a lifetime experience. Big Cats encounters include: walking with lions, interaction with cheetah, caracal and serval, and the drive-thru to see tigers and lions in their natural habitat.
Thrill Mountain: Thrill Mountain at Casela combines all the mountain and rope activities for thrill-seekers. Jump from a 40m platform into the canyon with the Canyon Swing, zip across breath-taking scenic valleys with plenty of Ziplines, walk on our spectacular Nepalese Bridge and for the more adventurous: hiking and mountain climbing on the Via Ferrata.
Birds & Rides: A range of rides, activities and attractions to suit all ages. The Tulawaka Gold Coaster for thrill seekers, slide on a Buoy into the air with a Toboggan Ride, awaken your senses with the 4D Cinema, and discover the most impressive bird species in Mauritius with the Aviary.
Pangia Kids Park: Pangia Kids Park is a brand new world, full of fun, located in the heart of Casela! Come and experience family time like never before with the Monkey Swing, the Dino Ride, the Mushroom Vortex, the Carousel and so many more! The kids will also become little chefs at the Wamwam restaurant.
---
Sport Shoes
Sun cream & mosquito repellent
Cap
Rain jacket
Camera
---
Breakfast with Giraffes at Casela - Menu
For breakfast, you can choose between the standard menu and the vegetarian menu (both including drinks):
---
| Breakfast with Giraffes at Casela Nature Parks | |
| --- | --- |
| Price per Adult | 79 Euros |
| Price per Child (4-12) | 59 Euros |
| Breakfast with Giraffe Exclusivity Supplement | 325 Euros/ Up to 10 Pax |
---
Kindly note that the Tulawaka rollercoaster will be temporarily closed for maintenance from 20 to 24 Nov 2023 approximately. During this period, Tulawaka will be replaced by 2 x 4D Cinema tickets (choice of 5 movies).
Booking Attributes