Ultimate Helicopter Sightseeing Tour in Mauritius- Private Trip
| | |
| --- | --- |
| Location | All Regions |
| Operating Hours | 08:30 - 17:00 |
| Operating Days | All Days |
| Duration | 1 hrs 15 mins |
| Activity Time | Flexible |
| Transportation | Offered as Supplement |
| Comment | Private Trip- Seating capacity of 4 |
Operating Hours
08:30 - 17:00
Transportation
Offered as Supplement
Comment
Private Trip- Seating capacity of 4
Ultimate Helicopter Sightseeing Tour in Mauritius Private Trip - Overview
Mauritius is a wonderful island mostly famed for its beautiful sandy beaches and a myriad of leisure activities. However, the island of volcanic origin also boasts of some beautiful sites that are difficult to reach and constantly travelling around the island might reduce the relaxation time you planned on enjoying during your tropical island getaway.
This is the tour par excellence if you do not wish to miss out on the beauty of Mauritius and still have time to make the most of your stay with a variety of leisure activities, like a rejuvenating spa day or lazy days at the beach. Revel at the glory of Mauritius with a bird's-eye view of the island offered by the Ultimate Helicopter Sightseeing Tour.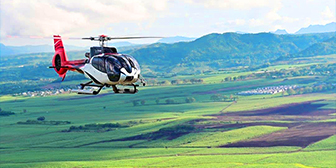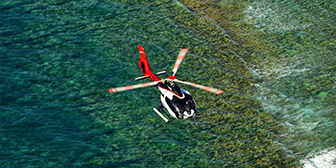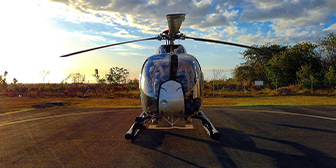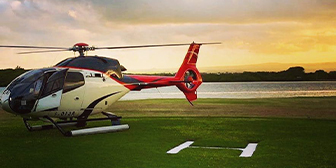 Highlights of this trip:
Take your sightseeing to new heights with this exclusive package
A truly VIP and classy way to explore the island - by private helicopter
Discover the best of the island, its landmarks and iconic sites in just over an hour
Enjoy this extraordinary experience with only your loved ones - up to 6 persons
Personal guidance form the pilot about Mauritius and its landmarks
---
Ultimate Helicopter Sightseeing Tour in Mauritius Private Trip - Inclusions:
75-min exclusive Helicopter Sightseeing Tour
Private Helicopter trip for 4 or 6 passengers
Depart from a helipad in the region of your choice (north, south, east or west)
Aerial sightseeing of the most visited locations of Mauritius
Professional pilot to act as aerial tour guide
Fully equipped aircraft with safety equipment and measures
Coffee/ Water Fountain
WiFi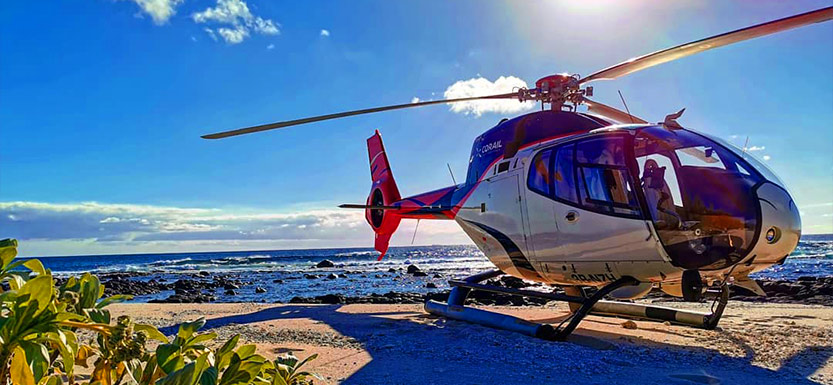 ---
Transportation & Driver Details
Transport is available for an additional supplement and will include pick up and drop off from any place / place of accommodation in Mauritius.
Car Capacities
You can choose from a selection of vehicles types:
Family Car - Up to 4 passengers
6 Seater vehicle - Up to 6 passengers
Minivan - Up to 10 passengers
About the Drivers
All drivers speak fluent English and French (Upon special request we can organize drivers who speak additional languages). The drivers, citizens of Mauritius, will be happy to provide you with information about Mauritius and each of its sights.
All drivers are very professional, time efficient and friendly. There is high emphasis on being always on time and providing reliable devoted service to customers.
---
Triolet, North region or Helipad in the region of your choice
| | |
| --- | --- |
| Duration: | 1 hour 15 minutes |
| Operating Days: | Everyday |
| Operating hours : | 08:30 - 17:00 |
---
The Private Helicopter Sightseeing Tour Itinerary
Port Louis or Pieter Both/ Le Pouce
Tamarind Falls
Black River Gorges
Ile aux Bénitiers (Benitiers Island)
Le Morne
Underwater Waterfall
Chamarel
Grand Bassin (Ganga Talao)
Kanaka Crater
Ile aux Aigrettes
Ile au Phare
Ile aux Cerfs
Ile d'Ambre
Gunner's Quoin (Coin de Mire)
Cap Malheureux
Grand Bay
The route may vary depending on your selected take off point.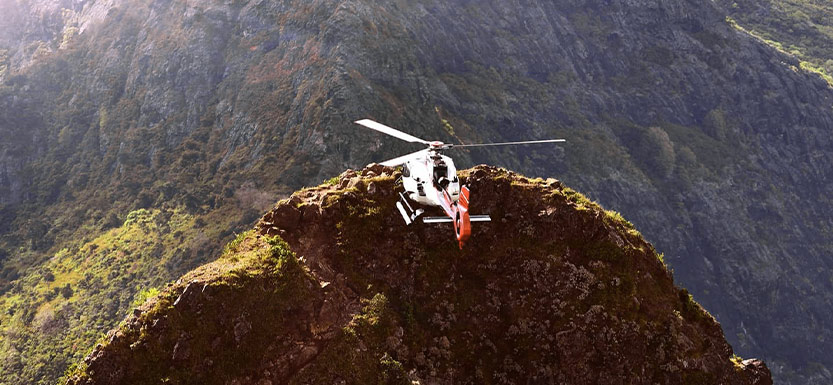 ---
About the Ultimate Private Helicopter Sightseeing Tour (75 Minutes)
This private helicopter sightseeing tour is the perfect way of viewing all of the key wonders and sites of Mauritius if you're short on time, or simply want to contemplate on the paradise island from high up. Start this great adventure and get a bird's eye view of Mauritius from a comfortable, executive helicopter.
Seen from the sky, the busy city of Port-Louis is a wonderful sight. As you soar above, you will fly past the majestic Pieter Both mountain, a uniquely-shaped mountain that has a boulder sitting proudly on its peak, followed by the thumb-shaped mountain known as Le Pouce. These mountains are among the highest peaks in Mauritius, standing at over 800 metres high.
The helicopter will then head to the South of Mauritius, where the magnificent waterfalls of Tamarind, in the middle of greenery, will gradually come into view. High up in the sky, the breathtaking scenery unfolding in front of your eyes will surely make the hairs stand up on the back of your neck.
As you move further south, you will approach the Black River Gorges, a nature lover's delight; rich with endemic fauna and flora. As you overfly the gorges, you will have the splendid opportunity to catch a glimpse of gorgeous birds.
After a detour over Benitiers Island (Ile aux Bénitiers), a small coral island off the south-west coast, you will be enthralled with the Underwater Waterfall near Le Morne Brabant. The view of the Underwater Waterfall is absolutely spectacular when seen from a helicopter and by many, it is considered a true wonder not to be missed. Le Morne Brabant, on the other hand, is an official UNESCO heritage site with a summit of 556 metres above sea level, and is an iconic cultural symbol.
After the illusionary Underwater Waterfall, the helicopter will head North, crossing other stunning natural wonders on its path. Before you even have time to ponder over the fact that you have flown over the rainbow-coloured earths of Chamarel, you will be in for another surprise! Have you ever seen an islet right in the middle of a lake? Ganga Talao (also known as Grand Bassin) will provide you with this unique sight. The dormant crater turned spiritual lake, will give you an insight of the local culture and geographic formation of the island. As you fly over the famous Mauritian tea fields, you will also come across another dormant volcanic crater, the Kanaka Crater.
On the east of the island, revel in aerial views of Ile aux Aigrettes, a nature islet reserve where endemic plant and animal species are bred. You will also fly over Ile au Phare, where the historical naval battle between the French and English took place.
Head in the direction of the famous Ile aux Cerfs island, which stands out with its unusually white sandy beaches and magnificent golf-course. Next is the Ile d'Ambre island, located just off the north coast of Mauritius where the Saint-Géran ship was sunk a few centuries ago and inspired the legendary story of Paul and Virginie by the French writer Bernardin de Saint-Pierre .
The Coin de Mire (Gunner's Coin) islet located off the North Coast is your next sight to see - you'll instantly recognise its iconic shape and may even catch a glimpse of other distant islets. Fly over the famed red roof church as you continue your way across Cap Malheureux village and admire the swarm of daily activities in the lively coastal village of Grand Baie along with the array of fishing boats from high up the sky.
As part of this tour, you get to choose to take off from the base in the north of the island or a helipad in a selected region of your choice - and as such the route and itinerary may vary.
The private helicopter sightseeing tour ensures that you will be able to enjoy this extraordinary experience with only the ones you love. At the end of this amazing helicopter sightseeing tour, you will understand why this trip is definitely one of the best things you can do in Mauritius.
About the Helicopter Fleet
Equipped with all the latest technological features, from a spacious cabin to unbeatable visibility, the H120 and H130 helicopters are the world-reference helicopters in terms of scenic tours. This lightweight single-engined aircraft integrates the most modern technologies, including a new-generation Fenestron® tail rotor for low operating noise and maximum flight control efficiency.
A trained and experienced helicopter pilot, according to global safety standards, will guide you throughout your amazing trip.
4-Seater Helicopter- Airbus H120
Model: Airbus H120 (Eurocopter EC120 Colibri)
Crew: 1 Pilot
Passenger Capacity: 4 passengers
Engine: Turbomeca Arrius 2F
6-Seater Helicopter- Airbus H130
Model : Airbus H130 (Eurocopter EC130 T2)
Crew: 1 pilot
Passenger Capacity: 6 passengers
Engine: Turboméca Arriel 2D or 2B1
---
---
| Ultimate Helicopter Sightseeing Tour in Mauritius- Private Trip | 4 Seater | 6 Seater |
| --- | --- | --- |
| From Triolet | 2490 Euros | 3250 Euros |
| From North Helipad | 2790 Euros | 3490 Euros |
| From East Helipad | 3090 Euros | 3940 Euros |
| From South Helipad | 3390 Euros | 4350 Euros |
| From West Helipad | 3290 Euros | 4190 Euros |
---
Booking Attributes