Underwater Solar Sea Walk in Grand Baie
100% Level of Satisfaction
Based on 1 review
| | |
| --- | --- |
| Location | North |
| Minimum Age | 7 |
| Operating Days | Monday, Tuesday, Wednesday, Thursday, Friday, Saturday |
| Duration | 1 hrs 30 mins |
| Activity Time | Flexible |
| Transportation | Offered as Supplement |
| Comment | Participants do not need to know how to swim and glasses/ contact lenses can be worn |
Operating Days
Monday, Tuesday, Wednesday, Thursday, Friday, Saturday
Transportation
Offered as Supplement
Comment
Participants do not need to know how to swim and glasses/ contact lenses can be worn
90-Min Underwater Solar Sea walk in Grand Baie - Overview
Come explore the Indian Ocean in a unique new way. Walk on the seafloor and discover this exhilarating experience of being surrounded by water and beautiful underwater life.
Feel the adrenaline rush through your body as you go underwater to observe and interact with the underwater creatures. As exciting as it feels before the actual experience, once you are under water, you will feel completely relaxed, happy and at peace. What you will see is truly out of this world, a unique activity you will never forget.
This amazing package is ideal for families or groups of friends. You will get to dive and walk under the sea and discover the pristine marine world with the world's first solar powered eco-diving equipment.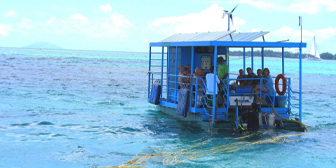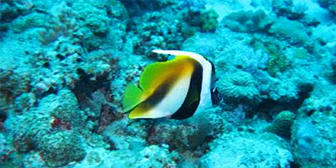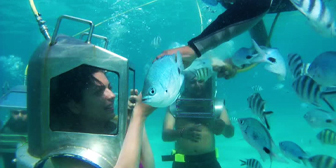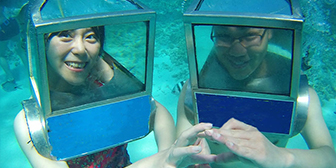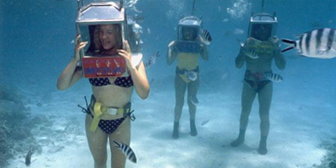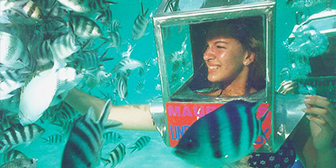 Highlights of this package:
Experience walking on the ocean floor of the amazing Indian Ocean
Have a great time underwater while capturing great memories with families and friends
Enjoy an underwater adventure with experienced guides for you to always feel safe
Walk through shoals of fish to meet the different marine species
Discover Mauritius from a new angle via this unique way
You can enjoy the boat ride and chill onboard even if you will not be diving (optional)
---
90-Min Underwater Solar Sea walk in Grand Baie - Inclusions
Walk on the seafloor at 3-4 metres of water depth
1 hour 30 mins total activity duration including boat trip
25 minutes walking underwater
Briefing provided by experts before the activity
Square helmet provided
Electric compressors powered by the solar system to produce oxygen
Plastic shoes provided
5 trained & experienced guides to accompany you
Optional: Non-Diving Visitors are welcome aboard (subject to extra cost)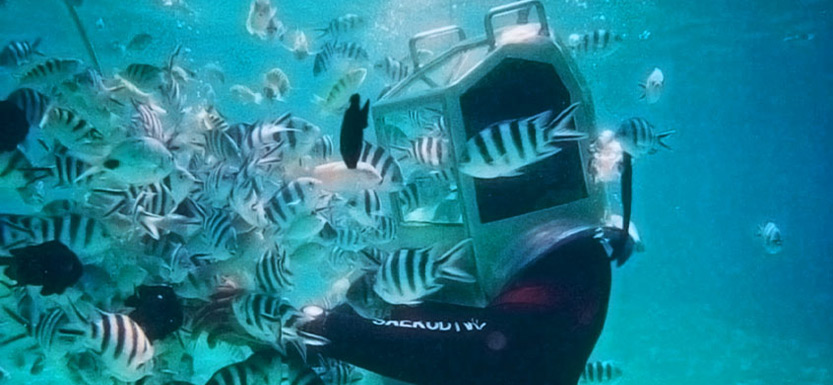 ---
Transportation & Driver Details
Transport is available for an additional supplement and will include pick up and drop off from any hotel / place of accommodation in Mauritius.
Car Capacities
You can choose from a selection of vehicles types:
Family Car - Up to 4 passengers
6 Seater vehicle - Up to 6 passengers
Minivan - Up to 10 passengers
About the Drivers
All drivers speak fluent English and French (Upon special request we can organize drivers who speak additional languages). The drivers, citizens of Mauritius, will be happy to provide you with information about Mauritius and each of its sights.
All drivers are very professional, time efficient and friendly. There is high emphasis on being always on time and providing reliable devoted service to customers.
---
| | |
| --- | --- |
| Operating Days: | Monday to Saturday |
| Activity Time: | 10.00/ 12.00/ 13.30 |
| Duration: | 1 hour 30 mins (25 minutes walking underwater) |
---
About the 90-Min Solar Sea walk - Underwater Walk in Grand Baie
Live an extraordinary adventure underwater, walking on the seafloor to discover the beauty of Mauritian waters. Walk through the reefs and watch marine life unfold before you.
The duration of the activity is around 90 minutes. You will be asked to arrive at the meeting point, Grand Bay, 15 minutes prior to the starting time, and then you will be taken to your boat. The activity has 3 time slots during the day. You will then head to the diving spot where you will jump out of the boat to walk under the sea.
Activity Times
1st session: 10:00
2nd session: 12:00
3rd session: 13:30
The underwater walk, powered by the sun, is an easy and suitable activity, accessible to the whole family. No previous knowledge of diving and swimming is required to be able to do this activity as you are guided every step of the way. Comfort is guaranteed for this underwater walk as you will be given plastic shoes to walk on the underwater sands. The guides will accompany you throughout your underwater tour to make sure you feel safe.
Before going under water, you will receive a safety briefing and a square helmet connected to solar-powered electric compressors to produce oxygen underwater. Instructors will make sure you feel safe and are able to breathe into the helmet before the descent. The dive location is inside the reef, at about 3-4 metres of turquoise water. Your safety and security is a top priority too - there is an underwater guide and 2 surface divers with you at all times, so you can be rest assured it will be great fun for the whole family while in complete safety.
Unlike other water activities you may be familiar with, the solar underwater walk is both a challenging and fun experience. You will be able to meet many types of fish residing in the warm island waters of the Indian Ocean. Feed them with your own hands, walk amongst them, walk through the shoals and enjoy this extraordinary feeling.
The guides will let you know when it is time to go back to the boat and it will mark the end of your undersea walk. Once back on the boat, you will make your way to the shore, revelling in this peaceful feeling.
If you do not wish to undertake the activity but simply want to accompany your loved one who is diving, you can choose to stay onboard and enjoy the boat ride (subject to extra cost). The sea surrounding Mauritius is already a very nice view to behold and you will enjoy the sea trip.
About the Solar Sea Walk - Undersea Walk
The Solar Sea Undersea Walk is an underwater activity in shallow water that uses solar energy without any relation to scuba diving.
This activity is a form of helmet diving using a "free flow" air supply, which means that air pumped by a hose from the surface flows freely into the helmet at a constant volume at all times - unlike scuba diving where air from a self-contained tank is only delivered on demand.
What makes this activity stand out from other undersea walk activities is that it is Environment Friendly: 100% untainted air is pumped to square non distortion helmets using electric compressors powered by the sun. Even the compressors are very unique as they don't use any lubrication, so not even micro fumes taint the breathing air unlike other systems on similar activities.
---
Swimsuit

Towel

Extra sunblock cream

Water bottles
---
| Underwater Solar Sea Walk in Grand Baie | |
| --- | --- |
| Price per Participant | 45 Euros |
| Price per Non-Diving Participant | 15 Euros |
---
Booking Attributes
Reviews
100% Level of Satisfaction
Based on 1 review
|
reviewed by Anita Rasch – Austria
|
January 14, 2023
Reaction time to your queries and requests
Travel consultant's professionalism level
Added value given to you by the travel consultant
Consultant's knowledge of Mauritius and the products / services
Overall satisfaction from the customer support service
Level of services provided as part of the activity?
Level of professionalism by activity operator staff / guide
Your level of enjoyment from the activity
Quality of meals & drinks included (if applicable)
Ease of booking the activity
Overall satisfaction from the activity
---