Archery at Domaine de L'Etoile
| | |
| --- | --- |
| Location | East |
| Minimum Age | 13 |
| Operating Hours | 09:00 - 17:00 |
| Operating Days | All Days |
| Duration | 1 hrs |
| Activity Time | Flexible |
| Transportation | Offered as Supplement |
| Comment | This activity is offered thrice a day at: 11:00, 13:00 and 14:00 |
About the Archery Activity at Domaine de L'Etoile
Mauritius is the ideal place for combining nature with fun activities. For an exciting time amidst the nature, try shooting arrows in the pristine setting of Domaine de L'Etoile.
Archery goes a long way back, with its roots in hunting and on the ancient battlefields. The Domaine's nature reserve is perfect for you to practice your archery skills, while enjoying the pleasant climate of the island and spending quality time with your friends or family. You will be warmly welcomed by friendly staff who will ensure that you spend a wonderful time surrounded by tropical nature.
Besides being a fun sport that's not physically demanding, archery is also a great way to de-stress. With modern equipment, bows and arrows, the Domaine offers you the chance to practice the sport in a safe environment.
The addictive element of archery is that it is simple to learn and is a very satisfying experience. After your initiation with the instructor, you will be ready to aim at a number of targets and animal figures. The gratifying thud of the arrow as it hits the target, or even the bullseye, is an incredible sensation.
---
About Domaine de L'Etoile
Previously a private hunting domain, and only recently opened to the public, Domaine de L'Etoile remained one of the most preserved regions of Mauritius.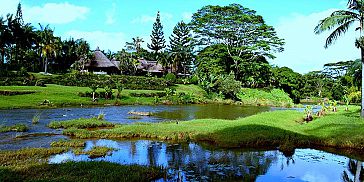 The domain counts English gardens, rivers, and indigenous woods which are rich in hundreds of different varieties of plants and trees, including the most ancient ebony trees of Mauritius and other endemic species as well as cinnamon trees, vetivers, orchids, traveller's trees, banana trees and more. A large river flows through the Domaine as well as trickling streams and flowing waterfalls.
Domaine de l'Etoile is best described as a wonderful and enchanting area where all nature lovers can enjoy themselves. A number of activities are offered, including, Quad biking, Horse riding and Hiking circuits. Visitors will witness, in turns, spectacular panoramas, Java deer and endemic birds.
There is also an onsite restaurant which presents a quiet and peaceful environment where guests can recall the special moments of the day while enjoying the tasty local cuisine.
---
Optional Lunch
The Domaine de L'Etoile restaurant is a ravishing restaurant found in the reserve, situated next to the Grand River South-East with stunning views onto the mountain.
At this restaurant, you will be offered a buffet allowing you to savour the typical Mauritian cuisine inspired from the diverse cultures present in Mauritius. The restaurant also proposes a fusion cuisine.
The irresistible charm of the restaurant is further enhanced by the beautiful natural surroundings and the thatched roof. The tables at Domaine de L'Etoile restaurant are set under the veranda of the main reception building. From here, you get spectacular views of the Mauritian mountains. On the foreground is the superb English lawn, which only accentuates the idyllic setting of the restaurant.
---
Adults Menu
Starters - "Ti-Madame" Gajack
Garlic bread and homemade samossas
Coriander chutney and crushed chili
Octopus salad, ridge gourd and mesclun salad
Main Course - Live cooking station
Traditional chicken curry
Rougaille of the day
OR
Chicken BBQ with Lemon and Honey
Chicken Sausages
OR
Grilled Catch of the Day with Coriander and Ginger
OR
Domaine Venison Dry Curry
Garnitures:
Farathas
Plain rice and pulses
Green banana curry and stewed pumpkin
Chatini and sambals selection
Desert of the day
Kids Menu
A choice of one of the following:
Chicken or fish nuggets, chip and juice
Marinated farmer`s chicken burger, chips and juice
Spaghetti Bolognaise or Carbonara, chips and juice
---
Additional activities offered at the Park
---
Comments
This activity is offered thrice a day at: 11:00, 13:00 and 14:00
Minimum age: 13 years old
Do not forget: sunscreen, mosquito repellent and your camera
---
Prices
Price per participant: 25 Euro
Optional Lunch Prices:
Adults Menu:25 Euro
Kids Menu:11 Euro