If you are looking forward to a little more romance on your honeymoon vacation or simply want to enjoy a relaxing romantic break on a tropical island to rejuvenate yourselves and rekindle your relationship; Mauritius is the ideal spot for you. Going away with your partner can be a great bonding experience, not only will a romantic getaway infuse your relationship with much-needed excitement and surprise but it will also renew feelings of intimacy, that sometimes grow dim when you get caught up in the hustle and bustle of daily life. Whether you're a couple that finds romance in relaxation or in adventure, there's always going to be that place that sparks the flame and sets the mood; beachside relaxing or candlelit dining, we've rounded up the most romantic and exceptional experiences in Mauritius for you to spice up your love life.
---
About Romantic Places in Mauritius
Often rated as one of the most enchanting places in the world to tie the knot and regularly voted as one of the top honeymoon destinations, there is no questioning Mauritius as an idyllic setting for romance.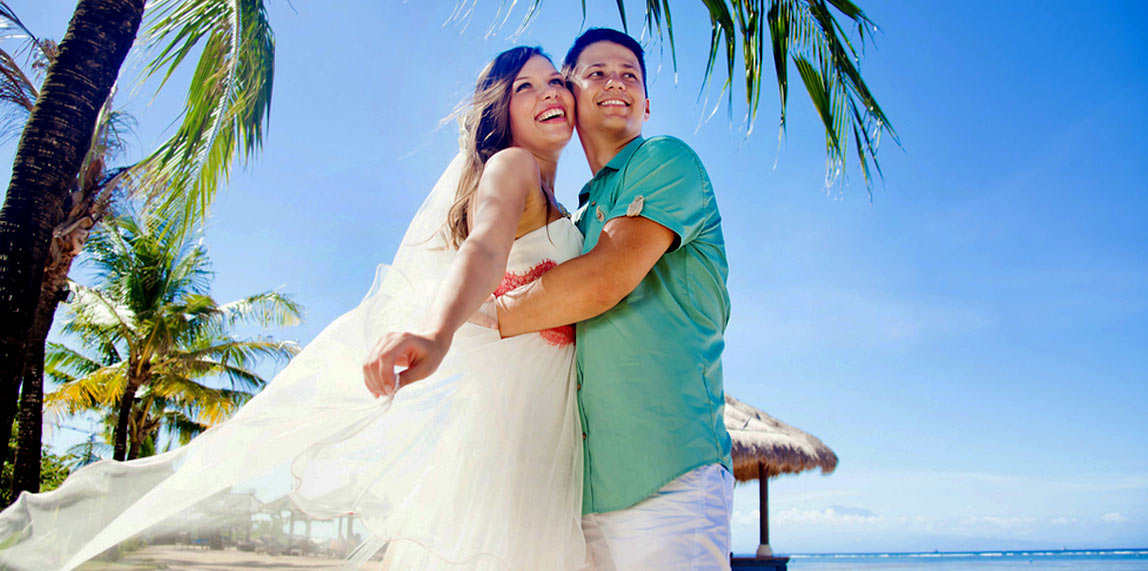 A Mauritian getaway is guaranteed to be nothing short of spectacular wherever you go, whatever you do. All that's left to do then, is make that oh-so-difficult choice of choosing a specific activity to create special memories. Ultimately, the most romantic places will be those that make you and your partner the happiest and feature the experiences you both love best: fine dining, a spa day, fun at sea, and so on. A trip to a relaxing luxury resort on the island can rekindle the romance that has taken a back seat to your hassled daily routine. Yet beyond the picturesque beaches and luxury hotels lies an island waiting to be discovered. Make the most of this list to enjoy romance at its best on the paradise island of Mauritius.
Top 5 Romantic Activities to Enjoy in Mauritius:
1. Horseback Ride at Sunset 2. Romantic Day Trip to Ile Des Deux Cocos 3. Bubble Lodge at Domaine de Bois Chéri 4. Private Sunset Catamaran Cruise 5. Submarine Underwater Trip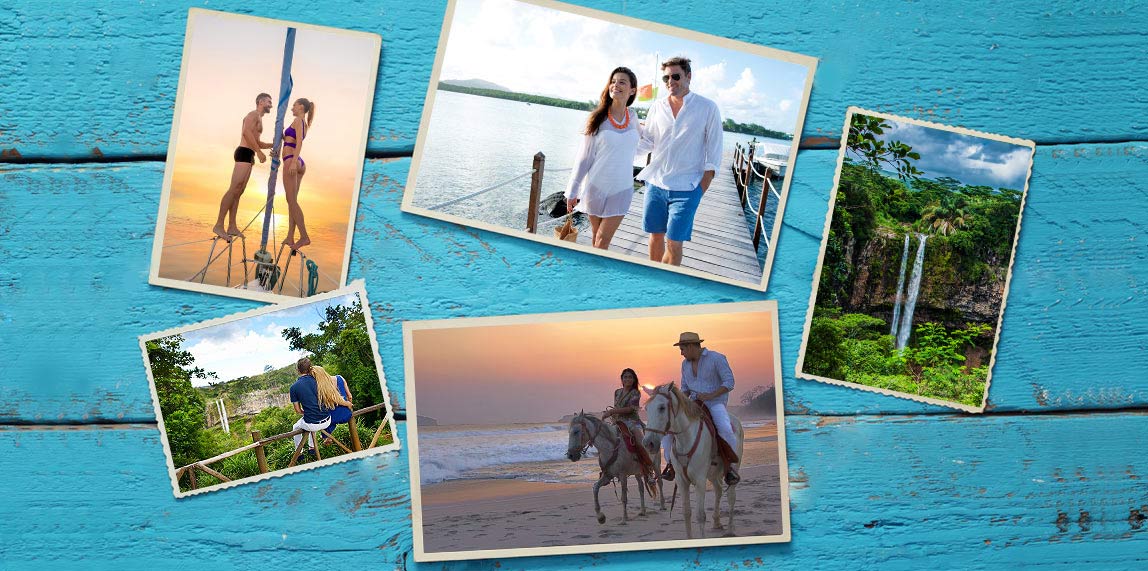 ---
Horseback Ride at Sunset
Relax and reconnect with the person you love most while experiencing the magic of horse riding on the private, secluded beach of Riambel at sunset. Its 2.5km stretch of white sand with no hotels or crowds is ideal for a wonderful and intimate riding experience. There is something mystical about admiring the tropical sunset on a near-deserted beach.This beach offers a true taste of paradise, where you will also have the privilege of enjoying breathtaking views of the resplendent tropical sunset over the Mauritian lagoon, in the company of your loved one. As the sun sinks beneath the horizon line, the sky features a spectacular display of pretty pastel colours blending with hues of orange and red, creating the perfect romantic backdrop.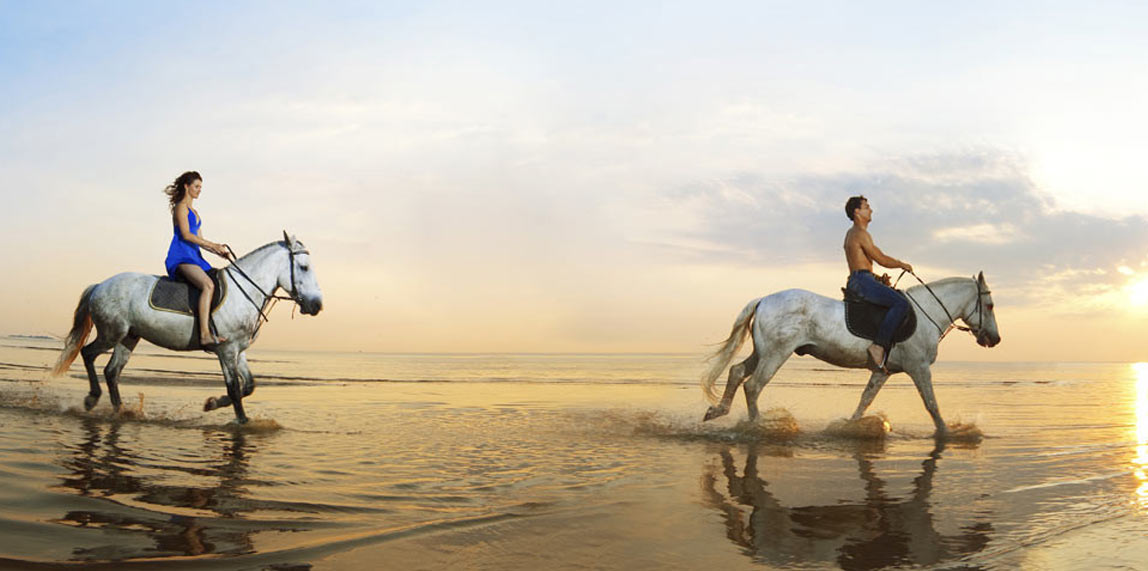 You can trot up the beach and canter without coming across any beach crowds, allowing you to have a truly exclusive experience.This
sunset horseback ride package
is perfect for romantics who are very fond of horses and are looking for a truly unique and unforgettable experience.
---
Romantic Trip to Ile Des Deux Cocos
White powdery beaches, pristine water lagoons and no one to disturb you, perfect for "total desert-island romance". Ile des Deux Cocos, a private island that lies to the South-East of Mauritius, is perfect for you to immerse yourself in the joy of spending quality time with your partner. Unwind in this dreamy backdrop and let the vast sandy beach and soft ocean waves offer you complete relaxation along with a profound sense of joy. Ile des Deux Cocos can be easily reached by a 5-minute boat ride, yet it can give you the sensation of being lost in your own Dream Island, cut off from everything else. This ultimate secluded destination is for those who wish to unwind and enjoy luxury at its best with their significant other.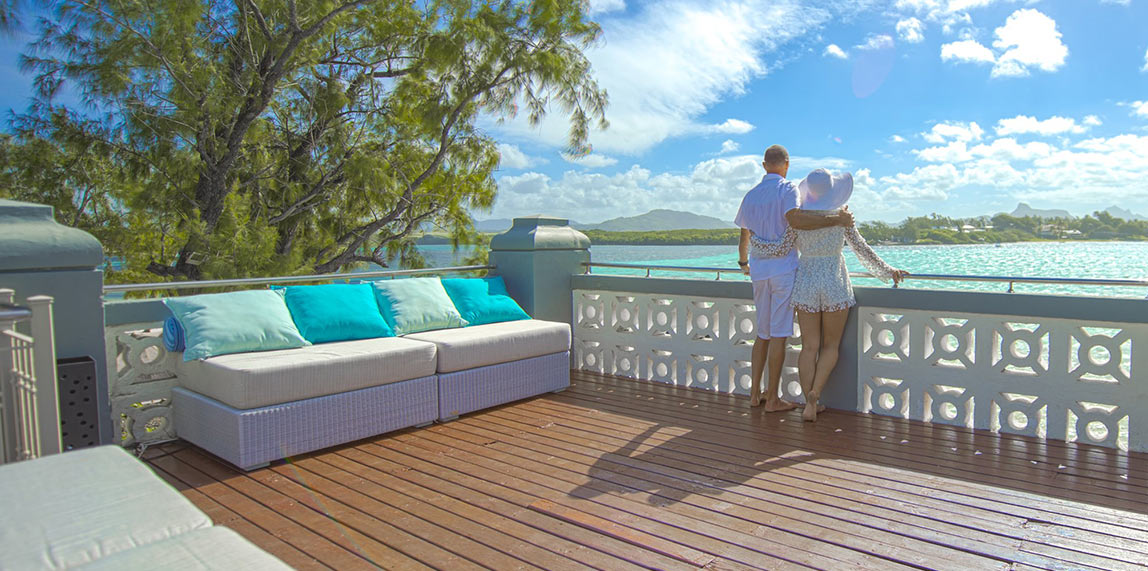 A day on the private island of Ile des Deux Cocos, has been the highlight of many visitors' staying in Mauritius and a place not to be missed. Additionally, for some quiet time, you can head to the "Follies" Villa, nestled amongst the trees on Ile des Deux Cocos, which was built by one of the first British Governors of Mauritius. The villa comes with royal treatment provided by a dedicated housekeeper, valet and chef for outstanding personal service throughout your time there. Ile des Deux Cocos offers an exceptional and memorable romantic experience, where you can choose to spend a
romantic day on the private island
or a
luxurious day with villa use
!
---
Bubble Lodge
Sleep in a bubble under the stars at Domaine de Bois Chéri. Solitarily nestled in the midst of the incredibly beautiful tea plantation at Domaine de Bois Chéri, facing a natural crater lake, this eco-lodge promises lovebirds unparalleled relaxation in complete privacy. If you're looking to unwind beneath a starry nighttime sky in comfort and convenience, the
Bubble Lodge
is the most romantic and private getaway on the island of Mauritius. Combining luxury with nature, the elegantly designed lodge with rustic décor, blends harmoniously with its surroundings while still maintaining the level of comfort of a luxury hotel room. It offers spectacular panoramic views of the Domaine de Bois Cheri. You and your loved one will have this hideaway all for yourselves, far from any prying eyes as the Domaine remains closed to other people during your stay. To wholly contemplate this serene landscape, you are invited to go for strolls or hike amidst the tea plantations. Undeniably, while being at the Domaine, you will get to taste the freshest of tea.
---
Private Sunset Catamaran Cruise
Embark on a private sunset catamaran cruise
private sunset catamaran cruise
with your loved one as the sun goes down and set off along the beautiful north-west coast of Mauritius to witness the majestic tropical sunset in all its glory. Toast at dusk to welcome the new evening with a bottle of sparkling wine and relish on the delicious light canapés provided to you onboard. Lie back and admire the breathtaking scenery the sky paints for you as the sun begins to fade, gently lowering into the horizon. You will have the splendid opportunity of enjoying first-hand, the magnificent tropical sunset usually only witnessed in pictures.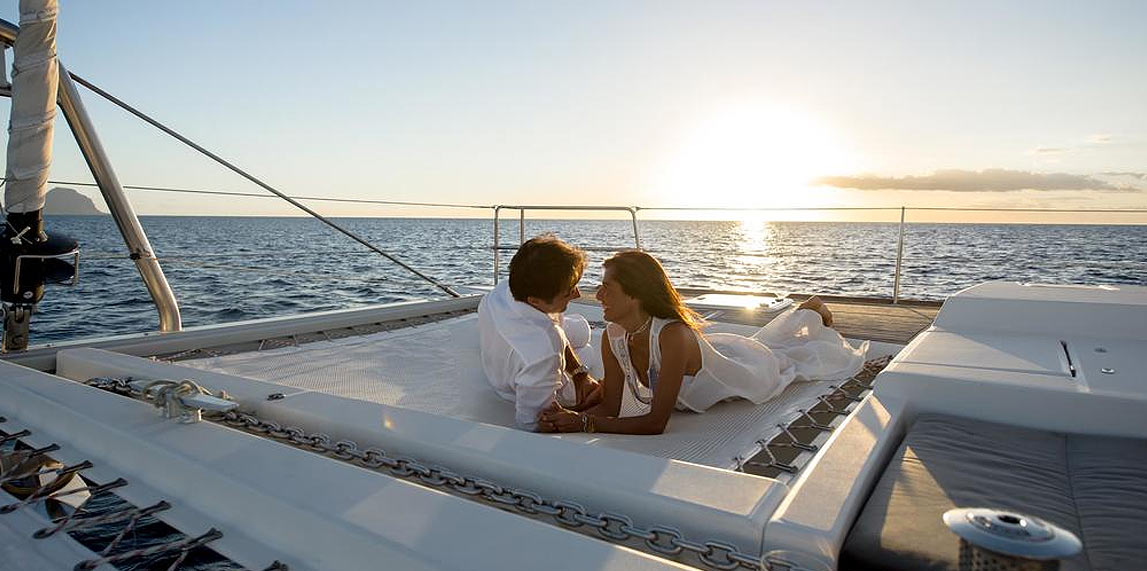 During the cruise, you and your partner will also get to experience a delectable gastronomic dinner. You will have the excellent choice between a main course of grilled lobster with garlic lemon butter and buttered vegetables or that of grilled fish fillet, laksa sauce with butternut, baby corn, chayote and herbs. Savour the blissful flavours of the 4-course lobster or seafood dinner prepared by your private on-board Chef accompanied by an indulging service by your dedicated butler in the midst of gorgeous Indian ocean. You will be able to enjoy your cruise and bask in the spectacular sunset experience in all serenity, while a dedicated crew will be at your service throughout the journey, attending to your each and every need to the best of their abilities.
---
Submarine Underwater Trip
The
submarine underwater trip
is a different kind of romantic experience but it is a wonderful one and especially when it's done on exclusive basis where the submarine is solely yours and your partner's to use and enjoy. You will get to experience what you only dream about, when going underwater and staring into the crystal clear Indian Ocean, while discovering the rich sea life deep underwater. Then the submarine will start its descent into the deep sea for a real fantasy adventure trip. You will cruise along the reef and view the corals from very close, explore the local rich marine life, visit the shipwreck of the famous Star Hope cruiser, and discover a 17th century anchor on the bottom of the ocean.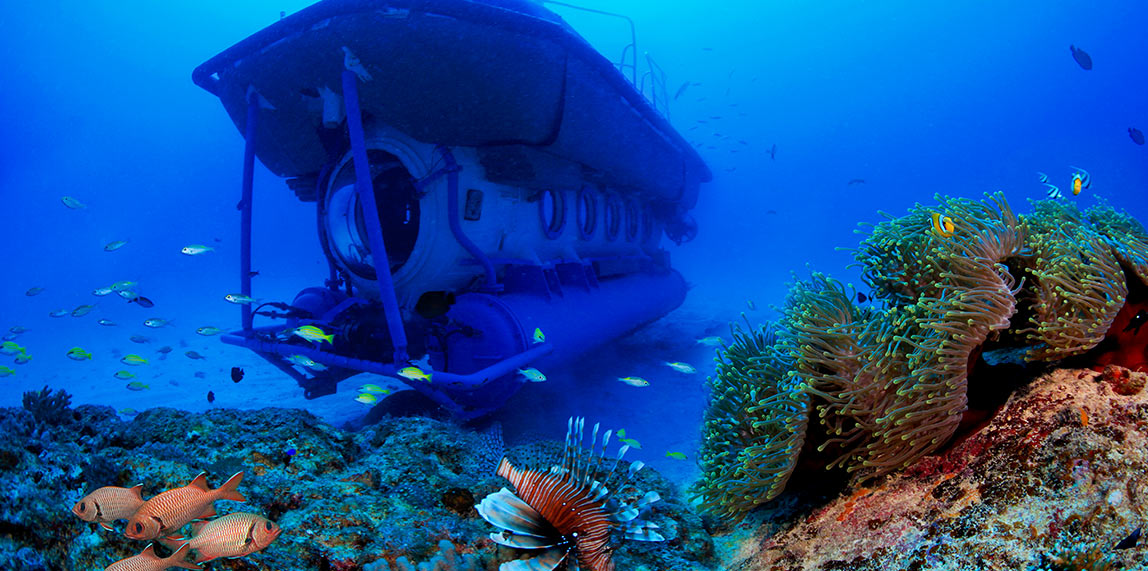 At such depths of 30-40 meters undersea, you may see many rare species found at these depths and will explore the underwater world of Mauritius like on safari trip. Sip on some champagne and savour on a selection of canapes during the trip, or you can opt to have lunch making this an underwater fine-dining experience.
Experience unforgettable moments with your partner in Mauritius while enjoying unique romantic experiences. This tropical island is the ideal place to pamper yourself and benefit from a highly-relaxing retreat.