Canyoning Excursion - Tamarind Falls - Half Day
| | |
| --- | --- |
| Location | South West |
| Minimum Age | 10 |
| Operating Days | All Days |
| Duration | 4 hrs 30 mins |
| Activity Time | 08:30 - 13:00 |
| Transportation | Offered as Supplement |
| Comment | Provided: Technical equipments, backpack, snacks & water To bring: swimsuit, towel, hiking or sport shoes, insect repellent, and spare shoes & clothes |
Half day canyoning excursion at the South West area of Mauritius at Tamarind Falls.
The canyoning excursion is offered at the Tamarind Falls which constitute a scenic attraction of the South West of Mauritius.
This is one of the most beautiful and calmest places in Mauritius, and one of the best places for nature and animal lovers, where one can find many exotic plants and birds. The magnificent location of Tamarind Falls hosts breath-taking views over the West coast and Le Morne, a sight not to be missed.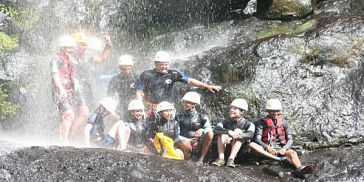 Situated on the central plateau, near the small village of Henrietta, the Tamarind Falls canyon is the one canyon of Mauritius which you really do not want to miss. With its 11 waterfalls, multiple jumps, deep ponds and lush green vegetation; Tamarind Falls remains one of the most beautiful canyons of the island that is suited to anyone - from beginner to extreme adventurer.
This half day canyoning trip to Tamarind Falls is one the most popular canyoning trips. It is easy, fun and accessible to all.
This is the ideal excursion for those seeking more adrenalin and thrill. It will challenge you to abseil down the waterfalls of the Tamarind Falls canyon using nature watercourses and canyoning gear.
The canyoning trip starts at 08:30 with a safety briefing and equipment introduction. You will be guided and mentored the whole time by qualified monitors who are specialists in the activity.
You will begin with a spectacular abseiling experience down a waterfall of 40 m, followed by the "shower"; aesthetic track under the waterfalls, secured by a rope. Followed by the crossing of a pond of about fifty meters in diameter.
You will abseil through the other remaining waterfalls of about a dozen-meter height, followed by a short swim. To reach the final waterfalls of twenty meters, adults will have the option of jumping from a 6-meter height after a rope descent.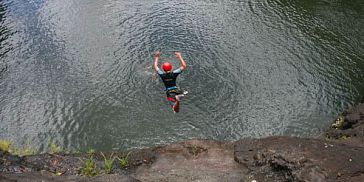 The jump is not compulsory, you can abseil down. Abseiling this part though is undoubtedly the most challenging segment of the activity. Your efforts will, however, be rewarded with a breathtaking view over the magnificent gorge. The canyoning activity will end above this great waterfall of 55 meters, and after a short climb of 20 minutes you will reach the plateau and will be back to the starting point.
This excursion is about enjoying the beautiful wildlife of the Tamarind nature reserve, admiring the famous beautiful Tamarind falls from up close, and experiencing the adventure of canyoning with Mauritius' top qualified guides.
The canyoning outing is operated and led by the leading canyoning and rock climbing guides in Mauritius, with immense experience in these activities in all areas of Mauritius, so you have absolutely nothing to worry about.
The highest level of descent down a rope is 40 meters.
This trip is offered all year round and is planned to cater for all ages starting from as early as 10 years old.
The canyoning excursion runs over the course of a half day, from 08:30 until 13:00.
Region: South West Mauritius
Requirements: Have basic swimming skills.
Minimum age requirement: 10 years old and above (must be accompanied by at least one parent)
---
Comments
Starting point: Tamarind Falls reservoir gate
Trip duration: starting at at 8:30 am and finishing at around 13:00
The following will be provided: technical equipments including all rope gears (harnesses, helmets etc.), backpack, snacks & water
It is recommended to bring the following: swimsuit, towel, hiking or sport shoes, insect repellent, and spare shoes & clothes.
Minimum age requirement: 10 years old and above (must be accompanied by at least one parent)
Please don't bring with you jewels, watches, alcohol and cigarettes
This excursion is carried out with a total respect towards nature and while making it a top priority to stress the importance of its preservation.
What is Canyoning? Canyoning (known as canyoneering) is traveling in canyons using a variety of techniques that may include walking, climbing, jumping, abseiling, and swimming.
The terms canyoning and canyoneering are more often associated with technical descents - those that require rappels (abseils) and ropework, technical climbing or down-climbing, technical jumps, and/or technical swims.
Canyoning is enjoyed by people of all ages and skill levels.
Canyoning gear includes climbing hardware, static ropes, helmets, wetsuits, packs, and rope bags.
---
Prices
Price per person for the Tamarind Falls Canyoning trip: 85 Euro