Crocodile & Giant Tortoises Park And Nature Reserve
85% Level of Satisfaction
Based on 3 reviews
| | |
| --- | --- |
| Location | South |
| Operating Hours | 09:30 - 17:00 |
| Operating Days | All Days |
| Duration | Flexible |
| Activity Time | Flexible |
| Transportation | Offered as Supplement |
| Comment | It is recommended to be at the park at 11:30 - the crocodiles feeding time. |
Visit Mauritius' famous Crocodile & Giant Tortoises Park
The Crocodile & Giant Tortoises Park which is home to various species of animals, reptiles and plants is set in a beautiful rain forested valley with natural freshwater springs, full of prawns and fish.
As part of your visit to the Crocodile & Giant Tortoises Park, the park's guides will guide you through some unforgettable walks, and you will stroll through luxuriant greenery where banana trees, palm trees and giant bamboos provide shade for the crocodiles and the giant tortoises.
During your stay in the park you can also experience a firsthand unique encounter with the giant tortoises, and get a rare chance to feed, pet and play with them.
Also thousands of Nile crocodiles and giant tortoises are found in the park and you can watch them in maximum safety.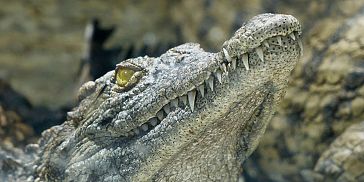 There is also a mini zoo of Mauritian fauna where you can find most of the Mauritian mammals and reptiles including skinks, phelsumas (geckos), giant tortoises, turtles, bats, deer, mongooses, monkeys, pigs, as well as domestic livestock such as goats, fat-tailed sheep and donkeys.
A must see is the park rare collection of butterflies and other brightly-colored insects (with about 23 000 species), which is one of the most fascinating in the world.
In the park there is also a "Jungle Adventure Playground", which is an area offering fun attractions and activities, especially designed for children.
The park guiding is included in the price of your visit.
Inside the park you will find the recommended Hungry Crocodile Restaurant. Built among the tree-tops the restaurant offers you a choice of local Mauritian food and international dishes, and also several dishes made with crocodile, which are definitely worth a try – you will be pleasantly surprised. Snacks and various drinks are also available.
---
Visit the Tortoise Nursery
Have you ever dreamt of encountering these fantastic animals? Or do you want to find out what goes on behind the scenes at the park? Visit the tortoise nursery to encounter Aldabra giant tortoises and feed them. As part of the visit, you will get to feed the baby tortoises, learn about the breeding programme at La Vanille Nature Park and also have a beautiful photo souvenir with a baby tortoise to immortalize this wonderful experience.
Aldabra Tortoises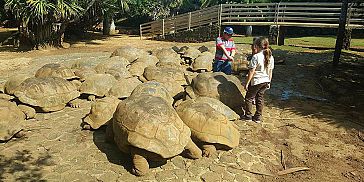 Following their global popularity, particularly in Europe, North America and East Asia, the poaching of wild tortoises led to the extinction of many species. At one point, the giant Aldabra tortoises had almost completely disappeared from Mauritius.
La Vanille Nature Park has been one of the largest associations catering to Aldabra tortoises in the world. Nearly 1,000 specimens populate the park and are part of the conservation program. The park's mission is to protect and care for these endangered species.
Comments
Tortoise Nursery Visit: Everyday at 10h30, 11h00 and 14h00
Duration of the visit: 30 minutes
Maximum number of people: 12
Children MUST be accompanied by at least 1 Adult for the Visit the Tortoise Nursery
---
Lunch at the Hungry Crocodile Restaurant
The Hungry Crocodile restaurant welcomes you in luxuriant greenery and a range of exotic birds. A selection of dishes is made by the Chief for you to choose from and which consists of a starter, main course, dessert.
You can choose the dishes from the selection of dishes detailed here below:
Menu A (Basic Menu)
Fruit Punch
Chicken pieces in a Creole sauce served with white rice, lentils, cucumber salad, pickled papaya OR Grilled Fish Fillet of the Domain (Berri Rouge) served with parsley butter, lemon wedge, fresh vegetables and white rice
Coconut tart with vanilla ice cream
Menu B (Vegetarian Menu)
Fruit Punch
Creole Vegetable Curry served with white rice, lentils, appallam and chutneys
Banana tart and ice cream
Menu C (Crocodile meal)
Fruit Punch
'Hungry Crocodile' Salad (Chassives of crocodile fillet, OR smoked crocodile served with fresh exotic salad (Heart of palm, cabbage, apple and pineapple)
Grille Berri Rouge Fillet served with homemade butter, fresh vegetables and white rice.
Coconut Tart with vanilla ice cream
500 ml water, citronella tea
Menu D (Crocodile Supreme)
Fruit Punch
La Vanille salad (Fillets of smoked marlin, pineapple, tomatoes, papaya pickle, lettuce)
Crocodile vindye, fresh green salad, white rice and lentils
Exotic Sorbet (Sorbet and fresh pineapple)
500 ml water, citronella tea
Price for the lunch Menus
Menu A: 19 Euro
Menu B: 19 Euro
Menu C: 25 Euro
Menu D: 28 Euro
Opening Hours of the Park
Every day: 9:30 to 17:00
The crocodiles feeding are done every Wednesday and Saturday at 11h30.
Prices
Entrance Tickets
Price per adult: 13 Euro
Price per child (ages 3-12): 7 Euro
Price per baby (ages 0-2): Free of charge
Visit the Tortoise Nursery
Price per adult: 14 Euro
Price per child (ages 3-12): 9 Euro
Reviews
85% Level of Satisfaction
Based on 3 reviews
|
reviewed by Dina Mandarino – United Kingdom
|
June 06, 2017
Added value given to you by the travel consultant
---
|
reviewed by Phyllis Harper – Marisa Residences, La Gaulette
|
May 11, 2017
Reaction time to your queries and requests
Travel consultant's professionalism level
Added value given to you by the travel consultant
Consultant's knowledge of Mauritius and the products / services
Level of services provided as part of the activity?
Level of professionalism by activity operator staff / guide
Your level of enjoyment from the activity
Quality of meals & drinks included (if applicable)
Ease of booking the activity
Overall satisfaction from the activity
---
|
reviewed by HARISH PANDYA – Sofitel Mauritius L'Impérial Resort & Spa Wolmar
|
April 22, 2017
---