Ebony Forest Love Tree Tour - Plant Your Own Endemic Tree
| | |
| --- | --- |
| Location | South West |
| Operating Days | All Days |
| Duration | 2 hrs |
| Activity Time | Flexible |
| Transportation | Offered as Supplement |
| Comment | Children under 12 years must be accompanied by an adult at all times. |
Transportation
Offered as Supplement
Comment
Children under 12 years must be accompanied by an adult at all times.
2-Hour Guided Love Tree Tour at Ebony Forest - Overview
Are you looking for a romantic activity in Mauritius that will have a lasting impact? Whether you are honeymooning or simply want to remind your soulmate, friend or parent just how special they are, go plant an endemic love tree at Ebony Forest!
Ideal for those wishing to celebrate their feeling, remember someone or as a thoughtful gift for a nature lover, this package will help you discover nature at its finest, save endangered species and offset your carbon footprint - all in the name of love. Every love tree tells a story, what will be yours?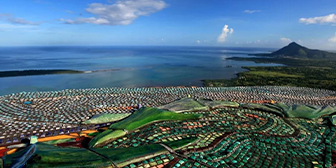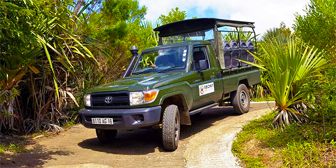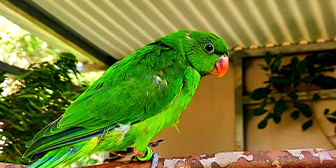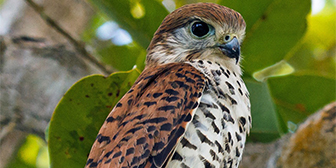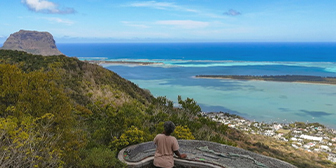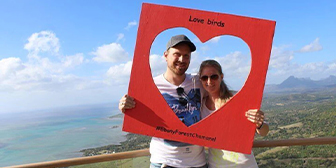 Highlights of the Love Tree Tour at Ebony Forest:
Visit the ancient Ebony forest and see some of the rarest plants in Mauritius
Plant and label your own endemic love tree
Express your feelings for each other with a written note
Enjoy a guided tour of the forest in a 4 x 4 jeep
Guided tour on the 300 m raised walkway through Ebony Forest
Stunning views of the UNESCO Le Morne site, the coast and mountain ranges
Embark on a history trip at the reserve's museum
---
The Guided Tour at Ebony Forest (Love Tree) includes:
Entrance to Ebony Forest Reserve
2-hour tour at Ebony Forest
The opportunity to plant and label your own endemic love tree
One drink (lemongrass juice/ tamarind juice/ soft drink/ beer) and a selection of vegetarian snacks
Guided tour through the forest in a 4 x 4 jeep
Walk through the Raised walkway to the spectacular Sublime Point
Spectacular view of the mountains & tropic birds
Access to self-guided hiking trails
Film in English (6 mins) or French (8 mins) about the island's wildlife
Ebony Forest souvenir as gift
Visit the museum about our island's natural history
Access to the shop and toilets (wheelchair accessible)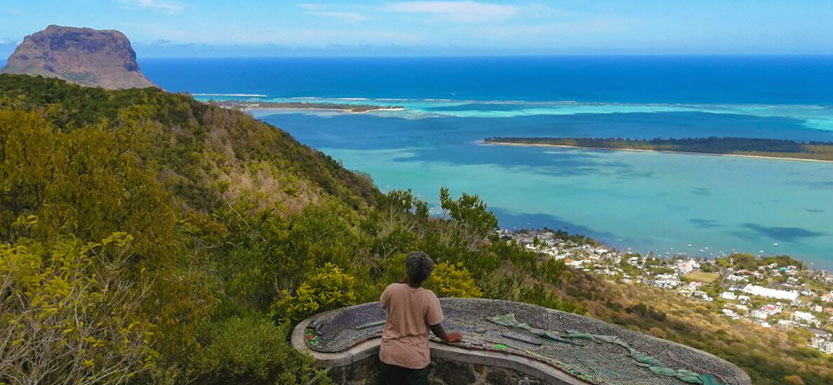 ---
Transportation & Driver Details
Transport is available for an additional supplement which will include pick up and drop off from any hotel / place of accommodation in Mauritius.
Car Capacities
You can choose from a selection of vehicles types:
Family Car - Up to 4 passengers
6 Seater vehicle - Up to 6 passengers
Minivan - Up to 10 passengers
About the Drivers
All drivers speak fluent English and French (Upon special request we can organise drivers who speak additional languages). The drivers, citizens of Mauritius, will be happy to provide you with information about Mauritius and each of its sights.
All drivers are very professional, time efficient and friendly. There is high emphasis on being always on time and providing reliable devoted service to customers.
---
Chamarel, South West Region
Start & End times:
(Clients are requested to descend from Sublime Point at or before 17:00, regardless of the season.)
| | |
| --- | --- |
| Operational Days: | Everyday |
| Activity Time: | 9:30, 11:30, 13:30 or 15:30 |
| Duration: | Around 2 Hours |
---
About the Ebony Forest Tour including a 4x4 Jeep Ride - South West of Mauritius
Your visit begins with a special welcome at the Visitor Centre, followed by a tour of the Ebony Experience museum, written and illustrated by Dr Julian Hume, a British artist, palaeontologist and highly acclaimed co-author of Lost Land of the Dodo.
Another must-see at Ebony Forest is the 6-8 minute film in English or French, about the Island's unique and fragile biodiversity. You'll leave the museum with an understanding of the conservation work and how your visit makes a difference.
Next is a 10-mins jeep ride that will take you to the Flycatcher raised walkway. En route, you will come across the restoration sites, non-native vegetation are being replaced by native species to create a refuge for our island's threatened biodiversity.
The professional and passionate local guides will then take you on a 30-minute tour along the unique raised walkways, passing through one of the best-preserved Ebony forests in Mauritius. Experience the feeling of floating among the trees as you view wildlife from a whole new perspective.
Keep an eye out for endemic Phelsuma geckos, pic pic birds and one of the rarest trees in the world, the Bois Corail or Coral Tree - named after its magnificent coral-shaped flowers. Inhale the fresh and cool forest air and learn about why palms, once widespread in Mauritian forests, are now missing from most native forests.
The jeep ride continues up the mountain to Sublime Point and as the name suggests, it is absolutely sublime. Enjoy stunning views of Le Morne, Ile aux Bénitier, Tourelle du Tamarin, Corps de Garde, Montagne du Rempart, Le Pouce, Trois Mamelles, Pieter Both, Piton Canot and the island's highest peak, Piton de la Rivière Noire. Watch the endemic Mauritian Fruit Bat flying below, as the Mascarene swiftlets, Mauritius Kestrel and White-tailed Tropic Birds dazzle you with their aerial acrobatics.
As you admire the spectacular view, you will be served a drink and local snacks. Now is the perfect time to write a love note about your dreams or simply feelings about each other. Alternatively, commemorate a loved one, colleague, friend or family member. Make it as wild or as emotional as you wish - ultimately, you will end up burying the handwritten note under your love tree.
Your guide will then take you to a nearby restoration site, where you'll be told more about your endemic love tree and its significance in the conservation mission. You will then be invited to label the tree that you plant. After that, it'll be time to head back to the Visitor Centre - choose to return by hiking the 2.4 km (30 - 50 mins) or by the safari jeep (15 mins).
You'll be gifted a small souvenir to take home with you so you don't forget your wonderful experience!
Additional Info about the Ebony Forest
Ebony Forest
While making your way through the forest, you will get to admire the native fauna of Mauritius, such as fruit bats, swiftlets and tropicbirds soaring high along the mountains' ridgeline. The two mid-canopy walkways through the Ebony Forest will give you the surreal sensation of floating through one of the best-preserved forests on the island.
If you are a keen bird watcher, you will be able to spot the endemic birds that the Ebony Forest hosts, such as the Mauritius Paradise Flycatcher, Mauritian Black Bulbul and grey-white eyes.
The Sublime Point offers a breathtaking view of Le Morne Brabant and the surrounding bays where you can also see a lot of tropical birds, including the white-tailed tropicbird.
Your visit and any purchase in the onsite Shop have a hand in helping offset carbon and save endangered species from extinction. Profit generated from ecotourism activities are reinvested into the conservation of the flora and fauna, which has been ongoing since 2006.
Museum
The Ebony Forest museum is where you can witness 8 million years of the island's history, including the history of the unique animals and plants that inhabited Mauritius. The museum provides an overview from the volcanic eruption millions of years ago, to the flora & fauna that inhabited our island including how man's actions have ultimately destroyed the island's unique environment.
You will also be able to see the effort made in order to restore the island's fragile habitats and how some habitats have been rebuilt.
Facilities at The Ebony Forest
Visitor Centre
Boutique
Sublime Point
Toilets
Native Plant Nursery
Ebony Museum
---
Sun cream

Hats

Mosquito Repellent

Bottle of water

Walking shoes
---
| | |
| --- | --- |
| Love Tree Planting - Adults | 34 Euros |
| Love Tree Planting - Children | 26 Euros |
---
Booking Attributes