Diving Sessions In The Northern Coast Of Mauritius - Pereybere
| | |
| --- | --- |
| Location | North |
| Operating Hours | 08:00 - 16:30 |
| Operating Days | Monday, Tuesday, Wednesday, Thursday, Friday, Saturday |
| Duration | Flexible |
| Activity Time | Flexible |
| Transportation | Offered as Supplement |
| Comment | Divers must bring their log books and diving qualification certificates |
Operating Hours
08:00 - 16:30
Operating Days
Monday, Tuesday, Wednesday, Thursday, Friday, Saturday
Transportation
Offered as Supplement
Comment
Divers must bring their log books and diving qualification certificates
Diving Sessions In The Northern Coast Of Mauritius - Overview
Sea lovers, you will absolutely love this activity! Explore the surreal underwater world of the tropical reefs by diving into the most popular spots of the northern lagoon.
Mauritius, the gem of the southern hemisphere of the Indian Ocean invites you for an extraordinary scuba diving experience in one of the safest regions. Dive where you can enjoy warm sea temperatures, clear visibility and a vibrant ecosystem all year round!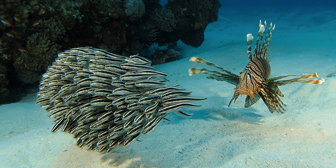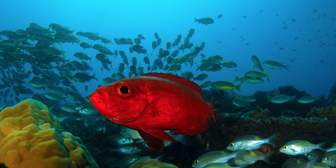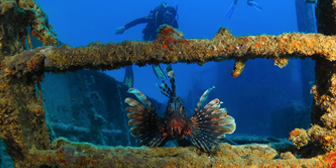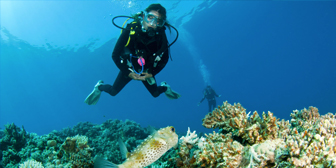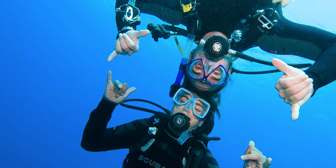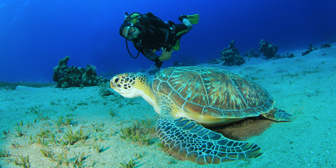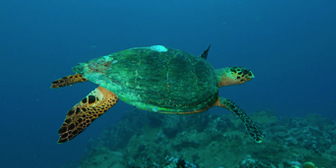 Highlights of this activity:
Explore the waters of the Indian Ocean with a choice from 3 Diving Packages
Discover the best diving spots in Mauritius along the northern coast
Witness the wonderful and colourful underwater world at the reefs
Come across tuna fish, rays, eels, turtles, lobsters and many other colourful creatures
A qualified scuba diver and all equipment offered so you don't have to worry
---
Diving Sessions In The Northern Coast Of Mauritius - Inclusions:
Diving Packages
- 6 Dive Pack with equipment rental
- 10 Dive Pack with equipment rental
- 30 Dive Family Pack with equipment rental
Dive at Popular North Coast Diving Sites
Diving initiation through pool sessions
Training for scuba diving sessions
A qualified diving instructor
Equipments provided; a wetsuit, a mask, snorkel, fins, regulator, buoyancy control device and a tank
Locker Safe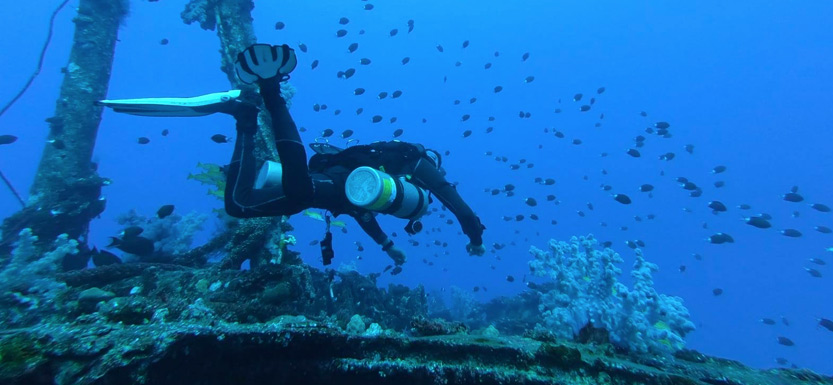 ---
Transportation & Driver Details
Transport is available for an additional supplement and will include pick up and drop off from any place / place of accommodation in Mauritius.
Car Capacities
You can choose from a selection of vehicles types:
Family Car - Up to 4 passengers
6 Seater vehicle - Up to 6 passengers
Minivan - Up to 10 passengers
About the Drivers
All drivers speak fluent English and French (Upon special request we can organize drivers who speak additional languages). The drivers, citizens of Mauritius, will be happy to provide you with information about Mauritius and each of its sights.
All drivers are very professional, time efficient and friendly. There is high emphasis on being always on time and providing reliable devoted service to customers.
---
| | |
| --- | --- |
| Activity Days: | Monday to Saturday |
| Activity Times: | 08h00 - 16h30 |
| Duration: | The duration of the diving sessions are flexible. |
---
About The Scuba Diving Session - North Coast
There is nothing as adventurous and exciting as exploring the deep waters of the colourful South Indian Ocean during your vacation in Mauritius. This tropical island is a year-round diving destination, though the summer months (November to March) are optimum as the warmer waters attract a wider variety of marine life.
You will definitely have amazing encounters varying from sea sponges and clown fish hiding among the anemones to moray eels, angelfish, reef sharks, gorgeous coral reefs and not to forget some haunting shipwrecks dating back to the 18th and 19th century.
Dive leisurely and be ready to explore the wonders of the South Indian Ocean. The highly trained SSI, PADI and CMAS instructors are always here to guide you throughout your diving experience. With years of experience in the diving field, you can trust their expertise.
You will first get a detailed briefing from a qualified scuba instructor prior to the pool session that includes an overview of the scuba equipment, the pool session and the sea dive. The pool session will focus on breathing underwater and go through some basic scuba diving skills in preparation for the sea dive, such as learning to move around underwater with gear and learn key skills that you'll use during every scuba dive.
The sea dive will last for about 45 to 60 minutes, during which you will explore the underwater world of Mauritius with a qualified diving instructor.
Scuba diving equipment that you will most likely be provided with include, a wetsuit, a mask, snorkel, fins, regulator, buoyancy control device and a tank. There are also safe lockers where you can keep your belongings.
Diving Options:
6 Dive Pack with equipment rental
10 Dive Pack with equipment rental
30 Dive Family Pack with equipment rental
Diving In The Northern Coast Of Mauritius
The best diving spots in Mauritius are along the northern coast where there is a mix of shallow dives such as the breeding ground of Pereybere Aquarium and ray-filled Confetti Bay. More challenging dives and outings include the wreck of the Japanese trawler Stella Maru and dramatic sites like Peter Holt's Rock. These dives are full of caves, tunnels and crevices which shelter a broad variety of porcupine fish, giant moray eels and titan triggerfish.
The visibility underwater is usually about twenty to twenty-five metres, although in favourable weather conditions this can become as much as forty metres. The temperature of the water ranges from about 20°C to 30°C, depending on the time of year. It is important to know that during the summer seasons you can expect cyclones clouding the water and making the currents unpredictable. However, over the past years their frequency has drastically decreased.
When diving off the coast of Mauritius, it is almost guaranteed that you will see tuna fish, rays, eels, turtles, lobsters, lion-fish, parrot-fish, crabs, sergeant-major fish and box-fish, just to name a few. If luck is on your side you may even spot dolphins and sharks. The crystal clear water, the abundance of fish life and colourful reefs provide magnificent backdrops for underwater filming and photography opportunities.
Popular North Coast Diving Sites
When it comes to choosing the appropriate diving spots in Mauritius, scuba divers are definitely spoiled by the eclectic range of places. There are numerous dive sites strewn all over the island. Beginners can start at the shallow side of the ocean, whereas experienced divers can head straight for the more adventurous dive sites such as cliffs, caverns, reefs, pinnacles and wrecks.
Diving trips to the following popular north coast diving sites which can be offered:
Aquarium (depth:10-18m)
Temple (depth: 9-15m)
Stephen Cliff (depth: 8-12m)
Coral garden (depth: 10-21m)
Poison Reef (depth: 7-12m)
Whale Rock (depth: 18-38m)
Lost Anchor (depth: 19-31m)
Stenopus Reef (depth: 18-31m)
Stella Maru (depth: 14-25m)
Emily and Water Lily (depth: 14-25m)
Silver Star (depth: 26-41m)
Flat Island (depth: 8-15m)
Confetti Bay (depth: 10-22m)
Iabeddah Wreck (depth: 16-32m)
The Tube (depth: 7-11m)
Black Forest (depth: 35-50m)
Additional Information About The Diving Center
Situated on the Northern Coast of Mauritius, the eco-friendly diving center offers amazing diving experiences around the five incredible islets which are considered great diving spots with depths and topographies for all levels. Diving sites include; square profiles, multilevel dives, caves, wreck explorations, cliffs, coral gardens, shark dives, drift dives and safari dives.
The full-time and highly trained instructors provide diving courses and programs designed to suit your needs.Beginners and experienced divers can choose their own training path through several international Scuba Diving organisations including TEK training courses.
Diving Equipment :
MARES diving equipment (Regulators, Gauges, Buoyancy Control Devices, Fins and Masks)
LUXFER Aluminium Cylinders
COMPRESSOR I.D.E. TFI 210 Compressor with Airsafe / J.A. Becker & Söhne SV 300/250
Dive Centre Facilities :
Reception
Training Pool
Classrooms
WCs and showers
Cloakroom
Trainees room
Outdoor garden
Dive Boat Facilities :
Awning (Canopy)
Hand shower
Vests
GPS and radio
First aid and oxygen therapy equipment
2x 140 horsepower Suzuki engines
2x parrot ladders
Safety :
Full time, highly trained PADI and SSI instructor's
Divers Alert Network emergency oxygen and first aid on board
Automated external defibrillator
---
Sunscreen

Towel

Other items that you deem necessary

Divers must bring their log books and diving qualification certificates.
---
| Diving Sessions In The Northern Coast Of Mauritius | |
| --- | --- |
| 6 Dive Pack with Equipment Rental: | € 228 (€ 38 /Dive) |
| 10 Dive Pack with Equipment Rental: | € 350 (€ 35 /Dive) |
| 30 Dive Family Pack with Equipment Rental: | € 990 (€ 33 /Dive) |
---
Booking Attributes