Eco Green Bike Tour at Souillac
| | |
| --- | --- |
| Location | South |
| Operating Hours | 08:00 - 18:00 |
| Operating Days | Tuesday, Thursday |
| Duration | 6 hrs |
| Activity Time | 09:00 - 15:00 |
| Transportation | Offered as Supplement |
Operating Hours
08:00 - 18:00
Operating Days
Tuesday, Thursday
Activity Time
09:00 - 15:00
Transportation
Offered as Supplement
Eco Green Bike Tour at Souillac - Overview
An excursion off the beaten track - get ready to discover the beauty of Mauritius with an Eco-friendly activity and immerse yourself into the tropical island life!
Unlike other tours that have you cooped up in a tour bus, this tour lets you feel the sun on your skin and the wind in your hair, as you pedal on an electrically assisted bike. You do not have to be a sports enthusiast to cycle through the incredible landscape.
Embark on a bike ride through the rural region of Souillac where you will get to visit important landmarks, the rugged coastal cliffs, verdant fields and savour local food. Your guide will ensure you don't get lost and you might even bump into a few friendly villagers for a quick chat.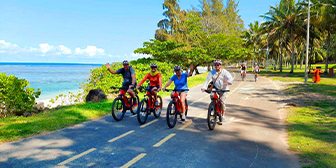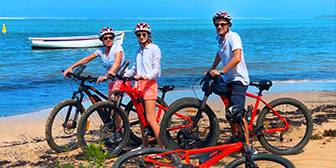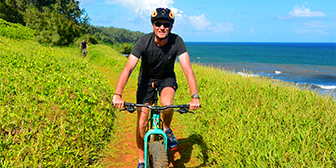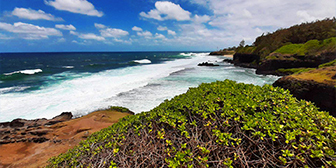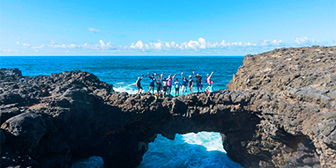 Highlights of the tour:
Discover the authentic beauty of Mauritius away from cliched tourist zones
A fun and environmentally-friendly way to tour the area - on an electric bike with minimal effort
Enjoy a guided visit of the main sites of the southern region with ample photo opportunities
Marvel the beauty of the southern part of the island with its rugged coastlines and lush greenery
Uncover charming and picturesque villages en route as well as interesting landmarks such as "La Roche Qui Pleure".
Delve into the typical villager life and visit a local resident where you can also taste local specialities
---
Eco Green Bike Tour at Souillac - Inclusions
Guided Electric Bike Tour of 6 hours
Ride to breath-taking spots in the southern region
Discover historical sites - Baie du Jacotet, old Souillac port, Telfair Garden etc.
Visit interesting landmarks like "La Roche Qui Pleure"
Stopover at Riambel Beach
Visit a local villager and enjoy local dishes
Briefing session and orientation by experienced guides
Equipment included: bikes, helmets
Refreshments: Water bottles, juice and light snacks included during the tour
Lunch: Indian veg menu with rotis (flat bread) and different curries
Security escort vehicle for riding groups of more than 4/5 people
Excluded in the price: The photos of your ride in Mauritius will be available on Photo CD which will be available for purchase on the day itself for a small supplement. You will have the opportunity to buy some local souvenirs. Please bring cash along as credit cards are not accepted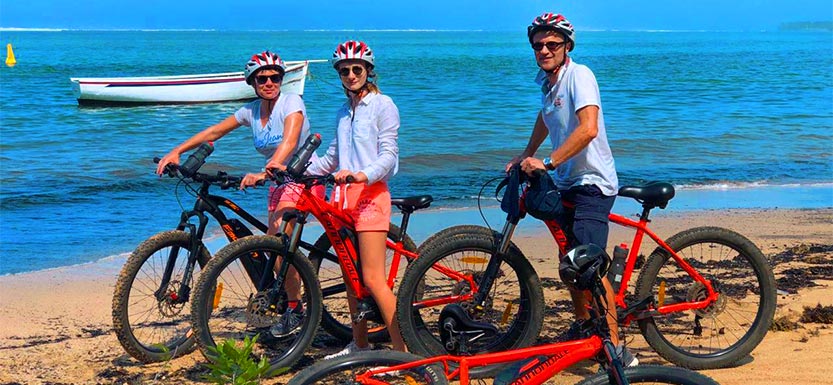 ---
Transportation & Driver Details
Transport is available for an additional supplement and will include pick up and drop off from any hotel / place of accommodation in Mauritius.
Car Capacities
You can choose from a selection of vehicles types:
Family Car - Up to 4 passengers
6 Seater vehicle - Up to 6 passengers
Minivan - Up to 10 passengers
About the Drivers
All drivers speak fluent English and French (Upon special request we can organize drivers who speak additional languages). The drivers, citizens of Mauritius, will be happy to provide you with information about Mauritius and each of its sights.
All drivers are very professional, time efficient and friendly. There is high emphasis on being always on time and providing reliable devoted service to customers.
---
"Place du Moulin", Bel Ombre, South Region
| | |
| --- | --- |
| Duration: | The duration of the bike tour is 6 hours |
| | This tour is offered on Tuesday and Thursday only |
| Departure time | 08:30 |
| Return time: | 14:30 |
| Lunch: | around 12:00 |
---
Eco Green Bike Tour at Souillac - Itinerary
Ride starts at "Place du Moulin" in Bel Ombre
Ride in the direction to Bay of Jacotet
Head towards the village of Rivière des Galets
Discover the Batelage of Grand River South East, the ancient port of Souillac
The ride continues towards Telfair Garden
Discover its colonial building and remains of the former railway station
Ride in the direction Gris Gris and view the spectacular "La Roche Qui Pleure"
On the return journey, visit a local villager's home and savour local dishes
Ride by St Felix Beach towards Riambel Beach
Stopover at Riambel public beach for a relaxing time and photo break
Head back to "Place du Moulin" in Bel Ombre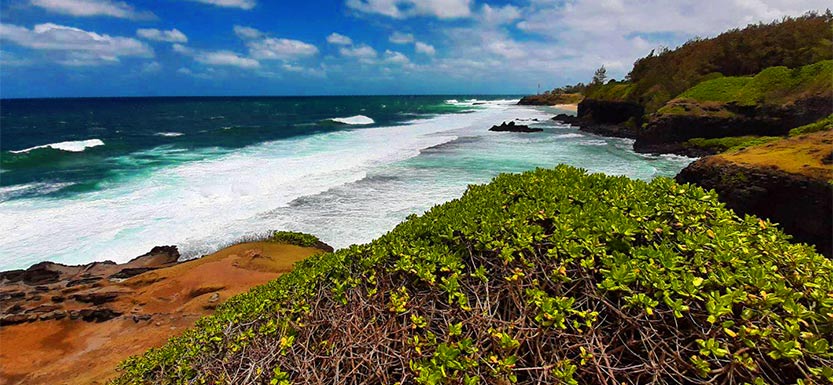 ---
Eco Green Bike Tour at Souillac
Discovering the beauty of authentic Mauritius has never been more exciting than cycling on an electric bicycle. A unique adventure for those in search of the "real" Mauritius.
The electric bikes lets you explore all the narrow trails and sandy paths which aren't conventionally accessible otherwise. Pedal your way through the quaint picturesque villages and the southern coastlines and make the most of the sights to see and things to do. You don't need to worry about trailing behind or feeling fatigued, since the electric bike gives you the needed boost to enjoy the tour at a leisurely pace without wearing you down.
Venture in the wild beauty of the typical traditional fishing village of Souillac, located in the extreme south of Mauritius, in the district of Savanne. The village was previously used as a port which was built by François de Souillac. It was the busiest port under British rule, especially for the transportation of sugar.
Today, we have mostly fishermen, farmers and craftsmen who live in this charming and picturesque village. It features spots like the Gris-Gris cliffs, where the constant crashing of the waves against the cliffs has formed the famous "Roche Qui Pleure" (weeping rock).
Your ride starts at "Place du Moulin" in Bel Ombre which is a restored sugar factory designed by Jean-François Adam, a renowned Mauritian architect. You will then begin your ride in the direction to Bay of Jacotet. Heading towards the village of Rivière des Galets, you will discover the Batelage of Grand River South East, the ancient port of Souillac, where the renovated dock serves as a jetty for the village fishermen's pirogues.
The ride continues to the Telfair Garden which bears the name of the naturalist Charles Telfair, who helped in developing the sugar estate in Bel Ombre. You will get the chance to explore more historical sites such as the colonial judiciary and the old train station.
You will then ride in the direction of Gris Gris to view the spectacular "La Roche Qui Pleure".
On the return journey, you will have the chance to visit a local resident in the village where you can get a first hand glimpse into the daily lives of Mauritians, as freshly prepped local dishes are served.
After the much needed energy boost, hop back on your bike and head towards the Riambel beach, a secluded sandy beach where you can take in the sea breeze as well as postcard worthy pictures. On the way there you'll pass St Felix Beach, which is also a worthwhile stopover.
our ride ends with you heading back to "Place du Moulin" in Bel Ombre.
This activity offers you a fun way of exploring the important sights of the southern region as well as uncovering a few hidden gems along the way.
About the Electric Bike - Eco Green Bike Tour at Souillac
An increasingly popular mode of transport, the electric-bicycle also known as an e-bike is a quality bicycle with an integrated electric motor that can be used for propulsion when required.
Riding the electric bicycle requires less effort than the ordinary bicycle and is thus less tiring thanks to its electric motor which gives you the extra push you need. All you need to do is pedal normally and the electric power assist motor turns on automatically. This makes it ideal for off-road trails where the assistance proves valuable during climbs or moments of fatigue. Hence, the e-bike allows you to visit more places with less effort than if you are using a classic bike.
Thanks to the extra push provided by the electric motor, the less sporty cyclist can easily keep up with others and nobody gets left behind regardless of the difference in physical abilities. This quality e-bike can reach 25 km/h.
All e-bikes are maintained by a team of professionals and regularly go through checks for brakes, wheels, pedals, lithium batteries, derailleur gears, and handlebar adjustment to ensure maximum safety.
---
Back-pack

Sport Shoes

Sunglasses

Sun block creams/lotions

A cap/hat

Towel

Mosquito repellent

Rain jacket

Spare clothes
---
| Eco Green Bike Tour at Souillac | |
| --- | --- |
| Price per Participant | 79 Euros |
Excluded in the price: The photos of your ride in Mauritius will be available on Photo CD which will be available for purchase on the day itself for a small supplement. You will have the opportunity to buy some local souvenirs. Please bring cash along as credit cards are not accepted
---
Booking Attributes