Exclusive Catamaran Cruise - Coin de Mire And Flat Island
100% Level of Satisfaction
Based on 1 review
| | |
| --- | --- |
| Location | North |
| Operating Days | All Days |
| Duration | 7 hrs |
| Activity Time | 09:00 - 16:00 |
| Transportation | Offered as Supplement |
"
Did you know?
Looking to have
Airport transfer
but also a stop along the way - no worries! We can plan a customized tour package together with the airport transfer.
Exclusive – Private Catamaran Cruise to Coin de Mire Island & Flat Island
This is an ideal cruise choice for those looking to enjoy an intimate cruising experience in your own private-exclusive 32 feet catamaran.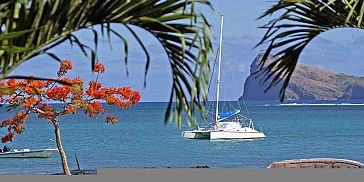 You will enjoy a relaxed personalized cruise experience with your family or partners cruising in an exclusive catamaran.
The catamaran is relatively smaller than the bigger commercial catamarans, making it ideal for groups of up to 10 people to enjoy a cruise in maximum comfort.
The catamaran offers you to enjoy sophisticated equipment available on board and above all a delicious barbecue prepared with the freshest products of Mauritius, by the skilled chef.
Due to the unique catamaran design and its size, it benefits maneuverability and possibility to reach locations not accessible by the bigger catamarans. The catamaran can drop anchor at the internal lagoon of Coin de Mire Island and also to anchor directly on the beach of the romantic Flat Island where you will be surprised by mostly untouched nature and great snorkeling locations.
During the cruise you listen to selection of music discs. Also, you can play your own favorite music – just don't forget to bring your own cds.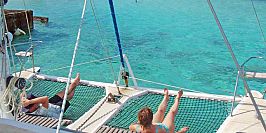 As part of this cruise you will enjoy sailing through the crystal clear water of the beautiful lagoons of the North of Mauritius with breathtaking scenery all around, explore the rich marine life by snorkeling at Coin de Mire Island which is considered the best snorkeling site in Mauritius, observe the large number of native birds flying around the island, have pure relaxation on the beautiful paradise Flat Island and enjoy delicious food prepared by the skilled chef as well as the bar services available for you throughout the day.
This cruise is all about making sure you have a full day of real relaxation and fun in the privacy and comfort of cruising in your own exclusive catamaran.
Cruise Description
The cruise embarks at 9:00 am from the beach of Cap Malheureux just beside the very famous church "Eglise de Cap Malheureux" with its well known red-tiled roof. This beach is one of the most scenic spots of the island and undoubtedly worth a visit.
Cap Malheureux is the most northern place in Mauritius, very close to the small vibrant town of Grand Baie (about 10min drive).
You will start the day with a warm welcome. Upon boarding the catamaran the experienced staff will first show you the catamaran and its facilities, will provide a safety briefing, and then explain on the cruise course and the day itinerary.
Then after, you will enjoy a welcome drinks (juice, soft drink, coffee or tea as per your likings).
The catamaran will first head to Coin de Mire Island. After a 45 minutes cruise you will reach the islet Coin de Mire. There the catamaran will anchor for about 30-45 minutes in the small lagoon of Coin de Mire where you will enjoy snorkeling, discvoering the unique rich underwater world.
This is definitely a must trip for any snorkeling fan and for any visitor to Mauritius who is looking to discover the remarkable underwater marine world, home to some of the world's most breathtaking coral reefs and marine life ever to be seen.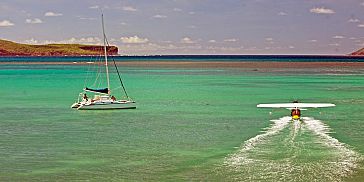 Full with hundreds of bright-colored fish, the underwater world of Mauritius can be deemed a natural wonder, and Coin de Mire is the best place to discover this underwater wonder without the requirement of going diving.
The catamaran will depart from Coin de Mire at around 10:30 am and set sail for Flat Island.
Around 11:15 am you will arrive to Flat Island. You will get to stay on one of the picture-postcard beaches of Flat Island and enjoy swimming and snorkeling in the beautiful lagoon surrounding the Island. Now it is the time for relaxation and pleasure on the beautiful Flat Island.
At around noon lunch is served. You will get to enjoy a delicious dinning experience. Lunch consists of Garlic bread, green salad, cuscus salad, pasta salad, chicken skewers, BBQ fish fillet and dessert. All the food is prepared by the skilled chef using fresh quality products.
After lunch you will have some more time to enjoy relaxation on the catamaran or on the island before heading back. Departure from Flat Island is at around 14:30 pm sailing back to Cap Malheureux.
At approx. 16:00 pm you will be back on shore. An unforgettable day ends.
Included in the Price?
This cruise is offered on all include basis, including all that you need for enjoying a great day!
Delicious Lunch Menu – lunch menu can be changed as per your wishes
Non-stop supply of all drinks such as: water, soft drinks (Diet Coke, coke, soda, Fanta, Sprite), Island Rum , Phoenix local Beer, white wine, rose wine (possible to provide additional drinks as per client preferences)
Snorkeling gear
Frequently asked Questions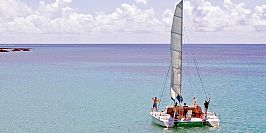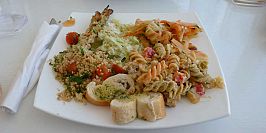 What do I need to bring along for the cruise? We highly recommend a high factor sunscreen, beach towels, sun hat or cap and lots of happy cheerfulness…
Is there any snorkelling equipment on board? Yes there is, we provide flippers, diving masks and snorkel.
Are there shady seats on board? Yes, the catamaran's main deck is covered.
Do you serve soft drinks as well? Yes of course, Cola, Fanta and water and served throughout the day.
Is there flexibility regarding the lunch menu? As this is a private cruise, there is maximum flexibility regarding lunch menu and we respond to your individual wishes. For vegetarian we can provide vegetarian lunch menu, for meat lovers to include extra meat and so on.
Is there a toilet on board? Yes there is.
Can we change clothes on board? Yes, there is a lockable room under deck.
Is the cruise suitable for kids? Of course it is, children are most welcome but for the younger ones we suggest staying in the shaded deck.
Life jackets are on board? Yes, we do have a sufficient number of life jackets on board.
About the Islands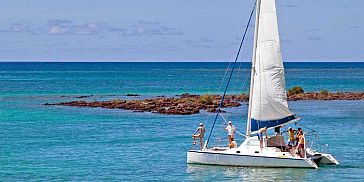 Coin de Mire: The Coin de Mire, also called Gunner's Quoin, situated 8 km north of Mauritius, is well known by divers as one of the best diving sites of the north of Mauritius. At an average depth of 6 meters (depth ranges from 3-9 meters), with crystal clear water offering great visibility, the snorkeling conditions are ideal year-round. The island is a nature reserve and as such it is not possible to go on the island. For those who enjoy bird watching, a number of native birds can be seen flying around the Coin de Mire or nesting in the cracks of the cliffs such as the famous Mauritius national bird - the 'pailles en queue. The Coin de Mire highest point is at 142 meters.
Flat Island: Flat Island, known as Île Plate in French, is located near the Round Island, at the extreme north of Mauritius, about 11 kilometers north of Cap Malheureux, the Mauritius' mainland's northernmost point. It houses one of the two working lighthouses in Mauritius.
Flat Island (size of 253 hectares, is the largest of the northern islets) is mostly flat, but has a single hill topped by a lighthouse. The vegetation is heavily modified.
North of Flat Island is Pigeon Rock, a spectacular bare rock stack, were many seabirds come for nesting.
Flat Island is a very popular venue for snorkelers, and also offers great dive sites. The island offers beautiful beaches with crystal clear turquoise water.
Prices
Price for Exclusive Catamaran hiring for the day: 389 Euro
Price per passenger (maximum of 10 passengers): 35 Euro
Reviews
100% Level of Satisfaction
Based on 1 review
|
reviewed by Claire eyre-walker – United Kingdom
|
August 13, 2019
Reaction time to your queries and requests
Travel consultant's professionalism level
Added value given to you by the travel consultant
Consultant's knowledge of Mauritius and the products / services
Overall satisfaction from the customer support service
Level of services provided as part of the activity?
Level of professionalism by activity operator staff / guide
Your level of enjoyment from the activity
Quality of meals & drinks included (if applicable)
Ease of booking the activity
Overall satisfaction from the activity
---