Fun Family Activities in Mauritius - Gros Cailloux Leisure Park
| | |
| --- | --- |
| Location | West |
| Operating Hours | 09:00 - 17:00 |
| Operating Days | All Days |
| Duration | Flexible |
| Activity Time | Flexible |
| Transportation | Offered as Supplement |
Operating Hours
09:00 - 17:00
Transportation
Offered as Supplement
This Activity is Closed Until Further Notice
Fun Family-Friendly Activities at Gros Cailloux Leisure Park (West of Mauritius) - Overview
Looking for a fun day out with the kids? Swap seaside landscapes and kids clubs for exciting new experiences with the little ones.
Offer the kids a fresh perspective on the tropical world with a fun family outing in the west of the island. A day spent at the leisure park is a guaranteed day filled with excitement, action and fun.
The nature park offers incredible ziplining opportunities for both adults and kids, along with kayaking and pedalo. Ideal for animal lovers of all ages, especially children, the park also invites you to visit its animal farm, where you can experience wildlife encounters as well as interact with the animals.
Connect with nature and spend time together as a family!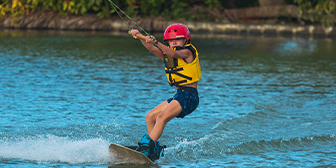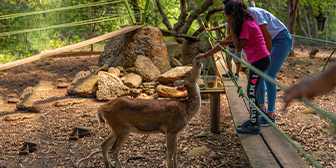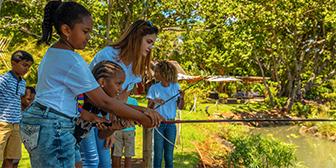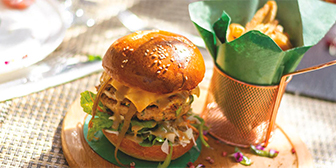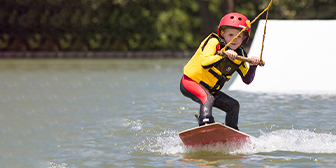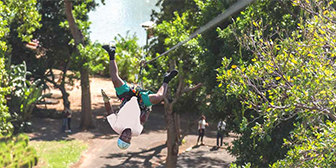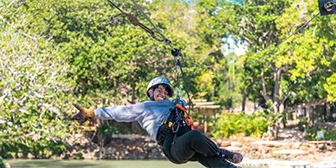 Highlights:
Full day of fun at Gros Cailloux Leisure Park with a choice from 2 adventure packages
Child-friendly activities such as the 25m zipline so that the little ones can also have fun and experience thrilling activities in a safe environment.
A visit to the animal farm with a guide to admire lovable animals such as ducks, geese, turtles, rabbits, and birds like cockatiels, turtle doves and lovebirds, amongst others.
Discover the scenic location while kayaking and on a pedalo in the calm lake surrounded by lush greenery and birds singing odes to mother nature.
Opportunity to drop off your kids at the park for a fun day filled with activities & a delicious lunch
---
Family Adventure Packages at Gros Cailloux Leisure Park includes:
Option 1 - Family Adventure Combo Package
25m Zipline Adventure
Nepalese Bridge
Safety equipment provided (helmet & hair protection)
Animal farm visit (guided)
15 mins Pedalo and 10 mins Kayaking activity
Option 2 - Sensation Package
275m Ziplining Adventure
Nepalese Bridge
25m Zipline
Safety equipment provided (helmet & hair protection)
Animal farm visit (guided)
20 mins Pedalo and 15 mins Kayaking activity
Option 3 - Little Explorer
Drop off your kids from 09:30 to 15:00
Zookeeper workshop
Activities of the park
Stroll in the forest and more
Lunch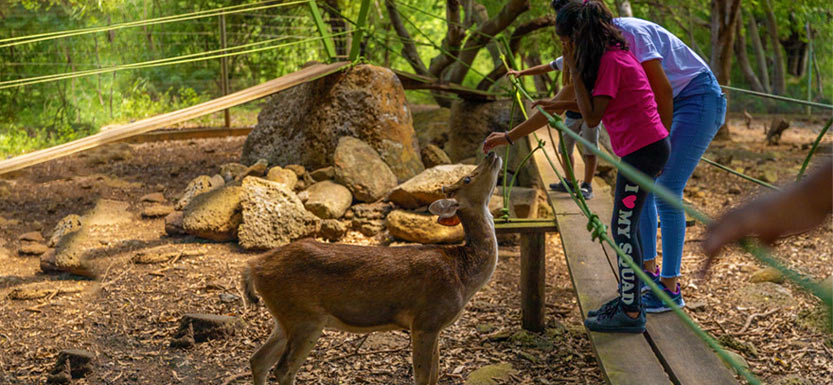 ---
Transportation & Driver Details
Transport is available for an additional supplement which will include pick up and drop off from any hotel / place of accommodation in Mauritius.
Car Capacities
You can choose from a selection of vehicles types:
Family Car - Up to 4 passengers
6 Seater vehicle - Up to 6 passengers
Minivan - Up to 10 passengers
About the Drivers
All drivers speak fluent English and French (Upon special request we can organize drivers who speak additional languages). The drivers, citizens of Mauritius, will be happy to provide you with information about Mauritius and each of its sights.
All drivers are very professional, time efficient and friendly. There is high emphasis on being always on time and providing reliable devoted service to customers.
---
Gros Cailloux Leisure Park, West Region
| | |
| --- | --- |
| Operational Days : | Every day |
| Operating Time: | 09:00 - 17:00 |
| Activity Duration: | The duration of the entire activity is flexible |
| | Pedalo/ Kayak: Flexible |
| | Animal Farm Visit + Zipline : Flexible |
---
About the Family Adventure & Kids-Friendly Activities in Mauritius - Gros Cailloux Leisure Park
This combo activity package is ideal for groups especially families. You will spend an amazing time at a leisure park surrounded by nature and fun activities. Discover the beautiful surroundings while having fun on the ziplines, kayaking, paddling and petting animals at the small farm on-site. This combo activity package will leave you happy and relaxed at the end of the day thanks to the nature encounters and the friendly activities.
Choose from 2 options both including a zipline adventure, a guided animal farm visit, Nepalese Bridge, and fun water activities. Make your children happy with incredible adrenaline-filled experiences to help broaden their horizons and nurture their young minds - adults are bound to have some fun too.
Starting with a thrilling ziplining adventure, discover the island's flora and fauna in the most fun way possible (Option 2 includes a 275m zipline!). After a safety briefing on precautions and equipment, you will be all set to explore the park from above. As you zip through the air, you will get to enjoy extraordinary views of the endemic flora and the nature park's beautiful surroundings, including the oldest chimney in the west of the island.
After this adventure, take advantage of the water activities at the park with the Pedalos and Kayaks and enjoy the serene aquatic environment with minimal effort while still having fun. As you gently make your way around the picturesque park, take in the surrounding beautiful scenery.
For wildlife viewing and amazing animal encounters, visit the animal farm with a friendly guide and spot ducks, geese, turtles, rabbits, as well as eye-catching birds like cockatiels, turtle doves and lovebirds, amongst others.
You are sure to have an unforgettable and adrenaline-filled moment with your loved ones. It will definitely be the highlight of your holidays in Mauritius.
Option 3 gives you the chance to drop off your kids at Gros Cailloux Leisure Park, where they can indulge in fun activities, attend the zookeeper workshop and stroll around the forest from 09:30 to 15:00. Rest assured that they will be in safe hands all day. And will even be offered a tasty lunch to keep them energised
About Gros Cailloux Leisure Park
Located on the west of the island, this leisure park is ideal for family outings. It offers a varied range of fun outdoor activities to both children and adults, such as ziplining, quad biking, a selection of water sports and more.
The leisure park is spread over 1000 acres, crossed by several rivers, including a lake. A huge garden dotted with sugarcane fields, fruit plantations and green spaces with various flora, including hibiscus, araucarias or bougainvillea.
Dating back to the eighteenth century, this former sugar estate created by Pierre St Aubin also houses old buildings from yesteryear- making it a charming heritage site.
The park, along with its onsite restaurant, is open daily from 9:00am to 5:00 pm.
---
Water

Sport Shoes

Sun cream

Bathing suit

Spare clothes

Waterproof Camera
---
| Option 1: Family Adventure Combo Package | |
| --- | --- |
| Price per Participant | 10 Euros |
| Option 2: Sensation Package | |
| --- | --- |
| Price per Participant | 13 Euros |
| Option 3 : Little Explorer Package | |
| --- | --- |
| Price per Child (6-12 Years) - Minimum 4 Children | 20 Euros |
---
This Activity is Closed Until Further Notice
Booking Attributes