Full Day Tour on Rodrigues Island
| | |
| --- | --- |
| Location | Rodrigues |
| Operating Days | Monday, Thursday |
| Duration | 6 hrs |
| Activity Time | 08:30 - 14:30 |
| Transportation | Included in price |
| Comment | A minimum of 2 participants is required and a maximum of 12 is allowed. |
Full Day Tour on Rodrigues Island
The activity is not available until further notice
Relive history, discover stunning geology and experience authentic islander's lifestyle on the beautiful island of Rodrigues.
Rodrigues is a small island with a lot to offer; if you are a nature lover and you're passionate about exploring new places, this full day tour is perfect for you. Not only will you have the splendid opportunity of exploring the beautiful Rodriguan coasts and its picturesque hilly landscapes, but you will also get to enhance your personal bank of knowledge with the history of the island.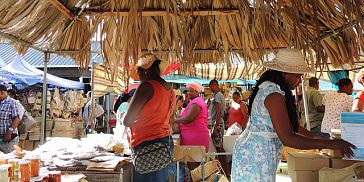 This guided full day tour will start at 08.30 a.m., you will be picked up right from your doorstep to head towards the exploration sites. An experienced, very friendly guide will walk you through the wonderful historical sites to help you uncover Rodrigues' indigenous character and exoticism. First, you will visit Port Mathurin, the capital city of the island, where you will come across buzzing market stalls as well as old colonial dwellings and small-scale trades. The contagious effervescence of the market will surely warm your heart.
Shortly after this visit, you will head to a now obsolete coral quarry. Although the quarry is no longer operational, you will still be able to see dents in the landscape where workers used to manually cut coral blocks. Till this day, a few coral blocks can be seen lying around. From there on, you will stop at specific viewpoints, such as Reine de Rodrigues and Mont Limon, from where you will also be able to enjoy spectacular panoramic views over Rodrigues.
Next, you will visit a typical Rodriguan household, which will be an incredibly fun experience. During the visit, you will not only explore the building but also you will also meet its inhabitants and discover up-close the Rodriguans' trademark, that is a fine blend of authenticity and hospitality. You will get to explore their gardens, and as most of them also breed animals, you will get to see those too. Additionally, at some point during the tour, you will kindly be asked to plant a sapling with your very own hands. In fact, each person taking part in the tour will be encouraged to do so - this initiative is an attempt to contribute to environmental preservation on the island.
Following that, you will head to Saint Gabriel Church, a well-known church constructed between 1936 and 1939, that has beautifully stood the test of time. Its construction was made possible by native volunteers who laboriously carried stone, sand and coral from all corners of the island. The church regularly attracts many visitors and for good reason; the building has an eerie atmosphere and a highly appealing old-time charm. After that, you will be on your way to Pajérôme, locally hailed as a sacred site, the place has a water fountain, sourced directly from the nearby mountain.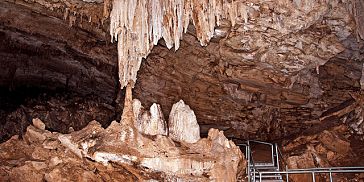 You will also get to explore the enigmatic cave, Caverne Patate, that hosts beautifully-shaped stalactites and stalagmites, which are essentially various minerals deposits that form spikes hanging from the ceilings. Some of the stalactites and stalagmites are said to take the uncanny shapes, such as that of a dragon, a lion and even the Buddha. Walking through the cave itself is fairly easy, however, the surface can be slippery sometimes so shoes with a good grip are advised. For lunch, you will stop at a local restaurant that will pointed to you by the accompanying guide. You will surely have a fantastic time exploring the island and mingling with its charming, friendly inhabitants.
---
Lunch Menu
As part of the full day tour in Rodrigues, you will enjoy a delicious lunch at a fine restaurant that specializes in traditional Rodriguan cuisine.
You will have the choice between local menu options including chicken, fish or a vegetarian meal.
In regards to children, the restaurants are flexible about the set menu - they will readily adapt the meal to the children's taste.
---
Comments
Departure point: Your hotel/villa/lodging
Operating Days: Monday & Thursday
Duration: 6 hours
Activity Time: 08:30-14:30
Minimum number of participants: 2
Maximum number of participants: 12
Reservation is required 72 hours in advance by phone & is subject to availability
What to bring: bottle of water, sport shoes, sunscreen, hat, camera
---
Prices
Price per Adult: 48 Euro
Price per Child: 28 Euro