Interaction With Rhinos
| | |
| --- | --- |
| Location | West |
| Minimum Age | 10 |
| Operating Hours | 09:00 - 17:00 |
| Operating Days | All Days |
| Duration | 15 mins |
| Activity Time | Flexible |
| Transportation | Offered as Supplement |
| Comment | This activity is offered only in the morning: 08:30 & 09:00 |
The Interaction with the Rhinos is currently unavailable
Interaction with the Rhinos in Mauritius!
Experience a thrilling encounter with the Rhinos!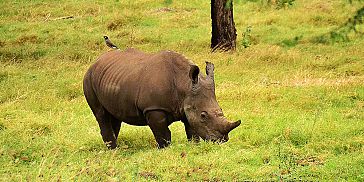 Here at the Mauritius' unique World of Adventures Park you will get to take part in a unique one-on-one interaction with the rhinos.
Feel your adrenaline rush as you join our Interaction with the Rhinos, known as one the "Big 5" animals. You will get to come up and close to these huge creatures for a true once-in-a-lifetime experience!
As part of the Rhinos Interaction, you will get to spend an exciting 15 minutes inside the Rhino's enclosure accompanied by the qualified and enthusiastic rhino's handlers.
The size and strength of these tough animals becomes abundantly clear as you approach them. You will get to touch them, observe them closely and learn a lot on their behavior and characteristic from the expert handlers.
About the Rhinos: As one of Africa's 'big five', Rhinoceros or more commonly Rhinos, are a popular sight for tourists. Members of the rhinoceros family are characterized by their large size (they are some of the largest remaining mega-fauna), by a herbivorous diet, a thick protective skin of 1.5–5 cm thick formed from layers of collagen positioned in a lattice structure, relatively small brains for mammals this size (400–600 g) and a large horn.
Comments
The timing for the Interaction with Rhinos is done only in the morning: 08:30 & 09:00
The Interaction with Rhinos is offered every day.
The Interaction is offered to participants as from 10 years and above.
Duration of the Interaction with Rhinos activity: 15 minutes.
Duration of the entire visit to the park: 3 – 5 hours
Maximum number of participants per each interaction slot is 4.
All participants must be physically and mentally capable to perform this particular activity.
Participants should not have any major hearing or visual impairments. If any of the above is found incorrect on the day of your activity "NO" refund will be considered. These rules are for your safety.
---
Visit of the Casela Nature Park – World of Adventures
Important: The Interaction with Rhinos is done at the Yemen Reserve which is part of the Casela World of Adventures. Accordingly, we offer you to purchase the Interaction with Rhinos excursion together with the entry tickets to the park.
About the Casela Safari and Bird Park: The Mauritius Casela Park is a real nature and adventure park. It is located besides the Rempart Mountain on the South-West of Mauritius offering magnificent views of the countryside rolling down the west coast of Mauritius.
Visit to the park includes
Toboggan (Avalanche Mines) - a thrilling fun ride on the first toboggan slide in Mauritius. The Toboggan includes two slides placed on a slope on which one slips with buoys.
Tulawaka Gold Coaster – an adrenaline-inducing alpine coaster that runs along 800m. Perfect for all thrill seekers. It can be ridden solo or in tandem.
Walk thru the aviary - Walk through the bird aviary and interact with various colorful bird species from around the world.
Safari photo - This great value tour lets you find yourself face-to-face with zebras, ostriches, deer, African antelopes, white rhinoceros, impalas and kudus during a unique safari tour on-board one of the safari vehicles.
Big Cats Kingdom - For Big Cats lovers, this is a dream come true! Visit the Big Cats' park to enjoy a close view of the lions, caracal and tigers.
Giraffe and pygmy hippo viewing - Come face to face with these majestic animals for a unique viewing experience.
Camel and llama viewing - Meet the camels and llamas, considered as one of the friendliest and most loving animals you will ever meet. Spend some time getting to know these amazing creatures.
Monkey Kingdom - have some fun watching the long-tailed monkeys skip and hop about, in their enriched, natural habitat.
Kid's playground - A new kid's playground that will offer sensation to the young ones!
Petting farm and Tortoise pen - Ideal setting for people of all ages, especially children to interact with farm animals as well as tortoises.
3D Interactive Map and 4D Cinema
Comments
Tulawaka Gold Coaster: Riders can go solo as from 12 years old (minimum height 1m40) or in tandem. Those under 4 years old should be accompanied by an adult
Additional activities offered at the Park
---
Price
Shared basis Interaction with Rhinos
Price per participant: 55 Euro / person
Visit of the Casela World of Adventures Park (Entry tickets)
Price per Adult: 22 Euro
Price per Child (ages 10-12): 15 Euro
The Interaction with the Rhinos is currently unavailable
Dear Customer, to book this activity please contact us on +230 269 1000.